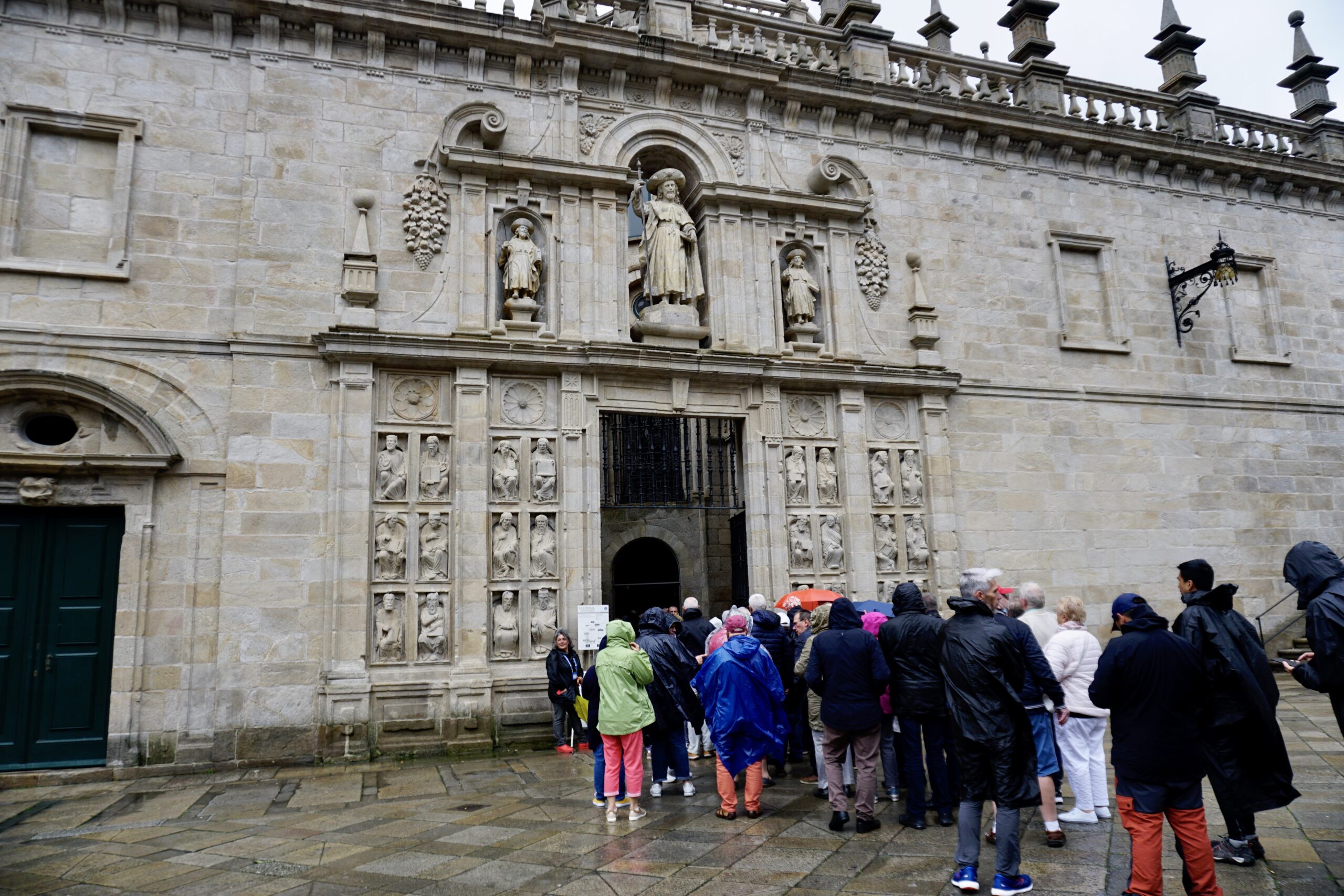 October 23, 2022. At Leon, Spain.
Dear Christine. First of all, I'm sorry for all the grief that you went through today with Delta Airlines over our flight from Buenos Aires to Kansas City. I would not have been any help because I don't have your patience. I can't imagine three hours on the phone and having the representative threaten to hang up when you expressed your frustration.
There once was a time when the joined words of customer and service had meaning. These days calls to big companies begin with an announcement that the call may be recorded to improve customer service. I bet if you told the representative that you were recording the call he/she would hang up on you.
I am in Leon having arrived this afternoon by train. The first half of the trip was through torrential rain, but when I reached my destination the skies had opened and there is now a promise of warmer temps and sunshine over the next few days. My fingers are crossed. Before I begin presenting this portion of the trip to you I want to do some housekeeping over the end of my stay in Santiago.
I toured the cathedral museum and had to pay a second charge for a timed ticket to see Master Mateo's Portico of Glory. When we walked into Santiago in 2013 we could enter up the main steps of the cathedral and through the portico. However, in 2018 there was limited access because of the restoration work. The 10 year preservation process has been completed and those main doors are now permanently closed. The portico is now off-limits except to ticket holders. Perhaps a little annoying but understandable given the extraordinary expense that was incurred in the restoration and the desire to protect this remarkable treasure from future deterioration.
I got one picture of the portico before security politely notified me that pictures were not allowed.
My ticket allowed me 30 minutes to view the work and listen to an extensive audio presentation. I could have easily stood there an hour. I can't hope to give you the details in this letter, but there is an article on Wikipedia: https://en.m.wikipedia.org/wiki/Portico_of_Glory
This link will give access to closeup details of the Portico of Glory:
https://www.spain.info/en/images/portico-glory-santiago-compostela/
The portico took over 20 years to /complete and includes over 200 biblically themed sculptures. It is not just art but is an actual structural component of the cathedral. It is dated as completed in 1188.
Mateo and his workshop received a lifetime commission from the king to be the chief designer and architect of the cathedral. He is considered the greatest of that era.
In the course of cathedral restoration fragments of the stone choir created by Mateo were assembled and painstakingly reconstructed. The choir had been built in the 12th century and removed/destroyed in the 17th century.
In the course of excavating foundations other fragments that predate Mateo were uncovered that depict the murder of the innocent children by the order of king Herod.
Here is more from my visit through the Cathedral museum:
I also visited the Monastery and Museum of San Martin Pinario. The monastery is located just east of the cathedral. You may recall that in our first visit we stayed in a very simple pilgrim room on the top floor. Those rooms had once been chambers for the monks. Rather than try to provide a narrative I will post the pictures with captions where appropriate:
The monks were particularly adept at creating incredibly intricate and fine wood and lead blocks for printing. In some cases the detail was laser fine. It's incredible the human hands could accomplish this.
I also visited the 19th century Market Place located a half block from my hotel. It is very active and alive with the sights, sounds, and smells (fish!) of commerce.
I think that about covers it for now. I went to Mass this evening at the Leon cathedral. That's Mass number four in as many days. I wish I could have understood this priest's sermon, because it certainly was "lively". I will head to the tourist information office tomorrow to see how best to occupy my visit here over the next two days.
Love, Me.
PS. I have something that we need to discuss at some length in real time. Text me a time that you will be available later today.