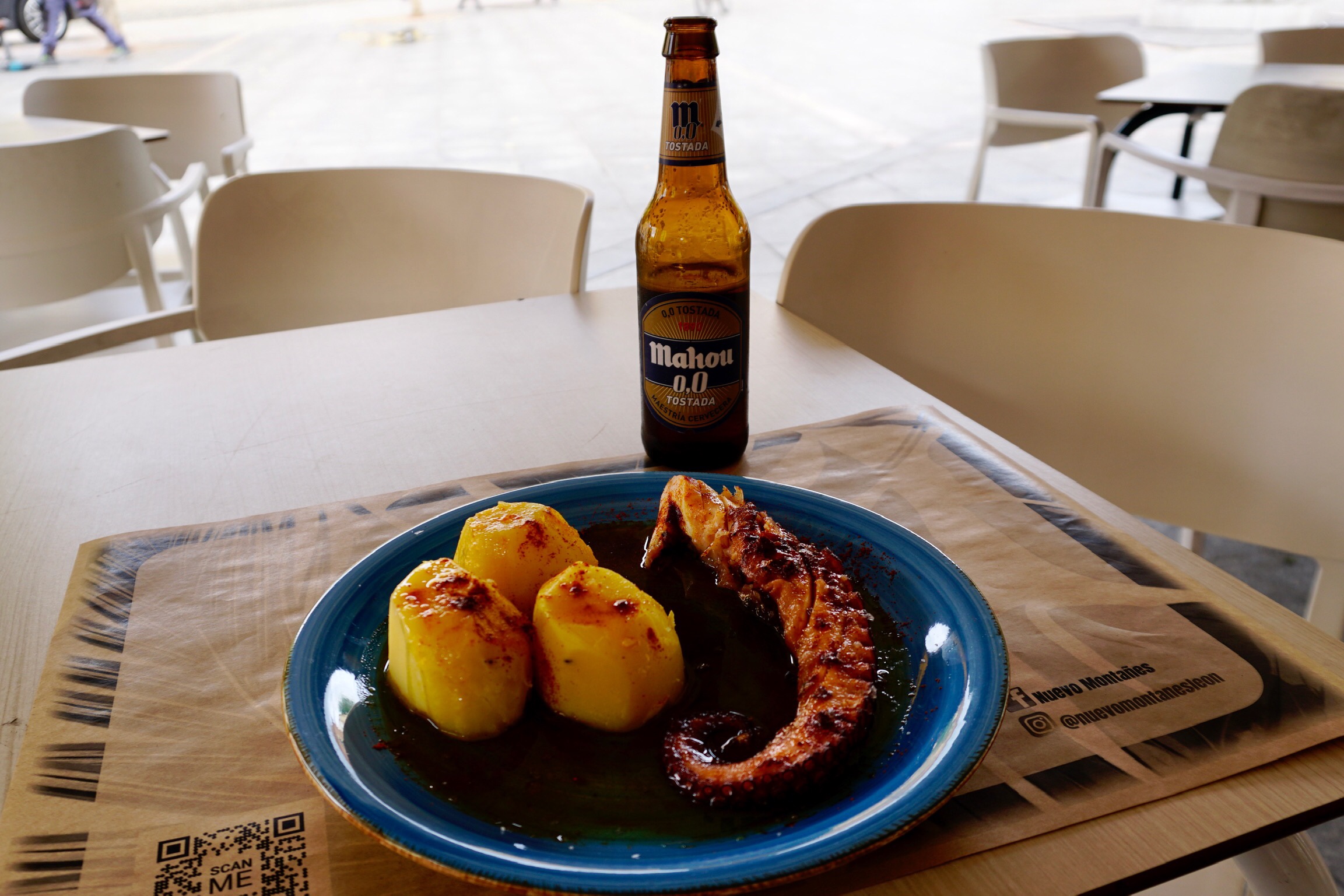 October 24, 2022. At Leon, Spain.
Dear Christine. The decision to spend three nights in Leon was a good one. The city is friendly, historic, beautiful, and easily accessed by foot. This Leon is tame!
A number of the sites that I wished to visit are closed today (Monday). That's a good thing because I was fully occupied with the places that were open. I spent my day touring the magnificent cathedral, the cathedral museum, historic fortifications dated to Leon as a Roman military outpost, the Basilica, and Casa Botines, one of only three of Antoni Gaudi's creations located outside of his home province of Catalonia. It was really difficult for me to cut back the photographs I took to a manageable number for this letter.
Of course there was also time for light dining and beer.
Beginning with my arrival: The central city in the area of the cathedral was bustling with Sunday evening pedestrians. The old city and cathedral area are very comfortable.
I caught this old fart staring at me through the reflection of a store window. Spooky!
For €8 my hotel provided an excellent breakfast, thus began my day.
I'm going to open with images of the Romanesque Basilica of San Isidoro. I visited the cathedral first, but I want to present the contrast between this 11th century Romanesque structure and the striking 13th century Baroque cathedral.
Low, dense, heavy, and dark describe the features of the Romanesque basilica.
In only 200 years architecture had achieved an "epiphany" which allowed for towering ceilings, whisper thin supporting structures, and seemingly endless expenses of stained glass.
The Leon cathedral has over 1800 stained-glass windows covering over 16,000 square feet. Virtually all of these windows are original and comprise the largest such collection in Europe.
I toured the cathedral museum which has an exceptional collection of ancient art that has been expertly restored and presented. Unfortunately, photographs were not allowed.
Leon draws its roots as a city from its origins as a Roman military outpost. Portions of the Roman fortifications still surround the old city. In many places the Roman wall has been incorporated into more recent construction.
I visited a museum dedicated to local Roman military history. The following map depicts the extent of Roman conquest near the end of the first century.
And here is a diorama showing the city of Leon as a Roman encampment. Notice the amphitheater in the upper left corner.
This diagram shows the composition of one Roman Legion consisting of approximately 6,000 professional citizen soldiers. A Legion was also accompanied by additional non-citizen troops and a supporting population. It is estimated that the Roman Empire fielded over 300,000 professional citizen soldiers who after 20 years of service were granted lifetime retirement incomes. It is no wonder that Rome influence and power extended over Europe, the Near East, and North Africa for centuries.
My final visit before "0:Beer:30" was to the Gaudi designed and constructed Casa Botines (1889-1893).
Gaudi was a polymath, a true genius of virtually all aspects of design and construction. He spent three years contemplating the challenges of building the structure in what was swampland. The citizens of Leon believed the building would sink and crash into rubble. 130 years later there isn't a crack. Gaudi developed a system of footings and iron columns for support, which also facilitated flexibility for the commercial purposes of the lower floors.
The upper floors provided professional space and luxury apartments. Six interior shafts allowed in light and fresh air.
Gaudi sculpted the statue of Saint George slaying the dragon that is above the main entrance. The original piece was made of local limestone and quickly showed signs of deterioration. It has since been removed to a museum and replaced by this replica.
When the workmen removed the original they found a sealed lead tube within which Gaudi had placed his original signed blueprints.
I am looking forward to seeing more of Leon tomorrow. I'm concerned that my camera is beginning to give up the ghost. I hope it lasts through this trip. I shouldn't complain since I have taken over 30,000 images with it.
Sleep well Love. Peter