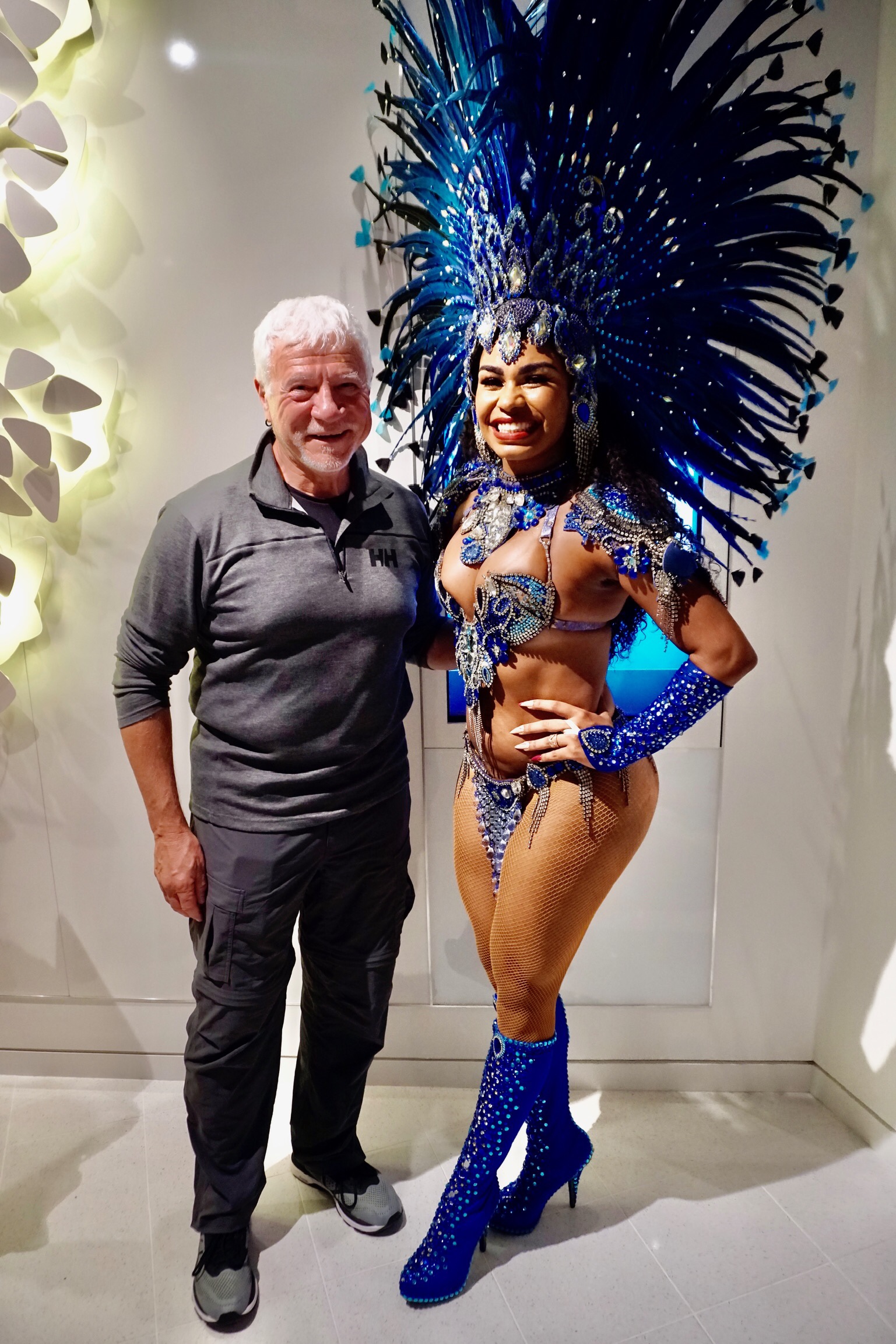 November 29, 2022. In the South Atlantic, 34.22° S, 53.11° W. Off the coast of Brazil, bound for Buenos Aires, Argentina.
First of all, a Very Happy Birthday to our daughter Alexis. She is our youngest child and has turned 40. We are now officially "old"!
As explained in my previous post, a medical emergency required that Viking Jupiter detour in order to obtain care on shore for a passenger. This significantly altered the cruise calendar. Unfortunately, it was necessary to cancel our port of call in Montevideo, Uruguay. The "silver lining" is that this gave us an extra day and an overnight in Rio de Janeiro, Brazil. Christine and I have been to Montevideo, and enthusiastically embraced the idea of two days in Rio,
We have never before visited Rio de Janeiro. We had long considered this to be the crown jewel of this voyage. It did not disappoint. Anticipation called me to the top deck of the ship where I eagerly awaited first sight of Christ the Redeemer perched high above the city.
"Sugarloaf", an extinct volcanic cone, stands as sentinel over the narrow entrance to the busy bay. It is second only to the Christ statue in defining the iconic skyline of Rio.
This is an extremely busy port shared by huge oceangoing vessels and recreational day-sailors. We had to wait our turn, much as aircraft do in circling to land at a busy airport. The port also hosts a significant Brazilian naval station.
The first impression of this city of nearly 7 million, located in a metropolitan area of over 12 million, is that it is vibrant, teaming with life, and prosperous.
However, as we approached our berth poorer quarters of the city came into view. Perched precariously on a hillside were row upon row of shanty shacks seemingly created from refuse castoff by the well-to-do. One man's trash is another man's treasure.
At port was also a huge mural, declared by the Guinness Book of World Records to be the largest in the world. The faces each represent 1 of 5 continents.
The popular Copacabana beach was a half hour drive from the pier. The ship had arranged for shuttle service that would run from 2:30 PM until 6 PM. For those who wished to forgo the drive there was an excellent museum a short walk from the ship. Christine and I opted to venture into the city.
The shuttle bus dropped us off in front of the famous Copacabana Palace Hotel.
Most passengers crossed the road to walk along the beach. We were the exceptions. We set off into a more "blue collar" district in search of an ATM. We found one at a subway station and after having secured local currency looked for a "locals only" restaurant/bar.
We soon came upon the Mr. Copeo Bar/Restaurant where patrons were enthusiastically cheering for either Mexico or Argentina in the World Cup match displayed overhead on an outside television screen. Not a word of English was heard among patrons or staff. However, the waitresses found my efforts to communicate to be quite amusing.
A picture menu (no English) was helpful. We were rewarded with two exceptional steak dinners, two king size bottles of beer, and a bill of less than R$120. Converted from the Brazilian Real to dollars it was approximately $23.
Those three hours spent in town were a highlight of this voyage. In sharing our experience with passengers back onboard we were surprised that some of them considered our conduct imprudent, perhaps even dangerous.
On short notice the Cruise Director was able to secure shipboard entertainment courtesy of a local Samba dance troupe. They were exceptionally talented, engaging, and beautiful!
The original itinerary had been for a single day in Rio de Janeiro with no overnight. Christine and I had signed up for one of the more demanding optional tours, a lengthy overview of the city that would include a visit to the Christ Redeemer Statue and a panoramic view of the city from atop Sugarloaf. Fortunately, the tour was still a "go", but since the cruise ship was scheduled to depart port in the early afternoon the tour would be compressed to seven hours with a departure from ship at 7 AM. That will be the subject of my next post.
Peace Everyone. Pete