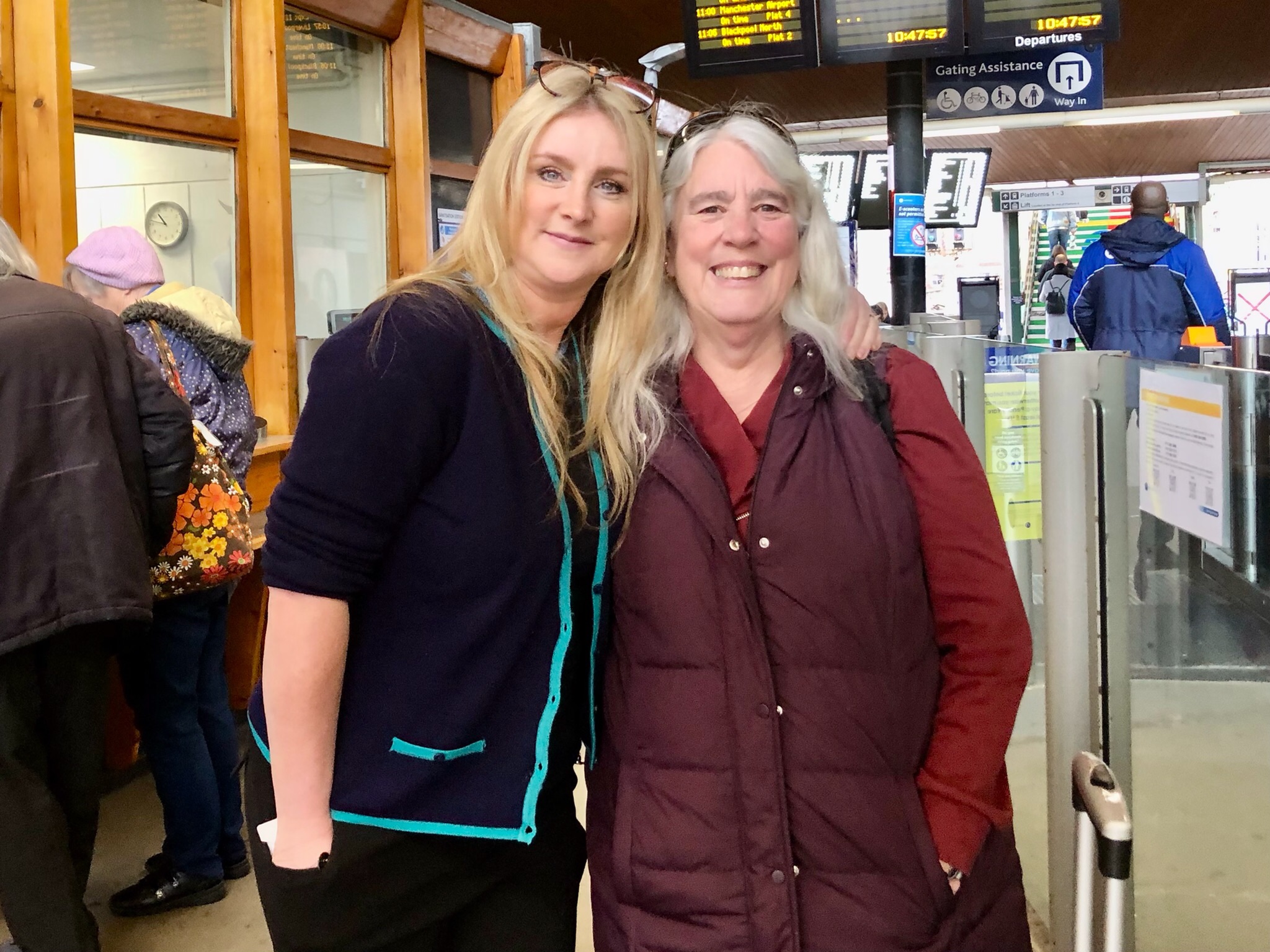 Written March 25, 2023 at Carlisle, England.
With two pleasant days in Manchester under our belts we awoke this morning fresh and ready to go. No backpacks on this trip, our two bags are packed heavier than typical for us, and each is larger than our usual "carryons". The challenge was to accommodate a wide range of weather conditions and activities. Ahead of us is a truly multidimensional experience.
We taxied to the Oxford Road Train Station to catch the 11:35 Transpennine Express to Carlisle in the northwest of England.
Susan was working at her ticket window but upon seeing us rushed out to gift us with hugs and warm wishes for safe travel.
We have grown accustomed to the fast friendships of travel, however Susan's warmth and graciousness are in a league all their own. We will miss her!
The journey to Carlisle took two hours and included only five stops.
The ride was smooth enough to allow pictures of the countryside. Unfortunately, the intermittent heavy showers limited the photo opportunities, drops on the windows marring what could have been some stunning images.
Speaking of stunning, Carlisle is wonderful! From the delightfully classic rail station…
…to the old central city which is accessed by walking through ancient fortification towers.
Our hotel, The Crown and Mitre, absolutely oozes 19th century Edwardian charm.
It features an elegant dining room, bar, and even an indoor swimming pool! Stained glass and polished wood abound. Perhaps most remarkable is the price, $135 a night.
Not more than 100 yards around the corner from the hotel is the historic Carlisle Cathedral.
The use of the grounds as an abbey and Cathedral date back to the early 12th-century. In holding to my promise to Christine, I will let the images and brief captions speak for me.
Our plans for Carlisle seem to be evolving on their own. I received a communication from Garry and Kathleen Clifford of Glasgow Scotland. We met them while traveling through their city in 2018 and have stayed in touch ever since. They are driving the one hour down to join us tomorrow afternoon for dining, drinks, and to just catch up.
On Monday I plan to hire a cab to Bowness-on-Solway in Cumbria on the west coast. This is the western extreme of Hadrian's Wall. I will hike the 15 miles back to join Christine in Carlisle. In total we will be at the Crown and Mitre for four nights before continuing on our eastward trek.
Peace Everyone. Pete
PS. Two weeks ago we adjusted our clocks in the United States for daylight savings time. I assumed that everyone did it then. Wrong! We get to "spring forward" again tonight in the UK. Here I thought I was done messing with time zones and "jetlag".