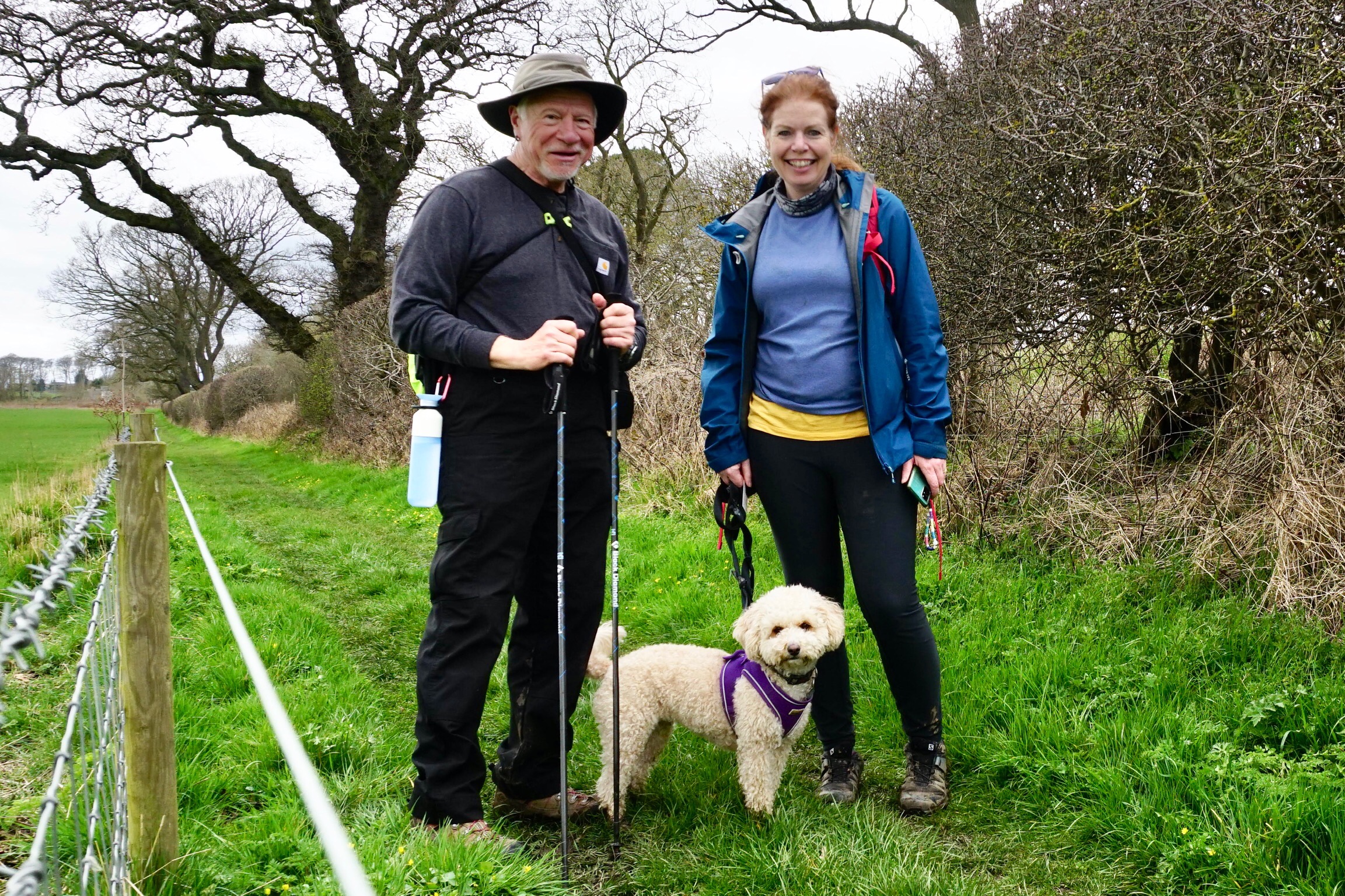 Written April 6, 2023, at the Robin Hood Inn, Northumberland, England.
One more day down, just two to go!
I caught a cab in the rain at our hotel in Hexham for transport 5 miles up the road to where I would resume my Hadrian's Wall walk. By the time we reached the destination the rain has stopped. It would not resume until shortly after I arrived at our next destination, the Robin Hood Inn. Luck, a good Guardian Angel, or just the fickle climate of this region? I'm ok with any or all answers.
I don't think I was prepared for a day with virtually no "Hadrian's Wall". My first two days on the trail revealed only signs of the Wall, and it seems that I have returned to that aspect of the walk, just now on the east end. Still, there was much beauty to appreciate.
8 miles and there was only one small section of the wall visible, and that thanks to the 1801 intervention of William Hutton.
Nevertheless, there were many signs of the wall throughout the day. There were obvious sections of the Vallum (ditch),
mounds that hinted at the unexcavated milecastles beneath,
and the Military Road which has carried that name and followed the track first laid out by the Romans nearly 2000 years ago.
Pasture friends were ever present.
There was more two legged activity along the trail.
Was this Big Foot?
No, just a family from Utah with a teenager who decided to spend his day walking the muddy (and sheep sh*t covered) path barefoot. Parasites anyone?
A small ancient church beckoned a detour.
It's "clock" predates the fiction of daylight savings time.
There was a "Camino moment". As a young lady and her dog passed heading in the opposite direction we exchanged afternoon greetings. However, she stopped and inquired more specifically of my day, my starting point, and my destination. In turn she offered but she was walking segments of Hadrian's Wall. A few moments later she mentioned her plan to walk the Camino in August, from St. Jean Pied de Port to Santiago de Compostella. Of course, that led to me revealing that I had walked 3 Caminos, the most recent of which was last year.
Katy (her name) and I the briefly discussed that topic held in common as I presented her with one of my "retirement cards" that includes contact information and my website. "You're from Kansas City?!? I did a foreign medical study program there at the University of Kansas Medical Center!" She had questions, I had some answers. We made a connection that some might call coincidence, and others call something more.
Christine and I are comfortably lodged in a classic English countryside Inn, the Robin Hood.
It stands solitary on the Old Military Road, Hadrian's Wall walk literally crossing the parking lot.
It's Thursday night and the Inn hosts a special steak dinner. Two 10oz steaks with sides plus a bottle of wine for £40. Luck or a good Guardian Angel… I'm still ok with any or all answers.
Peace Everyone. Pete
P.S. Last year I underwent an MRI on my right knee. It disclosed a torn meniscus and some mobile fragments. I was scheduled for arthroscopic surgery last October. However, my hike on the Portuguese Camino was a success and in consultation with the surgeon we decided, "if it isn't a problem don't fix it until it is." Over the last few days my right knee has been "whispering to me". Today it "spoke" a bit louder and at the end of the day was a bit swollen.
I'm going to continue on tomorrow and Saturday, body willing.