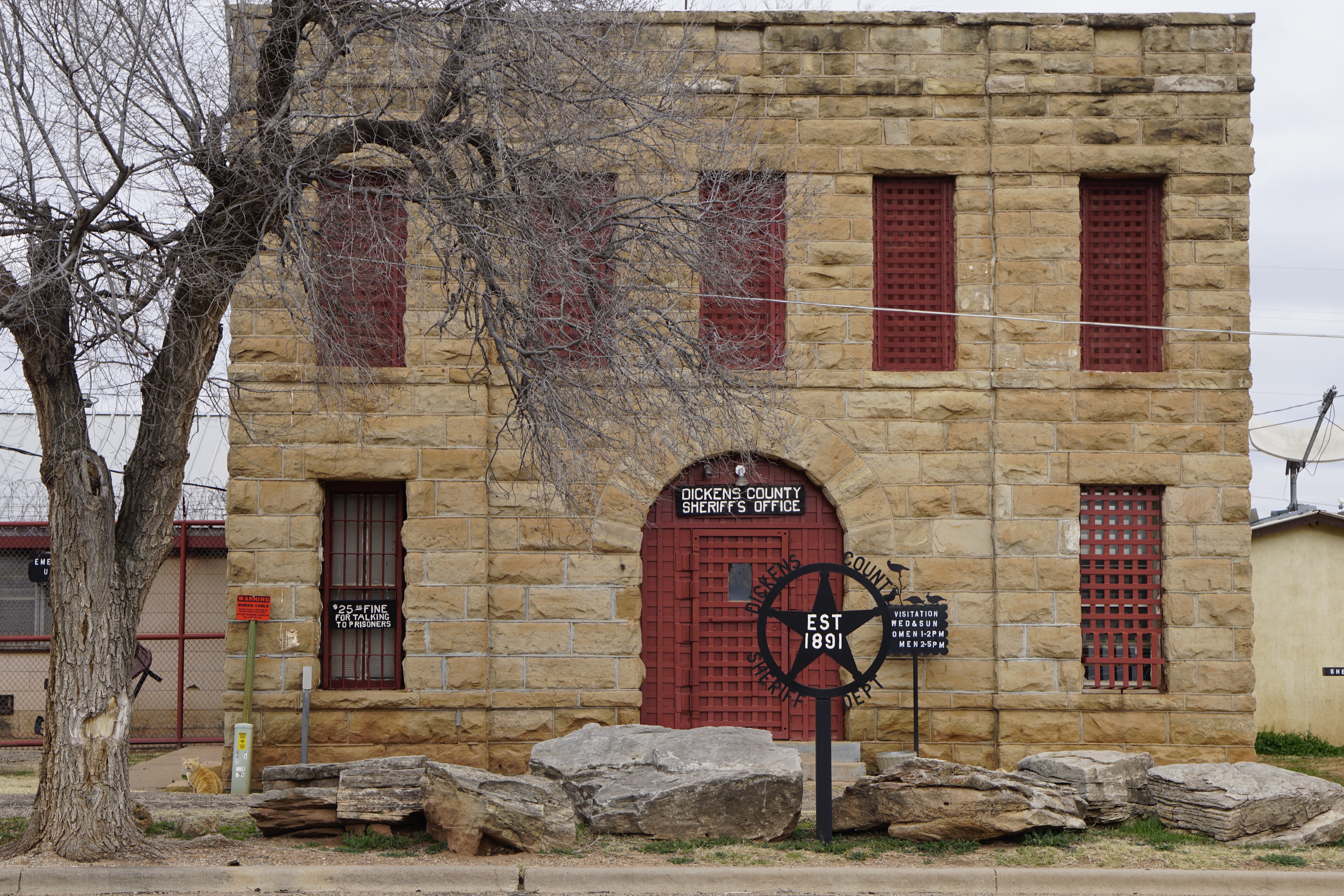 The weather home in Kansas City has turned nasty, and the tendrils of the Winter blow extended to us in Caprock Canyon. No snow, but with predicted lows in the 20's we elected to head south. It was a good call. About 175 miles took us to Sweetwater Texas where the skies cleared and the thermometer suddenly added 10 degrees to the mercury. Winds gusted to 35 mph throughout the day, but our good fortune held as they pushed us from the rear, giving us great gas mileage.
Most of our 260 mile drive was on Texas Route 70, a well paved two lane country road that often featured a 75 mph speed limit! There wasn't much traffic and there weren't many towns of consequence. In fact, for 175 miles there were no Walmarts, no fast food, and damn few gas stations.
Driving days do not usually provide much opportunity for a "travelogue". However I made the conscious decision to stop and take pictures of anything "interesting" that we might encounter. I missed the opportunity to take pictures of a few abandoned homesteads that seemed icons to the dustbowl days. Same with the sentinel like Aeromotor windmills that once dotted the Great Plains States. These ubiquitous inventions of necessity pumped water into cattle troughs where no electric service existed. A few that we passed were still in use, a testament to their ageless reliability. At times we could see huge electric wind generators juxtaposed in the distance, the 21st Century replacements for the 19th Century Aeromotors.
Now for the experiences preserved by images:
There was Galvan's Cafe in Turkey, Texas. This was the second time that we have eaten here and for good reason. The food was plentiful, hot, tasty, and cheap. My eye was drawn to a wall of pictures. Icons of the 1950-60's television Westerns. Just to mention those with autographs: There was Dan Blocker of Bonanza, Clint Eastwood and Eric Fleming of Rawhide, Steve McQueen of Wanted Dead of Alive, James Arness of Gunsmoke, and Clayton Moore of The Lone Ranger.
Literally in the middle of nowhere (which describes much of Texas 70) is the Midland Drive -In Theater. It's faded marquis declares, "Between Turkey and Quitaque… New York and LA". It also displays "Closed for Winter", but which Winter remains a mystery.
We came upon a series of Historical Markers, the reading of which left somber overtones of past glories and tragedies.
We drove through the center of Dickens (pop. 286), seat of Dickens County (pop. 2,444). The town and county were founded in 1891 and named after J. Dickens who died at the Battle of the Alamo. The County Courthouse and Jail were both built in 1892 and remain in use. They were listed on the National Register of Historic Places in 1980. There is a $25 fine for anyone talking to inmates through the barred windows of the jail!
We passed by the City Park in Spur, Texas…
Cotton fields and bales were evident as far as the eye could see…
And passed a number of the Quanah Parker Trail Arrows which mark sites where the Comanche Indians and their last Chief, Quanah Parker, lived, traveled, and fought. The artist, Charles A. Smith created this network of 22-foot-tall steel arrows in tribute to the Comanches. There are over 70 of these arrows found in 52 counties. Quanah Parker died in 1911, and the sculptor Smith passed away March 3, 2018, 3 years after the great-granddaughter of the Chief adopted Smith into the Comanche's family. Smith was given the name "Paaka-Hani-Eta", meaning "Arrow Maker".
We arrived just before closing at San Angelo State Park, made camp and immediately drove 7 miles to the Zero One Alehouse where I enjoyed excellent craft beer, a stunning Chief's victory over the Colts, and the company of my Wife. Life is good!
Peace Everyone! Pete