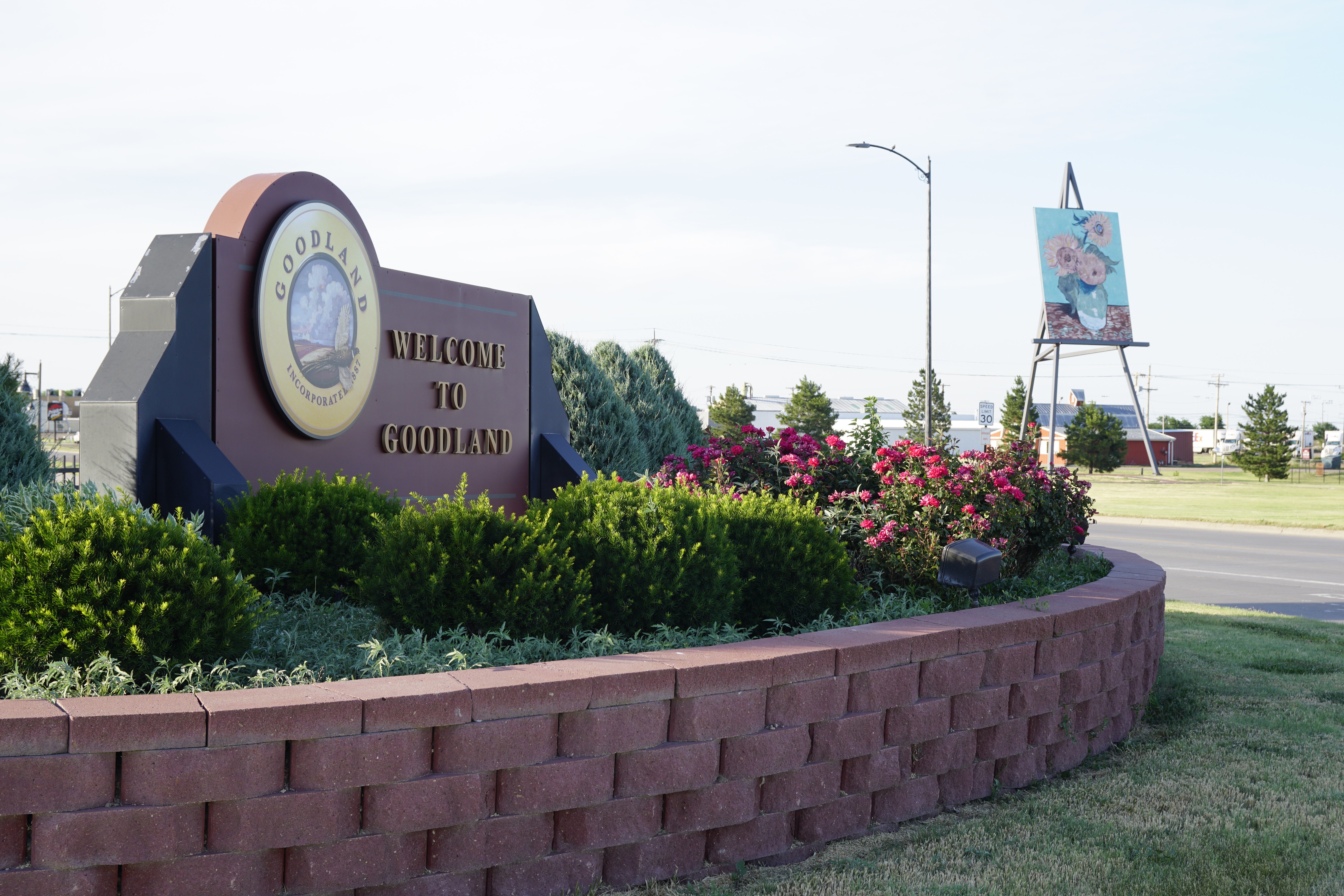 Today began a solo camping trip that will extend through the end of July. Day one was a hot 400 mile slog west down the non-inspiring lanes of I-70. My first real destination is Denver, 600+ miles from home. An overnight in Goodland is a prudent alternative to a 12+ hour marathon drive while towing a trailer.
These days most folks only see a hint of Goodland as they zoom past the outskirts on the Interstate. Not much there except that a sharp eye might catch a glimpse of a very curious piece of art that towers in the distance.
I am camped at the Goodland KOA, located on the east side of Goodland, along less traveled US-24.
One might say that this is the backyard of Goodland. One might also incorrectly assume that there is not much to see here. Back to that piece of art…
In 2000, Canadian artist Cameron Cross approached the trade group, Sunflowers USA, with the idea of recreating VanGogh's painting, "3 Sunflowers in a Vase" in Goodland. The proportions would be breathtaking; the painting would be 24 feet by 32 feet (VanGogh's original was not even 2' x 3'), and it would sit upon an 80 foot tall easel, the largest in the world. $150,000.00 was raised and the completed work was dedicated in 2001.
Continuing my 2+ hour sojourn I came upon a number of other notable finds:
In the 1950's and early 1960's Studebaker Motors of South Bend Indiana produced the "Hawk" in a number of variant forms. It was a design ahead of its time and from a styling and engineering standpoint it rivaled Chevrolet's Corvette and Ford's Thunderbird of that era. This lonely (1956?) model sits waiting for a tender heart and deep pocket to restore it's former glory. Price unknown.
A few blocks later I encountered the equally forlorn (1951?) Hudson Hornet.
This was a low slung beast of a car weighing in at nearly 2 tons, and featuring what was then the largest 6 cylinder engine in the world. Capable of speeds in excess of 100 mph and featuring excellent handling, the Hornet was perhaps America's first muscle car.
Known for it's sturdy strength, if not its speed, was the depression era McCormick-Deering 10-20. This example likely dates to around 1928.
There was more…
How about a 28hp 1948-53 Allis-Chalmers WD in tricycle configuration parked next to a 1955 Ford Sedan Delivery Wagon…
Finally, central Kansas is known for its ability to produce food. Signs along the highway tout that each Kansas farmer feeds over 155 people.
Walking down a dusty road I found evidence that production (in this case corn) far exceeds the ability to market or deliver that commodity.
Literal mountains of grain lay near concrete silos already filled to capacity. Some of the grain was covered against the elements, but some was not.
Tariffs? Over-production? Distribution problems? I do not claim to know, but over 40 million Americans live in poverty… 1 in 8 Americans are deemed "food insecure". There is something wrong with this picture.
Peace everyone. Pete