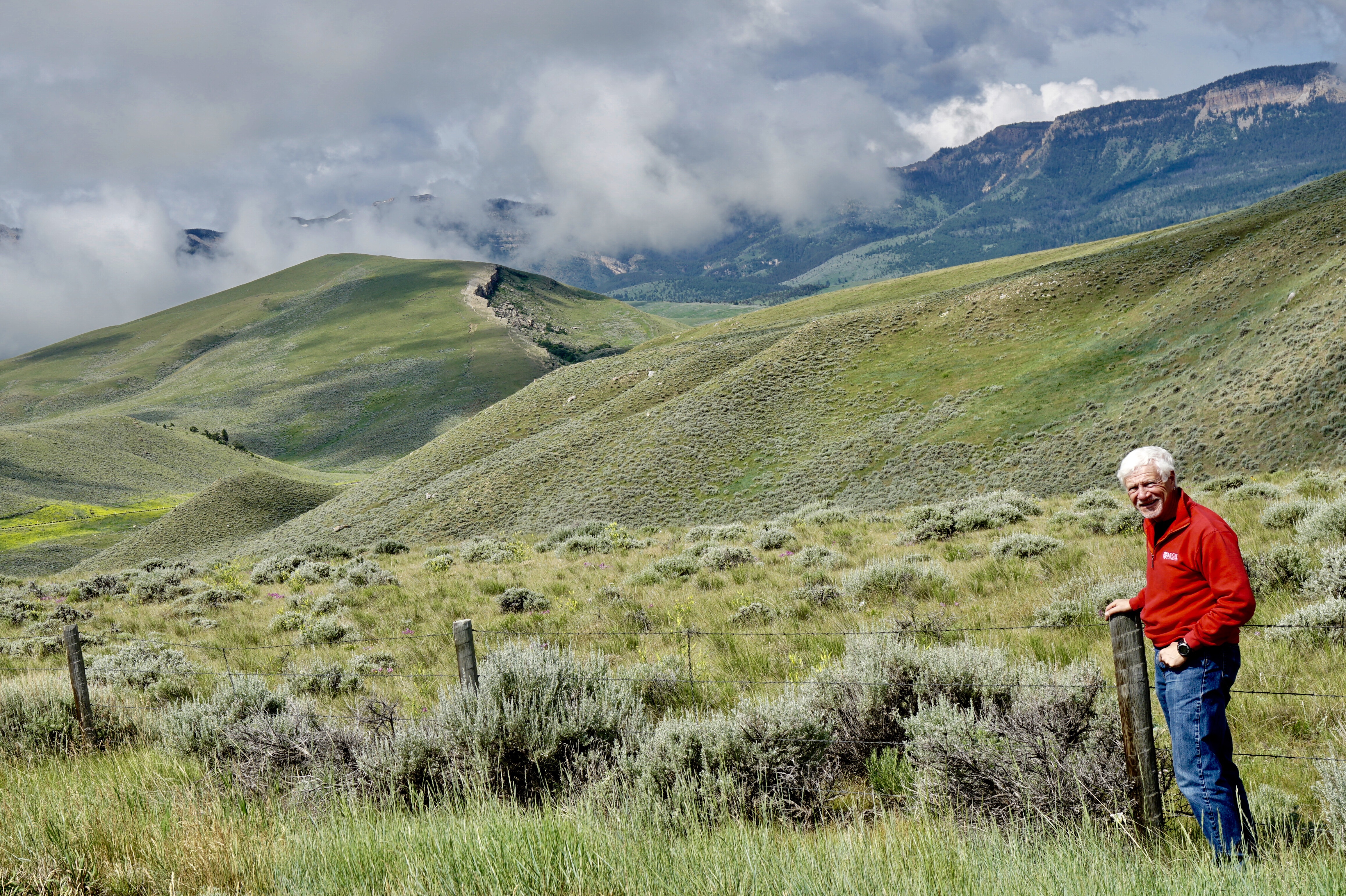 A Semi-Tractor powering up at 6 a.m. was my alarm clock this morning in the parking lot of the Thermopolis Exxon Southside Travel Center. With the exception of a brief 3 a.m. trip to the bathroom I slept through the night. A rarity these days. I thanked the morning cashier who gave me a breakfast recommendation a few minutes farther into town. The Black Bear Cafe (not part of the chain) served up a great southwest omelet, covered liberally with green pork chili.
As I left the cafe and walked toward my rig I surprised another early rising visitor. A mule deer sporting antlers in velvet. He assessed that I was not a threat and continued calmly on his way between the buildings of downtown Thermopolis.
I on the other hand had 160 miles of winding and steep road ahead of me. My auto GPS said it should have taken 3 hours. Frequent photo stops added nearly 2 hours to that.
The unfolding panoramas presented brilliant upward thrusts of rock and snow topped peaks that seemed to split the earth.
Miles of two lane road spread before me like a spool of ribbon unrolling into the distance.
The road would lift its face to the sky and just as suddenly cast eyes into a deep valley with the sign of caution to use a lower gear. Towing a trailer gave me pause to take the warnings to heart.
Overlooks provided opportunities to not only appreciate the surrounding wonders, but to see the tread-like apparition of the road that I would be traveling miles in the distance.
I reached the Beartooth Highway in due course.
Christine and I drove the Beartooth during one of our first post-retirement trips. We checked out a number of the Forest Service campgrounds and the "Top of the World Resort", a one gas pump, four room motel that is anchored by a log cabin "store" that features a humble assortment of souvenirs. It advertises groceries, but that really means a few shelves of candy bars, chips, and booze. The gas is nearly a buck a gallon more than it is 70 miles down in Cody, however Top of the World is the only game in town for at least 30 miles. I topped up my tank with out complaint.
This is bear country and signs abound with such warnings as "BE BEAR AWARE!". When we were here before a couple of the campgrounds were closed to tents because of problems with bears. To my knowledge that proscription is not currently in place.
My first choice campground turned out to still be closed due to the late snows and lingering winter-like conditions. Apparently, Beartooth Pass was closed less than 2 weeks ago by a late June snowstorm.
I am camped at 9,000 feet above sea level in the Beartooth Lake Campground. It features 21 sites, pit pots, picnic tables, fire pits, and stunning scenery. It lacks drinking water, electricity, and cell service. I am one of just a few campers. The cost is $15 a night, but with my "America the Beautiful Pass" (aka the "Geezer Pass") there is a 50% discount. I have paid for 4 nights, $30.. a bargain and the lifetime pass only cost me $10. It has paid for itself scores of times over. To be eligible for the pass one must be at least 62. Since Christine and I bought ours (each person should get one as they are not transferable between spouses) the cost has gone up to $80… still a bargain.
As I said, I am without cell service. Not having the benefit of my electronic encyclopedia is like losing half of my brain. Moreover, I miss being able to just call Christine on a whim to share such minutiae as, "Hey! A mule deer just walked through my campsite… Way Cool!"
Well, one actually did.
Temps are falling faster than the sun and it just will get into the low 30's tonight. Tomorrow I'm planning a bit of a driving tour of the Beartooth without the handicap of having a trailer in tow. Hopefully I will find an opportunity to post this.
Peace Everyone. Pete
PS. It occurs to me that a person who habitually talks to himself or to people who aren't actually there is either "mentally ill" or a Blogger. Bloggers just do it in writing.