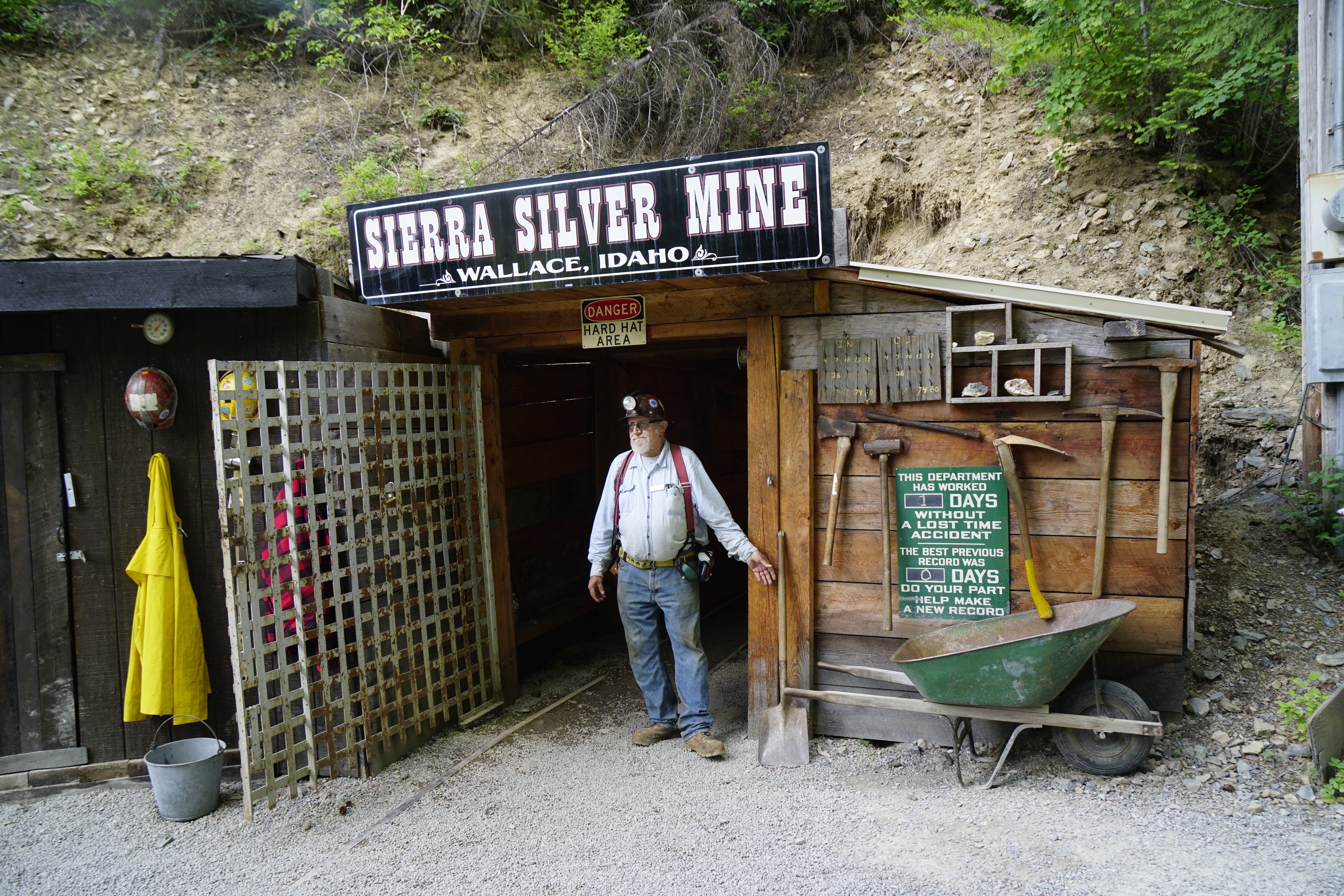 I had a trove of narrative and pictures from my July 17th ride on the Coeur d'Alene Trail yesterday, but the thing that I lacked was sufficient cell or WiFi signal to stitch them together and upload for posting. Undaunted, I set off west on I-90 to find the signal strength I required. Over 40 miles later (yes, 40!) my signal meter indicated 4 strong bars and I pulled off the nearest exit and into a Wendy's parking lot to complete my mission. By the time I was back in Wallace it was after noon. I ate a quick lunch and then confronted the question of "what to do next"?
The weather favored a walking tour of the heart of Wallace, so armed with my camera and wearing my hiking boots I set off in search of the unknown.
I strolled the streets, visited a number of shops, and then set foot inside of the Northern Pacific Railroad museum.
$3.50 is the requested donation for admission to this treasure. Cindy efficiently manages the front desk and her smile is infectious.
I received a personal guided tour of this small but immaculately preserved facility from the early 20th Century. My guide was John, an expressive gentleman dressed in period attire who seldom fell out of character.
He delighted in my interest and knowledge of minutia that was relevant to his discourse. He is a retiree, volunteer, and actor in the local Melodrama Playhouse troupe. Among the visit's highlights were the Ladies and Children waiting room with heat and its own private lavatory.
Men were not allowed as most were dirty mouthed, tobacco spitting, miners.
The station office contained its original furnishings, including working telegraph (operators could send and receive at the rate of 40 words per minute!), the original Oliver typewriter,
a press duplicator that could make up to 5 images of an original bill of lading by pressing onion skin paper under the original and leaving them in place overnight. Low tech,but it worked.
There was even an original candlestick telephone that was still wired into the network. My guide produced his cell phone, apologized for being out of period, and "dialed" the 100 year old phone. He and I then held a brief conversation… he using 21st Century technology and me the early 20th Century tech. I was amazed by the clarity with which the old phone reproduced his voice.
The office also contained the original station safe, which was specially manufactured for the Norther Pacific RR by the Diebold Company of Canton Ohio.
It was structured with laminated layers of steel and concrete, and there was even a high security safe within the safe for keeping silver bullion. If one unsuccessfully attempted to open the internal safe the mechanism timed-out before allowing another attempt.
He was especially proud of a Hartmann Luggage Company (still in business today!) steamer trunk that had been owned generations ago by one of the town's dignitaries. It weighs over 100 pounds empty, and contains a drawer for jewelry, a mini-bar (that came with decanter and glassware), and a compact electric iron to press clothing.
John explained that the station had been moved about 200 feet from its original location to make room for the construction of I-90. He continued to explain that in the early 1970's the Idaho Department of Transportation proposed to build the Interstate through the heart of Wallace. Virtually the entire downtown would be condemned and demolished in the interest of transportation progress. The citizens instituted litigation and obtained injunctions that prevented Idaho from going forward. However, after 20 years in the Courts, Idaho prevailed… sort of. Final judgments were rendered in favor of the State, but during those preceding 20 years the citizens, largely through the hard work of one woman, secured a designation for the entire town that placed Wallace on the Register of Historic Places. The State was forced to build the Interstate ABOVE the town, and in the case of the Depot, move it unharmed to a safe location.
My tour of the station ended and I proceeded on foot to another tour that had been recommended to me.
The Sierra Silver Mine had a storied history that began with miners and hand tools exploring a silver vein in the area known as the richest silver producer in the world. The men dug for 7 years yet made less than 100 feet of progress with their shaft. Later owners using pneumatic drills and dynamite would make similar progress with a small crew in only 4 days. Subsequent operators expanded the mine to thousands of feet of tunnels on many levels but never found the "mother lode". As it turned out another mine, digging from miles away, extended its shafts horizontally 1,800 feet below the Sierra and struck rich oar that produced over 50 pounds of silver for every ton of ore. The best that the Sierra had done was a few ounces of silver for every ton of ore.
The Sierra could not extract silver from the ground, but its modern operators learned how to extract silver from the pockets of tourists, me included.
For $14 (with senior discount) we customers were driven to the mine in a trolly bus. We were met at the mine by a retired miner, in this case "Fast Freddie".
Freddie had dedicated his entire working life to the mining profession.
Taking us below he explained the workings of a silver mine and then demonstrated with the actual machinery. The experience was both delightful and deafening.
Freddie showed how miners had once worked assisted solely by candlelight, then by carbide lamp, and finally by modern lithium powered LED lit hard hats.
I have previously toured coal, gold, iron, and even salt mines, but this was the best such tour by far. Again, I was not a silent observer. Like the train station guide, Freddie became happily animated by my questions and interest. It doesn't take much for my child-like wonder to kick in.
Tomorrow is my last day in Wallace. Who knows what tomorrow may bring?… not me.
Peace Everyone. Pete