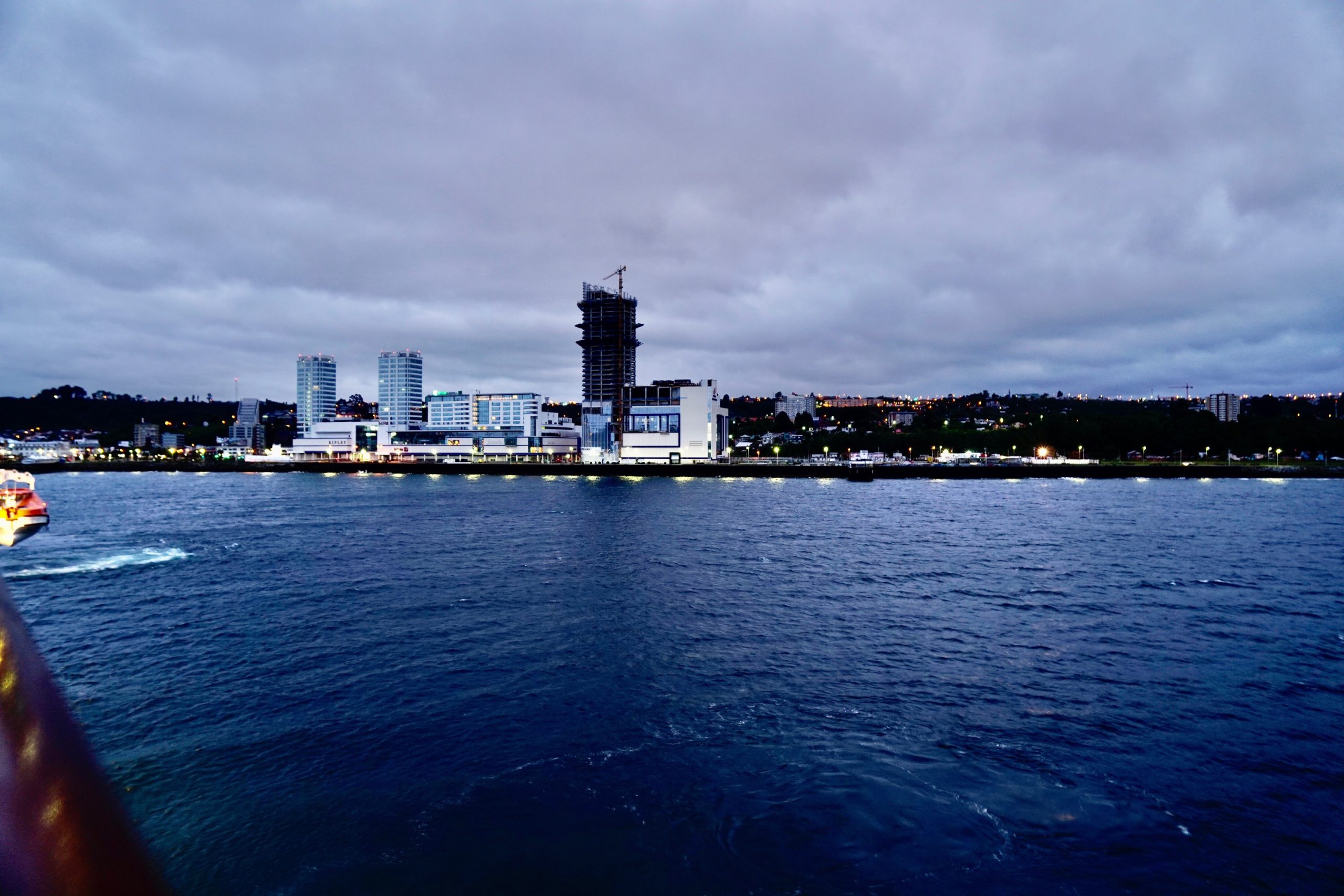 Today we were scheduled for a port of call in Puerto Montt, Chile. Christine and I were looking forward to a special excursion. We had arranged a four hour horseback ride through a Chilean rainforest. This promised wonderful photographic opportunities. We had also planned to spend the afternoon in the well developed port city which has a population of approximately 200,000 people.
The city was founded in1853 when the Chilean government sponsored immigration to bring in German nationals to populate this remote region. Coincidentally, I enjoyed a brief conversation last night in that language with one of our German passengers. It never ceases to amaze me (and Christine) how quickly the language comes back to me. Someday I hope to spend enough time in that country to develop actual fluency.
Unfortunately, conditions in the bay were unfavorable. Although the ship made anchor and sent crew in for initial contact by tender, the seas were such that many of the passengers who are more physically challenged would have been unable to safely board and exit the tenders. The captain found it necessary to cancel the port of call.
Apparently, a group of sea lions found nothing to complain about as they seemed to happily dance alongside the ship.
I am taking advantage of the situation to get a quick load of laundry done. Each deck has two laundries, one on portside and one on starboard. Each laundry has four washers and four dryers. They are self-service, but there is no cost. Great minds think alike! I was fortunate to snag the last available washer as a line of people began forming down the hallway with the same idea. My exercise gear is in the wash machine so Christine and I are also taking advantage of the moment for a leisurely room service delivered breakfast in bed. Even the darker things have a silver lining, sometimes you have to throw them in the wash machine to find it.
Yesterday was a day at sea, it appears today will be a day at sea, and finally, tomorrow is a day at sea. We make port Valparaiso, Chile, on Sunday. Christine and I then travel by land to Santiago for three days of touring on our own. We board the big jet for our flight home to Kansas City on Sunday. We look forward to everything before us, especially the homecoming.
Christine has convinced me to schedule a 90 minute massage tomorrow. I am not a an "massage person", but I've had a few and enjoyed every one of them. The masseuse will be Nadine from Newfoundland Canada. She is a delight and has led a number of mindfulness/meditative exercises that I have participated in here on shipboard.
We have also been invited by one of the passengers to a cocktail party in her suite tomorrow evening. Our state room is quite nice and more than adequate for our needs. The host, Bobbie, is a retired software designer who was in management at QUALCOMM for the last 15 years of her career. She and her husband are among those who are doing the full circumnavigation of the world on the ship. Viking Sun has been and will be their home for nearly 300 days. Their accommodations are a true suite of rooms with a private deck and Jacuzzi. We are very honored to be among her guests.
I know that some passengers took today's news badly, but I just have to say… "Ship happens".
Peace Everyone! Pete