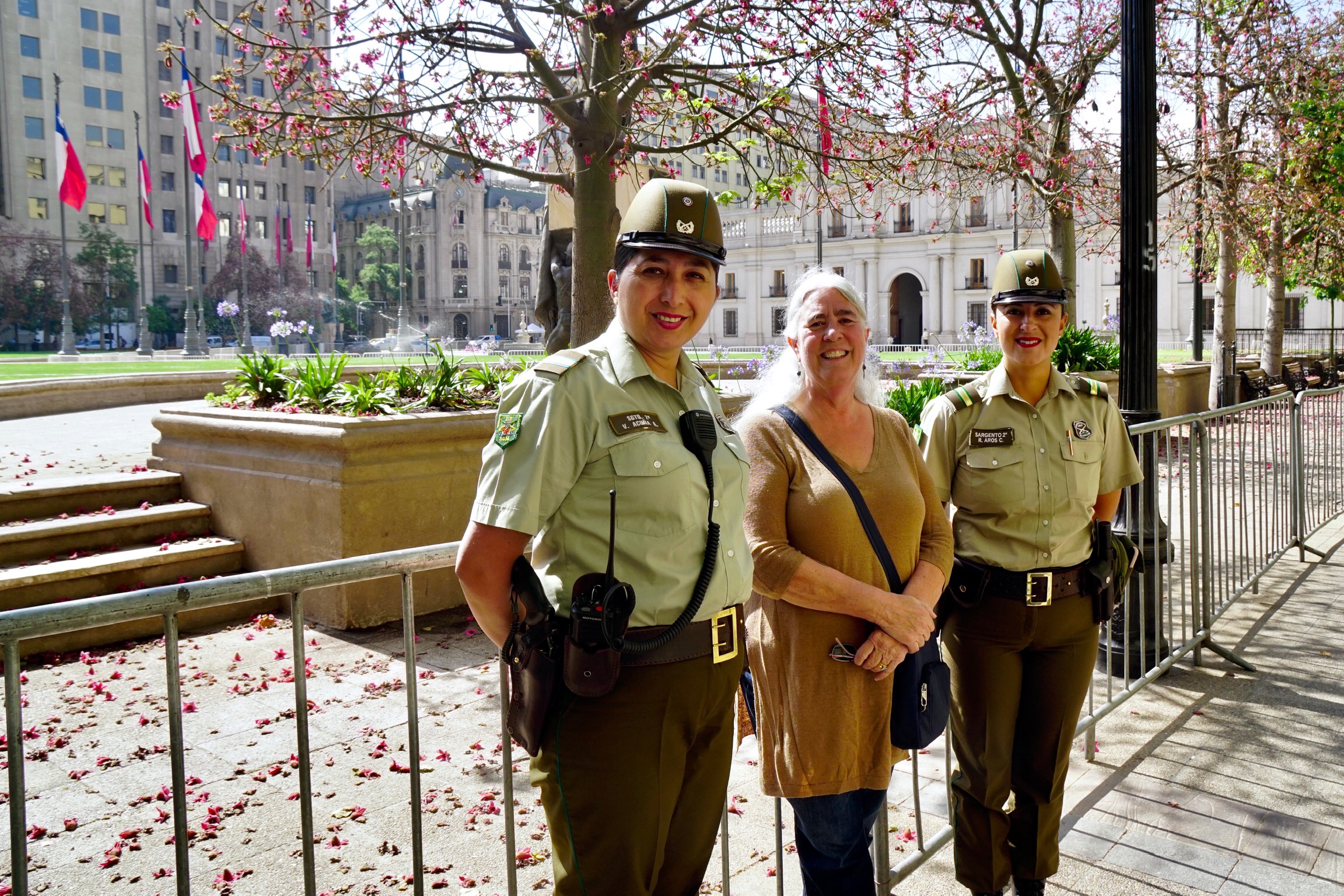 I am writing this in the pre-dawn hours of Thursday, December 12th. Our flight takes off tonight at 10 p.m. for Dallas-Fort Worth, followed by a layover and connecting flight to Kansas City. This will be a brutal 28 hours in transit, on par with the 24-36 hours that some of our friends have had to endure as they traveled home from Chile to Colorado, Oregon, Minnesota, or Canada. Not exactly a silver lining.
Santiago is one of the largest cities in the Americas. It has not changed since our arrival on the 9th, but our impressions of it have. Two full days and two half days were barely enough time to take the pulse of the 2 or 3 Barrios that we have wandered about, but it was enough time for us to adapt and become charmed. Our travel was exclusively on foot, averaging nearly 10 miles each day. It was good to walk after the more sedentary experience aboard ship. This morning our friend Kris posted a Latin phrase, "Solvitur ambulando" which loosely translates into "It is solved by walking". That describes our experience of the last few days.
We made Wednesday into a walking tour. Nothing in depth, no museums, no cultural centers, virtually nothing inside… just walking and taking it in…
A literal highlight of the experience was ascending Santa Lucia Hill, enjoying its gardens, pathways, and the spectacular view of the city from the top. The Andes Mountains were barely discernible rising above the urban haze.
We peeked inside the 18th century Colonial era church, Iglesia San Agustin, which is one of the oldest buildings in Santiago. It has successfully withstood a number of devastating earthquakes.
We wandered by the Presidential Palace…
The Municipal Theater…
Through market lined boulevards…
…and throngs of humanity.
We returned to Food Park Tepeyak and tried out different vendors. The food was excellent and I enjoyed the candid sight of Christine consulting "Mr. Google" to translate a menu.
After siesta time we returned to Barrio Brasil where we intended to take in a splurge dinner at a highly regarded restaurant. It was closed. However, as we continued walking we were drawn to an unusual edifice bearing the name, Ocean Pacific. A seafood restaurant that also serves land proteins (after all, this is Chile!).
In English, a rugged looking gentleman in sailor's attire bid us enter, We did, and it just got better and better. The "sailor" was Rikardo and his smile only hinted at his larger-than-life personality. He was assisted by the equally charming Mercedes who apologized repeatedly for her poor (it was excellent) English.
We placed ourselves into their capable hands and allowed them to virtually select our wine, main dishes, and sides. It was a fun experience that included camaraderie and excellent cuisine. This was beyond any expectation that we had held for a final meal in Santiago, and a real silver lining to the intended but closed first choice.
In retrospect, these 4 days have been filled with "silver linings". One must just be open to seeing them.
Our "hotel", turned out to be a less than distinguished apartment. However, it was clean and the location could not be better. No air conditioning, but there was a fan and the evenings cooled quickly from 90 degrees to the 60's. The desert-like dryness rendered the daytime temps very tolerable.
Traffic was constant, but drivers obeyed the pedestrian signals so negotiating intersections proved safe. A feature of some of the signs is that the "walk" figure becomes an animated running figure when the signal nears the end of the cycle. It made us smile.
We found that the city gave us helpful people at the right moments. A history professor, a taxi driver, a protester, and even a pedestrian who cautioned me to keep my camera secured.
Even the police and military personnel proved friendly to us.
The food was good… the beer was good, and so was the wine.
These and other "silver linings" more than eclipsed any thoughts that we originally held of "dark clouds" in this city.
This may be my final post from this journey. Like virtually all large cities Santiago's first impression can be overwhelming, impersonal, and uncaring. However, under the examination of opened eyes and an open mind one becomes aware of children laughing in the parks… toddlers testing the limits of their parents' resolve for their safety… teens happily jamming to their tunes… lovers (young and old) holding hands and exchanging an occasional kiss. There are "suits" hustling to and from work, partially eaten sandwiches in hand… and beggars with hands out in search of coins for their next meal or next bottle. Vendors eye pedestrians with anticipation for the potential customer and suspicion of the possible thief. Life lived by millions, played out one person at a time.
Once again in a far-away place we have found what is familiar.
Peace Everyone. Pete