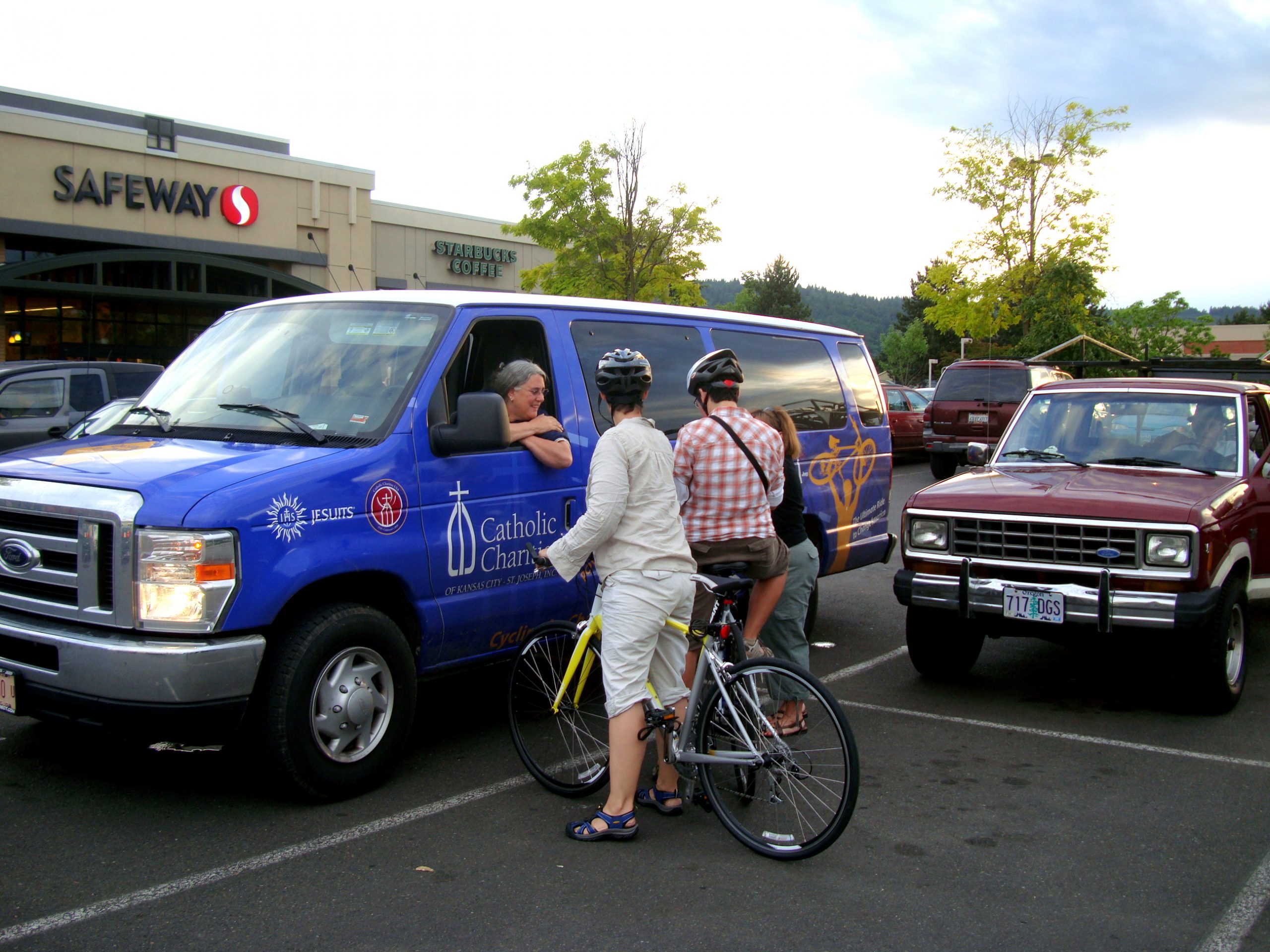 June 4th presented us with a challenging 70 mile day that would eventually see us arriving in Portland Oregon where we would be guests of the University of Portland.
However, before reaching Portland we were scheduled for lunch in Woodland Washington and a tour of La Casa de San Juan Diego, a Catholic Charities' farm worker housing complex.
Later that afternoon in Portland we attended 5 p.m. Mass at St. Ignatius Parish, followed by a "Blessing of the Bicycles", and a Tamale Dinner catered by an immigrant women's group. Father Matt addressed the gathering on the topic of our mission and Social Justice.
I had begun to favor college dorms over other forms of housing. The dorm/college atmosphere seemed to encourage a greater sense of community within our group.
College towns also have pubs that are upbeat and celebratory. For our mascot, Curtis, perhaps a bit too celebratory.
With over 360 miles behind us we enjoyed our first rest day on June 5th. On June 6th there would again be rain as we entered the Columbia River Valley where we  beheld some of the most spectacular scenery of the entire Summer.
The ride south into Portland on the 4th gave me pause to consider the contrast in the roads that we navigated,…
(June 7, 2010) The Roads Now Less Traveled.
A few days ago as we proceeded on our bicycles from Castle Rock Washington to Portland Oregon, our course paralleled that of Interstate 5. Our route passed through the towns of Kelso, Carrolls, Kalama, and Woodland (where we ate lunch), crossing near, under, and over the superhighway, but never upon it. For the most part I ignored the Interstate and it ignored me. Once as I peddled an overpass I could see the next town that we were to enter in the distance. With some envy I eyed the onramp and the two messages that the Interstate posted for me: "Kalama 2 miles", and "Non-Motorized Vehicles and Pedestrians Prohibited". One message was a temptation and the other a firm rejection. As cyclists on human powered vehicles we were orphaned by the well-traveled Interstates. I might argue that my bike was "fossil fueled" and that I was the 58 year old fossil that fueled it. However, I knew that such a petition would fall on deaf ears if I were stopped by one of the highway's police guardians. Continuing across the overpass another sign appeared, "South Old Pacific Coast Highway". This was the path that we were obliged to follow, a road now less traveled.
Turning my back on the Interstate I saw the contrast with the road that lay before me. The Interstate, a beast of concrete and steel, was a creature of post-World War 2 prosperity and expansion in America. It is a monument to the ability of mankind to wrestle nature's boundaries and obstructions into submission. It stood as a byway without passion or soul, a road known only by a number and a direction. The Interstate is blunt force that catapults the traveler from one place to another as a bow shoots and arrow.
The Old Pacific Coast Highway, lying in the shadow of South I-5, is a highway in name only. This road now less traveled was born in the distant past. Some of her course was determined by nature, some portions by pre-Columbian peoples, and other sections by early European explorers. Her path made compromises with the lay of the land. There are only gentle modifications to grade and course. Unlike the Interstate which blasts through a hill in order to maintain direction and grade, The Old Pacific Coast Highway meanders on and around the rise and fall of the land, like a ribbon uncoiling from its spool.
This living road has a personality. It has a soul. I was captive to her course and her emotions. As I peddled, the road would smile seductively with her long slow descending curves. At times I was embraced by the safety of a wide flat shoulder. With caprice her mood would change. The shoulder would become a sliver of pavement forcing me uncomfortably close to the onslaught of thundering lumber trucks. Her gentle slope would suddenly turn skyward to challenge my legs and my lungs. She could be calm with the smoothness of new laid asphalt, or she would thunder anger through my thin tires, shaking me bodily as I rolled over rough and damaged pavement. A change in the wind's speed, direction, or temperature would either brush my cheek like a gentle kiss or smack me in the face with force.
The Interstate is a wasteland. In some parts of the country, a place which is available to serve travelers with food and fuel is appropriately called an Oasis. People are only permitted within an Interstate's boundaries if encased in a motor vehicle. It separates us from the natural environment and creates its own. There are no sounds, no smells. Sights are relegated to the distance in favor of declarations of speed, distance, and destination.
On the Pacific Coast Highway there were dogs to chase us and children to cheer us. Schools, churches, and stores extended their parking lots to us. Cemeteries presented the memories of those who passed before us. The roadside was picketed as far as the eye could see with the mailboxes of the homes which bordered her lanes. I could not only read the names of the residents but actually exchange greetings with them. A man weeding his garden, a boy seated on his swing set. A woman in a wheelchair called "hello" to me. Perhaps she considered our wheeled conveyances were a connection that erased the differences that otherwise separated us. Bridges nearly touched the water. I could peer over the low railings to see the wildlife that the river sustained. A silver metal silo reflecting the sun by day would do the same for the lights of cars at night. I counted the rivets in one of its seams as I passed. This road served up sights, smells, and sounds as a banquet for the senses.
For 75 miles I had a relationship with this road. With sadness I knew there would be a parting with her at Portland. As I neared the Columbia River a huge bridge loomed in the distance. This would be my crossing and on the other side I would leave The Old Pacific Coast Highway. Riding toward the north end of the bridge I saw where the road channeled bicycles across. I also saw with some concern the shape of a white rectangular sign, the kind that stood to prohibit my entry to the Interstate Highway. But this time the sign was at the start of a narrow lane leading up and over the bridge. This sign declared: "Motorized Traffic Prohibited". I smiled as I knew I was not an orphan of this road. I had been adopted and was now one of her children.
Peace Everyone. Pete
Next: The Columbia River Valley