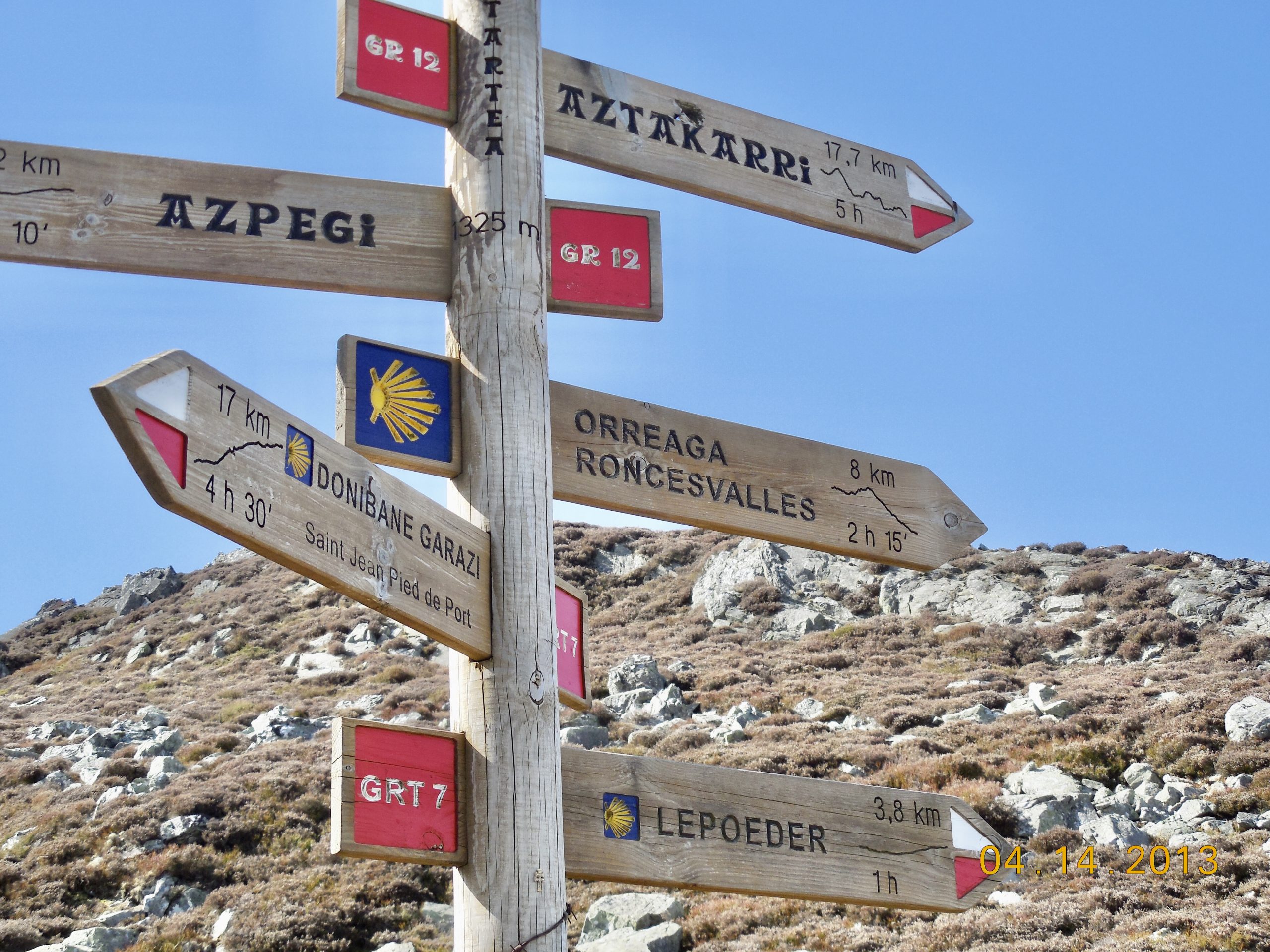 April 14, 2013. The excitement and exertions of the prior day earned Christine and me a welcomed sleep. My night was occasionally interrupted by a deep resonant cough from a young South Korean pilgrim. Regina was one of the 10 sharing the cabin. A few days later there was a spreading bronchial contagion. We were not spared.
Up before dawn I dressed and with camera in hand I hoped to catch sunrise. I was not alone. On the first day I had met a pilgrim from New York laden with perhaps 20 pounds of photography gear. He had already staked out a prime location to erect his tripod and await the anticipated glory of the first rays breaking the horizon.
Photos taken, I returned to the cabin and was greeted by another blaze of light as the morning rays brilliantly played upon Christine's silver white hair.
The Orisson refuge provided a breakfast of coffee, tea, juices, pastries, breads, fruits, cold meats and cheeses, typical for the Camino and typically European. Afterwards Christine and I assembled our gear and emotionally prepared for the day ahead.
I thought that we had anticipated every eventuality. Rain, cold, heat, blisters, but we never expected to be apart. It is often said that each Peregrino walks their own Camino. I was learning the truth of those words. Over the next 35 walking days there would be many times that due to our different abilities and tolerances Christine and I took separate paths. Due to illness there would be 11 nights we would sleep apart. That came later of a "difficult conversation" in the city of Burgos that saved our Camino(s). For now I will only say that Christine's insistence won out.
Outside of the albergue I waited for Christine's pre-arranged departure. The delivery van would return to St. Jean before proceeding on to Roncesvalles. Two other pilgrims had heard of Christine's plans and arranged to join her. Other pilgrims were present when one woman, Patricia with a group from New York, remarked that "real pilgrims" carried their packs and walked every step of "The Way". Most but not all pilgrims are pleasant and polite. Patricia was neither pleasant nor polite. We would encounter her again weeks later.
Parting with a kiss we each began our individual Caminos.
It was not long before I found myself with a variety of companions including Heika from Germany and Brent Ledford, an expatriate California District Attorney who had retired with his wife to Barcelona, Spain.
Brent found that his pension could provide an enhanced standard of living while allowing them to enjoy the culture and environment of a beautiful European city.
As promised, the hike was difficult and made more so by a raging mountain wind conservatively estimated to be over 50 miles an hour. I witnessed a pilgrim chasing his pack as it rolled end over end like a tumbleweed, threatening to plummet off a cliff.
I encountered here, and at various other locations along the Camino, monuments to pilgrims who had died on The Way.
Deaths were typically the result of illness, infirmity, or injury. None to my knowledge were from violence. Poignant was a monument to a Brazilian pilgrim who weeks before had lost his way on the pass during a snowstorm, falling to his death.
The fountain of Roland is reputed to be the place where Charlemagne's cousin and chief knight met defeat and death at the battle of Roncesvalles in the year 778.
Charlemagne, who had been at war with the Muslims in Iberia, was withdrawing to France over the Roncesvalles Pass. Roland commanded the rear guard. At a point in the pass that was narrow and bordered by forest he and his troops were ambushed by Basque soldiers.
Roland's struggle became the story of legend told in the oldest surviving piece of French literature, the 11th Century epic poem, "The Song of Roland".
Snow remained evident in the higher elevations and the border between France and Spain was marked by an ancient stone monument.
The vistas, fresh air, and brilliant sunlight made for a remarkable experience, a sensory banquet.
Roncesvalles came into view at the top of the pass. It was a welcome sight.
The descent was steep and remained challenging. I was met by Christine with open arms.
We registered at the Albergue and were assigned adjoining bunks in the clean and well-maintained facility. While still a hostel, there was a welcome nod to privacy. Next came a tour.
The Catholic Collegiate at Roncesvalles was originally established as a hospital built at the end of the 12th century. Today it primarily serves as a waypoint and hostel for Pilgrims on the Camino. Our tour of the grounds and buildings was conducted by one of the priests.
He spoke to our group in English, French, and Spanish. We viewed the wonderful church from its choir and visited the tomb of King Sancho VII of Navarre who was reputed to be nearly 7 feet tall and fought against the Muslims in the battle of Las Navas in 1212. The stained glass above his crypt is dedicated to the battle. There were also chains reputed to be from the 778 battle of Roncesvalles where Roland lost his life. The image of those chains is central to the crest of Spain's Navarre province.
At the end of the tour the priest asked which of us spoke English. We raised our hands and he asked us to step aside for a moment. When the rest of the group had left he asked us if we would be willing to deliver the liturgical readings at evening mass. We agreed.
Beer with new friends and later a communal dinner were afternoon celebrations of a good day.
Most evenings on the Camino featured an opportunity for a pilgrims blessing, a brief prayer service, or Mass. We came to enjoy those moments as times to spiritually contemplate in the company of other Peregrinos. That evening I executed my reading with heartfelt emotion before perhaps 100 pilgrims. For some in attendance it was memorable enough that over the next 34 days I was occasionally asked, "Didn't you speak at Mass in Roncesvalles?" To this day my spirits are lifted to recall, "Yes I did".
Buen Camino. Peace Everyone. Pete