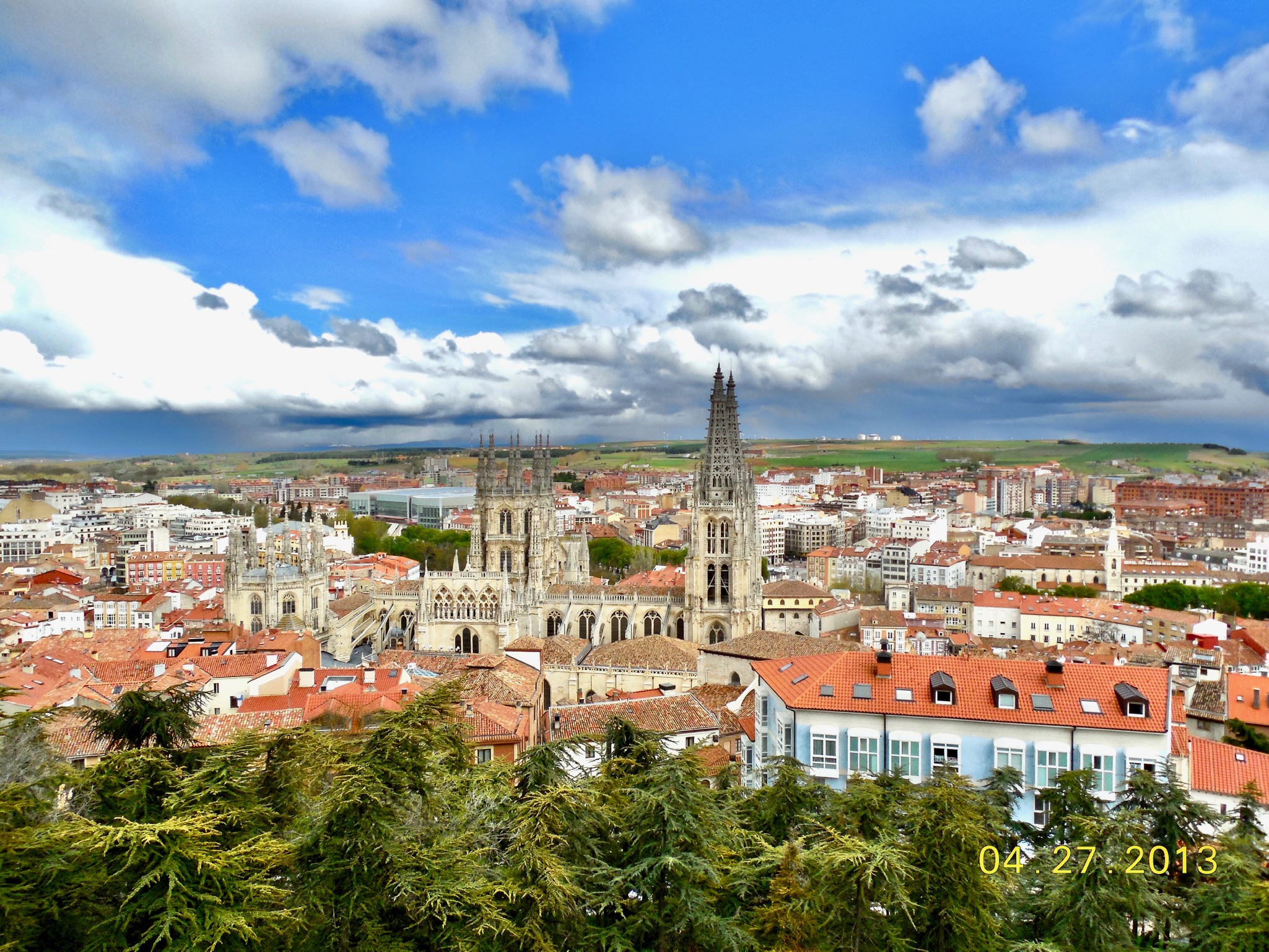 April 27-28, 2013. Burgos.
Burgos (pop. 170,000) is a destination city that is not well known to Americans. Perhaps it is eclipsed by Barcelona to the east, Madrid to the south, and of course Santiago for destination focused Peregrinos. The region boasts the earliest known settlements of hominids in Europe with humanoid remains having been found here that date to 900,000 years ago.
More recent historical artifacts indicate that villages were present on the hills overlooking Burgos over 4,000 years ago. This same location was held as a defensive position occupied by the Romans and later the Visigoths. The region was part of the Iberian Peninsula held by the Moors/Berbers until around the 9th Century when Christian expansion made the area strategically important to both Moor and Christian forces.
In 884 Diago Rodriguez Porcelos, the Count of Castile, fortified a defensive position along the River Arlazon in his conflict with the Arabs. This grew into what we now know as Burgos.
For Christine and me Burgos was a place to spend time off of the Camino and embrace being tourists.
It also gave her an opportunity for much needed rest and to literally catch her breath. More on that later.
We arrived in the city by bus and were grateful to have skipped a long hike through the sprawling industrial outskirts of the city. It was enough that we had seen it through the windows of the touring coach. We entered the central city by foot through the majestic city gates.
It was cool and the Plane Trees which had yet to leaf out looked like bald amputees as they extended in ranks down the inviting pedestrian ways.
We checked into the 2 star Hotel Norte y Londres. Situated mere feet from the route of the Camino, it was centrally located to the most important sites of the city. It was clean, elegant (to us), and provided an excellent continental breakfast. Best of all we could luxuriate in a real bathtub and all for less than 50€ per night.
Settled into our room we set out to "discover" the remarkable Burgos Cathedral.
Construction began on this monumental structure in 1221 and it was consecrated in 1260. Various expansions and embellishments continued for hundreds of years thereafter. The white exterior is a stunning example of Gothic architecture. However, a trained eye will observe Renaissance and Baroque elements. The ornate twin spires were added in the 1400's and though very similar to the great spires of the cathedral in Cologne, Germany, these predate Cologne's by centuries.
Burgos Cathedral is a UNESCO World Heritage Site, so designated in 1984.
Books have been written about this living museum and so my images and narrative can only hint at the wonders the Cathedral contains:
The floorplan reveals a sprawling complex.
The ornate Door of the Sarmental is prominent on the south transept.
The exterior abounds with sculpture. Between the twin spires are statues of the first 8 kings of Castile.
The north transept presents the equally beautiful Door of the Apostles.
Additional exterior images:
The interior of the church is deserving of a full day. We obtained audio guides which provided detailed background information on scores of features.
Even the audio guide could not possibly cover all that we saw.
The choir was rich with hand carved wood.
Central to The Tomb of the Constables were the crypts of Fernandez de Velasco, and his wife Mencia de Mendoza with their lifelike effigies. Velasco was the 6th Constable of Castile in 1493, a post with authority second only to the king.
Spain's national hero, El Cid ("The Master", 1043-1099), is Spain's version of America's George Washington. He and his wife are buried in Burgos Cathedral. His tomb is less notable than "El Cid's Chest" which is mounted with far more fanfare high upon a wall of the Cathedral. It is a stout treasure chest that he gave to bankers to hold as security for a large loan he obtained. Unbeknownst to the bankers, rather than holding treasure El Cid had filled the vault with sand.
Another interesting crypt is that of Bishop Alfonso de Cartagena (1384-1456), diplomat, philosopher, author, and polymath. He negotiated peace with Portugal, was emissary to the kings of Germany and Poland, founded schools and monasteries, and in his free time translated the works of Cicero, Senica, and Aristotle.
High above the Cathedral floor is a garish clock and mechanically animated "Jester" that chimes the hours. It is known as the Papamoscas.
Breathtaking were the Golden Stairs,
the details of the overhead arch work and ceiling vaults,
the treasury containing original historic artifacts and religious vessels.
and the art masterworks throughout.
The complex also includes a cloister that invites a stroll in contemplative silence.
The day concluded with a delightful meal of local fare, including Morcilla a form of blood sausage. Each region takes pride in their own version made from a mixture of congealed blood, bits of meat, a grain filler, and spices. My "anything goes" taste buds were fans of every variety that we encountered. Christine was a big "no". It seemed that the further west that we traveled the less "congealed" the blood was. It was pretty solid in Burgos.
April 28

th

:
Christine elected to spend most of the day at the hotel. She encouraged me to continue my exploration of the city.
I was intrigued to visit the Museum of Human Evolution which has the remains of human European ancestors dating back 750,000 – 800,000 years.
I had to choose between that museum and Burgos Castle which overlooks the city. The castle prevailed.
Located 250 feet in elevation above the city, much of the surface structure of this fortress has been lost to time.
However, remarkably intact is the engineering marvel of the castle's well. It extends 200 feet down a 6 foot diameter shaft that is lined with hand cut precision stone blocks to the water table below.
In order for a medieval siege to have any chance for success against a substantial fortification it was necessary to deprive the defenders of food and water. The well was therefore critical to the lives of the defending army.
The well shaft had its own defensive measures in the form of a series of 6 spiral stairways and galleries, each about 35 feet in height, one above the other. These gave access to the well at each level for maintenance and defense. Each spiral shaft was slightly over 4 feet in diameter, and for reasons unknown to me alternated between clockwise and counterclockwise construction.
I participated in a tour of the underground works. Hardhats were required.
Below ground we walked a portion of the nearly 1,000 feet of tunnels built by attackers seeking to reach and disable the well, and also counter tunnels built by defenders to stave off the attackers.
Our Difficult Conversation:
Late the afternoon of the 28th Christine told me that she could not continue in the morning. Pale and clearly in some distress, she insisted that all that she needed was more rest to build her strength. I was concerned and suggested that we seek out a medical clinic. She rejected my suggestion and was especially adamant that I continue on without her.
Our preparations for the Camino had seemed comprehensive, yet discussion of "what if" never touched upon what now confronted us. Maybe it was because it was unthinkable, maybe our lofty thoughts of the adventure flew too high to see the most grounded of possibilities. In any case we had never asked the question, "What if one of us cannot continue?" I insisted that I would not leave her. The discussion became somewhat contentious. She asked me to relax and just listen. "This hotel is comfortable, well-staffed, and I will be able to communicate with you. There is medical care available if I need it. I will be fine and the public transportation available from here will enable me to get back to you quickly. Finally, walking the Camino was my idea and I can decide how and what I do. There is no reason right now for you not to continue." It was all well-reasoned and logical, it felt like she had spent the day rehearsing her speech.
I was torn. Go on or not. We looked at the route ahead. From the perspective of one who was ill it looked pretty bleak for the next few days. The decision to walk the Camino had indeed been hers and I heard in her voice a plea that she continue to direct her pilgrimage so long as she was able. I also sensed that she wished to avoid the burden of guilt for derailing "my Camino." Her logic prevailed over my emotions, but with the caveat that she promise to immediately seek help if she became any worse.
I alerted hotel management who were understanding and accommodating. Also, pilgrims on the Camino, especially the outgoing ones (we qualified), developed a certain celebrity of reputation among other Peregrinos for a radius of about 2-3 walking days in each direction. I intended to let Christine's circumstances be known and invite other pilgrims to check on her welfare.
One pilgrim we had met early on, Brent Ledford, had come away from a planned delay with a relative in Pamplona. He was thus a day's walk behind us. We exchanged emails and he promised to see Christine on his way through Burgos. The day of his arrival at the hotel he insisted on taking Chris to dinner. I was relieved to receive his email "report" that she was doing better and would soon be catching up to me. She remained in Burgos a total of 4 nights. By the end of 35 days on the Camino we would spend 11 nights apart.
We were learning the hard truth of the well-worn saying, "Everyone walks their own Camino." In our case even when you walk with your spouse of 36 years.
Peace Everyone, and Buen Camino! Pete