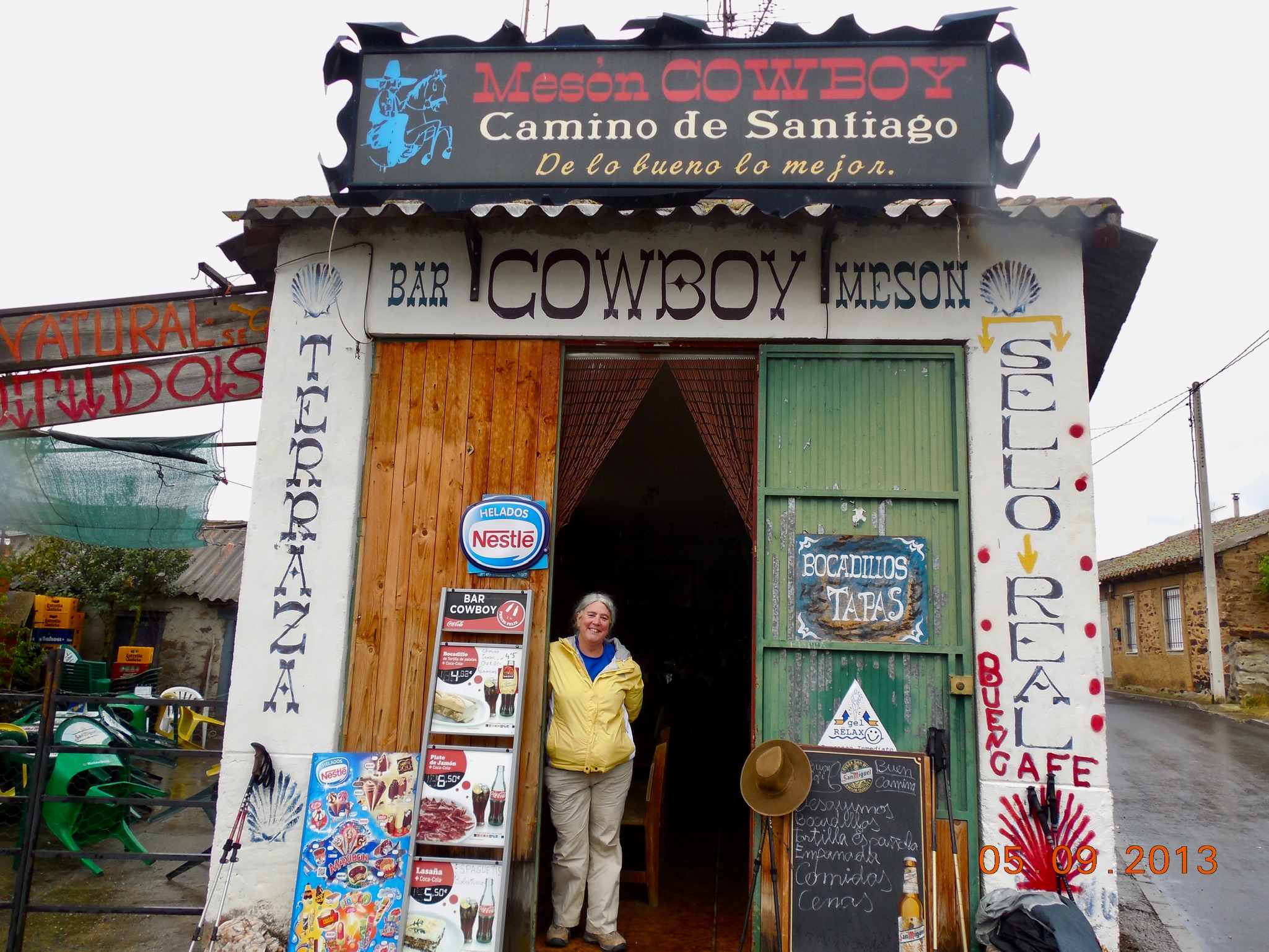 May 9, 2013. Astorga to Rabanal.
Our hopes were high that with our departure from Astorga we were also leaving behind the drama of the past two days.
The steel gray sky released a near constant drizzle that kept the puddles filled and shoes laminated with mud. At times the humidity was such that if felt like the mist formed under rather than over our rain gear.
In spite of these morning conditions the fact that we shared the path with like-minded souls made for a spirit of camaraderie more than equal to the elements.
Rabanal was 22km ahead, but more importantly we were now only 264km and 13 days from Santiago. Whether measured in days or in miles we were approximately two-thirds of the way to our final destination. This was not the home stretch, but I could sense its presence over the horizon.
It is often said that the Camino presents itself to the Pilgrim as three distinct experiences: first as a physical challenge, next as an emotional encounter, and finally as a spiritual awakening. It occurred to me that ours was thus far a textbook example of those words transformed into reality. I understood and expected the physical aspects that we had experienced. My still evolving focus upon self, others within the orbit of my life, and most of all my relationship with Christine was unanticipated and emotional. Spirituality? Speaking for myself, this was still more bucket list than pilgrimage. I was not looking for a spiritual experience.
The path that day avoided main roads and was almost exclusively a meandering walk through open countryside.
We would pass through 4 small villages before reaching Rabanal: Murias, Castrillo de Los Polvazares, Santa Catalina de Somoza, and El Ganso. The largest of these "Maragato" villages is home to fewer than 300, and most were suffering the ravages of time.
La Maragateria is a small and ancient historical region, with a distinct ethnic and cultural community, the Maragatos. Homes and buildings are of stone construction. Efforts to preserve the unique traditions seem linked to the failing efforts at preservation of the equally unique structures.
In the tiny and crumbling village of El Ganso stands the almost absurd "Cowboy Bar".
We were greeted at the door by Ramiro, its owner and "bartender". It seemed that his total command of English was loudly calling out the words, "Whiskey! Whiskey! Whiskey!", as if it was our responsibility to order up a shot or two.
However, when Christine replied, "Si!", his smile and zeal slumped, and he politely shook his head, "no". There were strong libations behind the bar, but perhaps it was too early, or possibly he did not wish to become the temptation that derailed her Camino that day. In any case we ordered non-alcoholic drinks which he cheerfully served, I took pictures, and we enjoyed the unique experience of "The Cowboy Bar".
Spirits lifted, but not by alcohol, we continued our pleasant and picturesque hike through the countryside, arriving in Rabanal shortly after 2 p.m..
The tiny village (pop. 50) offered a surprising variety of lodging options capable of tripling the hamlet's population. Among the alternatives were a 34 bed municipal albergue, a Hosteria, a small upscale hotel, two private albergues, and for up to 10 pilgrims willing to spend at least 2 nights, the Monastery of San Salvador del Monte Irago offered beds in its retreat house. We registered at the popular 76 bed Albergue Nuestra Senora del Pilar.
To say that this was a unique experience would be an understatement. First the good: The albergue offered a pleasant courtyard, bar, and restaurant. The staff was friendly, attentive, and the price was right.
The not-so-great parts centered upon the bedroom accommodations and lavatory facilities. 76 beds were tightly situated into two large dormitory rooms. The unisex bathroom contained only 2 water closets, 2 showers, and 2 sinks.
Except along the walls where single two-high bunks were reserved for unaccompanied females, 4 bunks were secured together in tandem, two up and two down. There was little room to stow our wet clothing and gear.
We had grown accustomed to sacrificed privacy, but Nuestra Senora del Pilar rose (descended?) to a new level. The feet in the toilet or shower stall adjoining the one you used could be male or female. The two sinks were so close to each other that bumping elbows while brushing ones teeth was almost unavoidable. Lines of Peregrinos "in need" formed before each toilet, shower, and sink. In the beds next to ours a young couple hung up their sheets so that we could not see the passion that we could not avoid hearing. In total the stay was an "interesting" experience that still brings a smile when recounted.
At the center of the town is the 12th Century Iglesia de Santa Maria.
This tiny church, cave like in its interior, was open for pilgrims to attend. 7 p.m. Vespers and 9:30 p.m. night prayers presented by the Benedictine Monks of the adjacent Monastery of San Salvador del Monte Irago.
Four of these monks, each originating from Germany, offered prayer in Gregorian Chant at Vespers. This moving ceremony was attended by us and perhaps 25 other pilgrims who filled the chapel to near its capacity. At the conclusion of Vespers one of the monks addressed the gathering saying that a monk would remain to speak with any Peregrino who wished to visit.
Christine and I exited the church to dusk falling on the small outdoor courtyard. It troubled me that no pilgrim had remained to accept the offer of the solitary monk who remained within. I hesitated. Christine turned to me, "You want to go back, don't you?" After a pause I replied that it saddened me that no one had stayed to accept the monk's offer. Christine encouraged me to return to the church. She promised to wait for me outside.
I entered the chapel's dark and now silent interior. Barely visible in the flickering light of the votive candles was a bent and aging figure seated in one of the six ancient choir seats aligned along one wall. As I approached he made no acknowledgement of my presence other than to slightly move his hand, indicating that I should sit at his side…
To be continued. Peace Everyone and Buen Camino. Pete