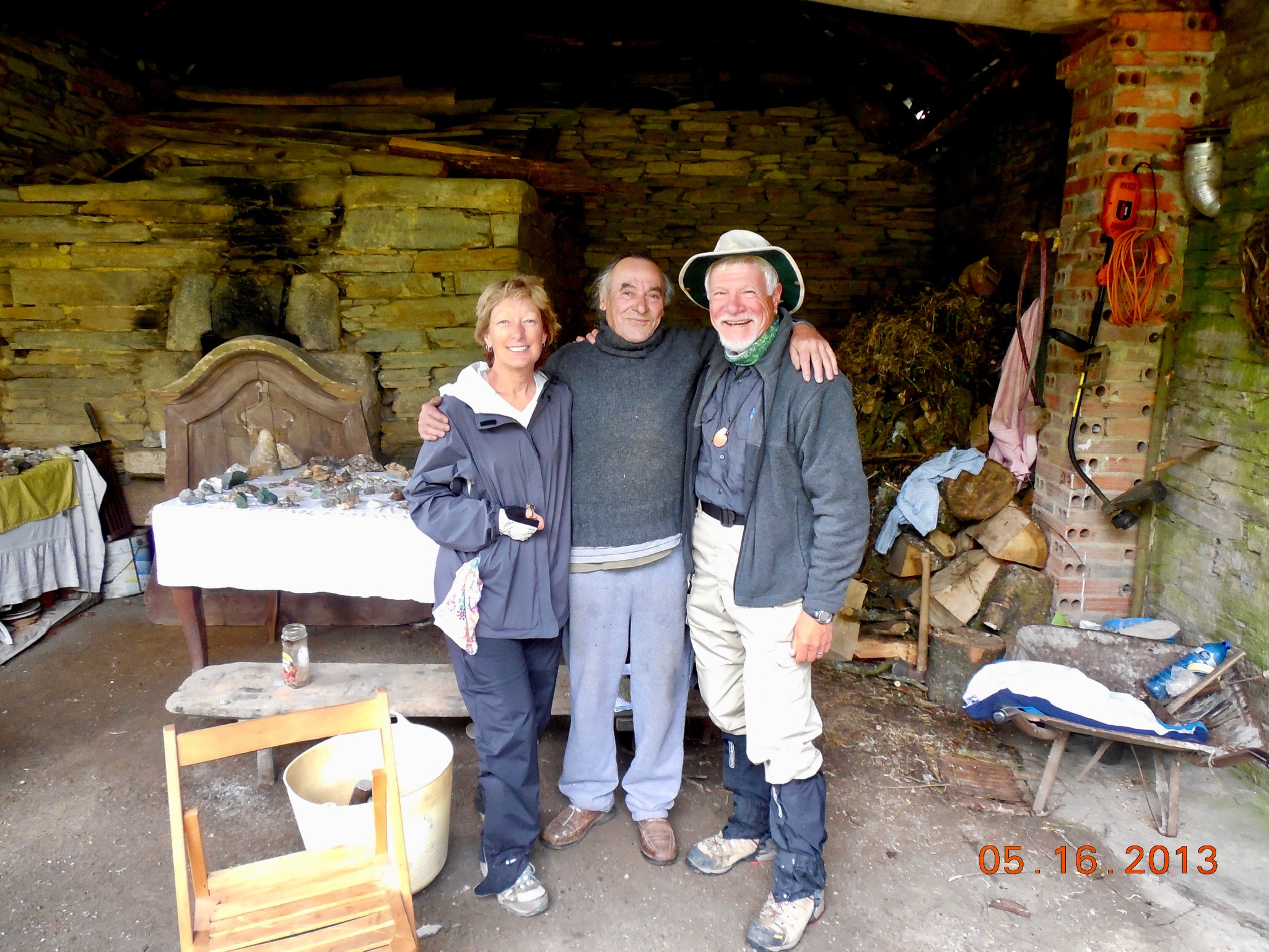 May 16, 2013. Albergue El Beso Ecologico to Barbadelo
May 15th had opened to heavy frost, fog, and freezing temperatures. So what's the problem with a little rain falling on the morning of the 16th? Nothing, provided it is just a "little rain". It was not. We opened the door of Albergue to a torrential downpour. Stephanie, Kris, Christine and I put our heads together and made a plan.
We were 132km from Santiago with Sarria 17km ahead. Sarria, a town of 15,000, is the most popular starting point on the French Route of the Camino. 2019 was a record year with over 350,000 Peregrinos obtaining certificates of completion (Compostela) in Santiago. Of the 60,000 pilgrims who started 830km away in St. Jean Pied-de-Port (France), 35,000 completed the journey. A whopping 96,124 who started in Sarria in 2019 received Compostelas.
Sarria is 115km from Santiago, it is a major transportation center, and has dozens of lodging options for the throngs of pilgrims who choose to overnight or begin their Camino there. It is also beyond the 100km minimum radius journey to Santiago necessary to earn a Compostela. It was NOT the place we wished to spend the night.
A little over 4km beyond Sarria is the tiny village of Barbadelo. At 110 km from Santiago Christine could transport there, taking Kris' backpack with her, secure lodgings for us, and still qualify for the Compostela by walking the remainder of the way to Santiago. With four lodging options and located so close to Sarria, we concluded that there was a high likelihood Christine would find us beds there. Furthermore, her recent bout with pneumonia was a strong incentive for her not to walk 21km in the driving rain. Our hosts at El Beso called a cab for Christine and the rest of us were off on foot.
A little more than a kilometer down the mud sodden path we came upon a rest area shared by a roadway. There was an unusual fountain with a large decorative scallop shell worthy of pictures in spite of the risk the rain posed to my camera.
Rain militated against my usual quantity of pictures. However, what I lacked in quantity I made up in quality, preserving enough images to shore up memories of a beautiful (wet!) countryside.
The closer we drew to Santiago the deeper the trodden paths became. At times it felt like we were walking in World War I trenches. Rain enhanced the impression.
We had read that about a quarter-mile off the Camino, near the hamlet of Fontearcuda, was a peculiar sort of place run by an equally peculiar man. Kris and I decided to satisfy our curiosity and take the detour. Stephanie continued on solo.
"Alquimia Mineral" (Mineral Alchemy) was a well-worn cottage complex located deep in a tangle of woods. The proprietor, Antonio Bello, was as unusual as his house. The place was a mixture of art gallery, studio, museum, workshop, and spiritual retreat.
Antonio was its proud proprietor. He presented himself as part mystic, alchemist, artist, philosopher, and as an entirely gentle soul.
He was 68 years old and had spent the last 30 years at his "House of the Alchemist". A few years earlier the Camino had passed directly in front of the entrance of his compound, an inviting stop for Peregrinos on their way to Santiago. However, a subsequent modification to the route meant fewer but more dedicated visitors for him. We counted ourselves fortunate to be counted among them.
At the end of a well spent hour Kris Ashton and I continued through the countryside, on through Sarria, and on to Barbadelo.
In my haste, and again with deference to the elements, I took no pictures as we quickly made our wet and unpleasant way through Sarria.
Christine had four lodging options to explore in Barbadelo (pop. 176). Her first choice was a private Albergue, Casa Barbadelo. Fortunately, they not only had room, but a private room for 4, with bath. The cost was 20€ per person. Believing there would be 4 of us, Christine reserved the entire room. However, we never encountered Stephanie the rest of that day.
Casa Barbadelo had opened in 2011 and was more like a resort than a typical Albergue. A swimming pool was even under construction. The three of us enjoyed the well-appointed bar and restaurant. Best of all, Kris and I were able to change out of our soaked clothes and into dry ones.
The three of us found that we enjoyed each other's company so much that without a word spoken it was just assumed that we would continue on to Santiago together.
Eight years later and the strength and depth of that friendship remains unabated. Kris and her husband, Dennis, were frequent visitors to our home in Kansas City, and we to their home in Colorado.
In the years that followed Kris' 2013 Camino (her first), she became a "Peregrino's Peregrino". She has walked 10 Caminos, 7 which she organized and led for groups from Colorado. She has also acted as a volunteer Hospitalero. Kris joined us in piloting a canal boat in England and Wales (2019) and spent time staying with us hiking in Colorado just days before I sat down to type this post.
Tragically, Dennis fell to his death in a 2018 hiking accident while he and Kris were in Scotland.
There are many gifts of the Camino. Perhaps the greatest among them are the enduring friendships.
Peace Everyone. And of course, Buen Camino! Pete
PS. Antonio Bello, "The Alchemist", suffered a heart attack a few years after our 2013 visit. His son, Armiche, moved in to help his disabled father, and also learn the art of "alchemy" from the master. In the few years that followed, father and son sought out minerals of various kinds, colors, and composition. As Antonio had done for decades, Armiche pounded and pulverized the minerals, creating paints and applications, transforming the raw materials into beautiful artistic creations. Armiche, the "New Alchemist", is also sought out for his talents in the areas of guided meditation and alternative medicine. Antonio passed away in January of 2019.