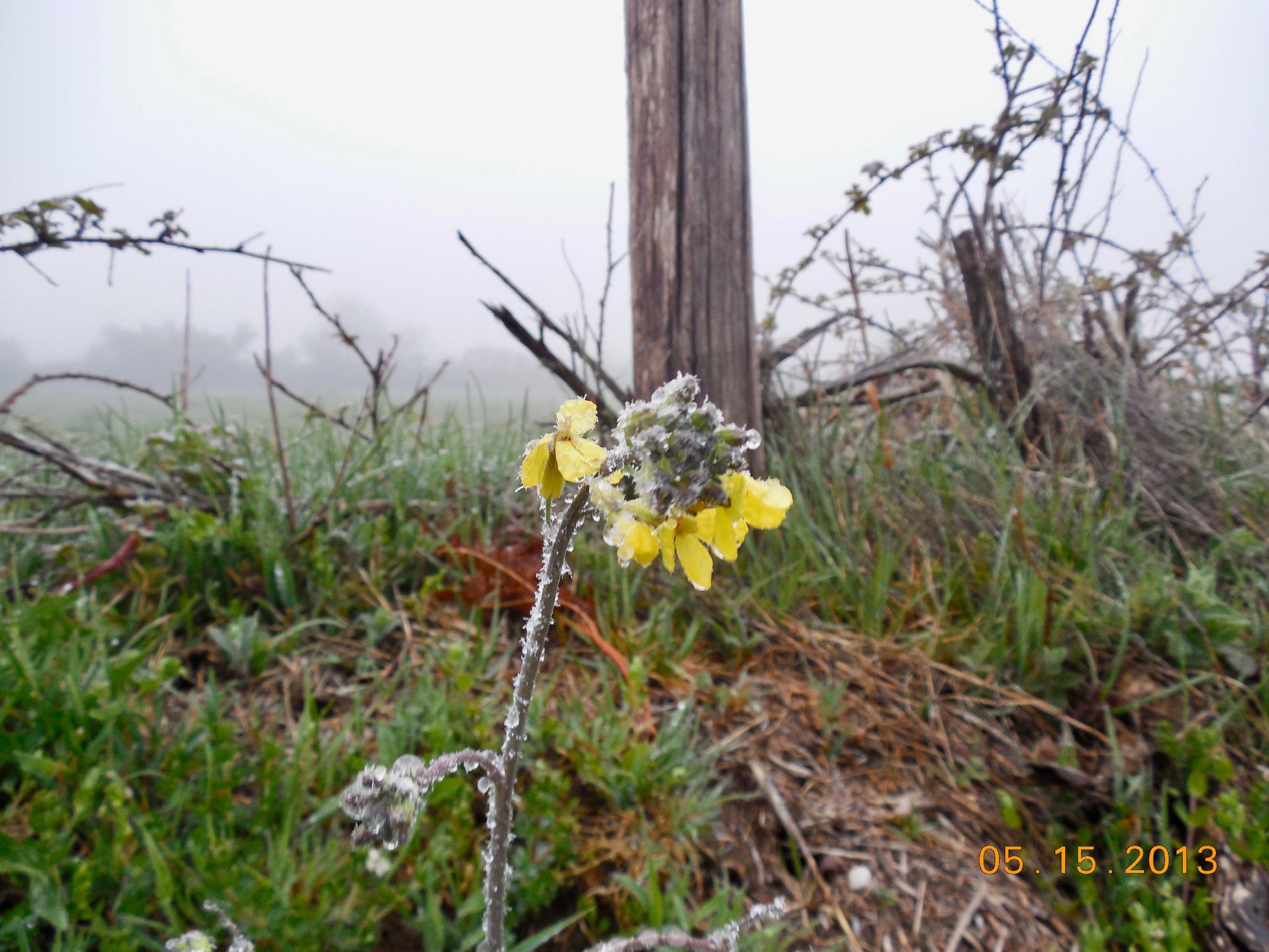 May 15, 2013. Alto do Poio to Albergue El Beso Ecologico
How different can two days be! On May 14th we had gloried above the clouds at O Cebreiro, walked under clear blue skies, and relaxed with beers in hand outside our hostel.
At 7 a.m. on May 15th we walked out the door of Hostal Santa Maria do Poio and into an arctic freezer! It was bone chilling cold. Christine had prudently bundled at the urging of our host, but I let optimism sway me and continued wearing shorts.
Looking back on my pictures I see that I had gloves on, but Christine did not. Chivalry had apparently given way that morning to the demands of shivering.
This would be a relatively short day of 15km. Thankfully, it was all downhill to Triacastela, a pleasant descent of 2,150 feet into warmer daytime temperatures.
There was little of special interest those first 13km on to Triacastela except a pleasant country path, the small chapel of San Pedro at Biduedo, and a few cows that we had to make way for, all shared with my wife. In other words, those kilometers were full of what was special.
By noon we were well along the ancient woodland path that had been deeply worn down below the adjacent land, this the result of centuries of passage by countless pilgrims and livestock
Just before Triacastela we came upon a huge, gnarled Chestnut tree. The "Chestnut Tree of Ramil" is legendary.
Scientists have estimated its age at nearly 900 years. When Aymeric Picaud, author of the Codex Calixtinus, walked the Camino in the 12th Century this tree would have cast its shade upon him. The circumference of its base is nearly 30 feet. A small signboard gave notice to pilgrims that this was a living thing to be marveled at.
My children and grandchildren know that I am fond of embracing the huge Oak trees of our neighborhood, I am a literal "tree-hugger". There is something spiritual in feeling life that moves rhythmically through the seasons; solid, slow, and very old. If trees were conscious of us we would be but passing wisps of smoke, except when we take them down for our own purposes.
There is an excellent children's book, "The Giving Tree" by Shel Silverstein, that may be read as a metaphor with a very adult lesson. "…and she (the tree) loved a little boy very, very much, even more than she loved herself." Spiritual? Perhaps. Controversial? Some reviewers assert that the relationship between the boy and the tree is abusive rather than loving. Draw your own conclusions.
It is a book best read to a child by an adult who loves that child. The challenge arises in moving the final words to one's lips, past a lump in one's throat.
Triacastela (pop. 665) gets its name from the three castles that once stood here at the time the town was sacked by Norman invaders around the year 968. It is mentioned in the Codex Calixtinus and has remained an important waypoint on the Camino. A significant amount of material used in the construction of the Santiago Cathedral was sourced here.
As we entered the town we saw four pilgrims ahead in the distance. Seeing us, two turned and rapidly jogged back toward us, the other two stopping on the road. It was our Camino friends, Kris Ashton and the German pilgrim Stephanie Setz. With tears of joy, Christine and Kris embraced. Ahead were our Canadian pilgrim friends Les and Mary Virtue. The six of us joined for a rest and refreshments, the women posing for a picture.
Kris told us of an unusual albergue that she had heard of. It was about 2km ahead and was the day's intended destination for her and Stephanie. They urged us to join them. Les and Mary would continue on their own way. With a steep climb ahead and no other lodging options for another 8km the decision to join Kris and Stephanie was gratefully made.
In 2011 two Peregrinos, Jessica from Italy, and Marijn from the Netherlands, met on the Camino and fell in love. They fell in love with each other and with the Camino, deciding to make a life with each other on "The Way".
They began a search for a suitable place to open their own albergue. Their funds were limited but it seemed that their energy was boundless. In 2012 they found a wreck of an ancient farmhouse that had not been occupied for 40 years. Parts of the house were said to be 800 years old and looked it.
Their vision was to open a unique albergue that focused on delivering an "ecological experience" to pilgrims. Thus El Beso Ecologico ("The Ecological Kiss") was born.
The couple, acting as hospitaleros, provided clean but sparse accommodations. A common room, heated by an ancient iron stove provided a place to gather and relax.
Jessica prepared a strictly vegan communal dinner and breakfast.
The unheated sleeping dormitory adjoined the communal room and drew minimal heat from the iron stove. Two toilets and a shower served the needs of up to 10 pilgrims. There were but 4 of us staying that night.
The couple proudly showed us their ongoing restoration project and what lay ahead. They provided the labor, supplemented occasionally by pilgrim volunteers. They also shared that they were expecting a child.
In writing this post I became curious about how the couple had done over the last 8 years. The internet provided answers and images. El Beso continued operations until suspended by COVID in 2020. During the closing the couple undertook to expand the facilities.
Their Facebook page gives insight into their efforts to improve upon their 10 year vision… and they are proud parents of an 8 year old boy. However a recent Facebook post shows that El Beso is now for sale, "The albergue is for sale. After many years of enjoying and living on this beautiful spot on the Camino we decided to move on…"
This was not a stay for everyone. It was perhaps our coldest night sleeping during the entire journey. However, Jessica's vegan culinary skills were exceptional, as was the company.
These were two of the most gracious, welcoming, and heartwarming hosts that we met on the Camino. We were treated more like friends and family than mere boarders passing through. I hope that in "moving on" they find that life rewards them with "El Beso" (The Kiss) of health and happiness.
Peace Everyone. And of course, Buen Camino! Pete