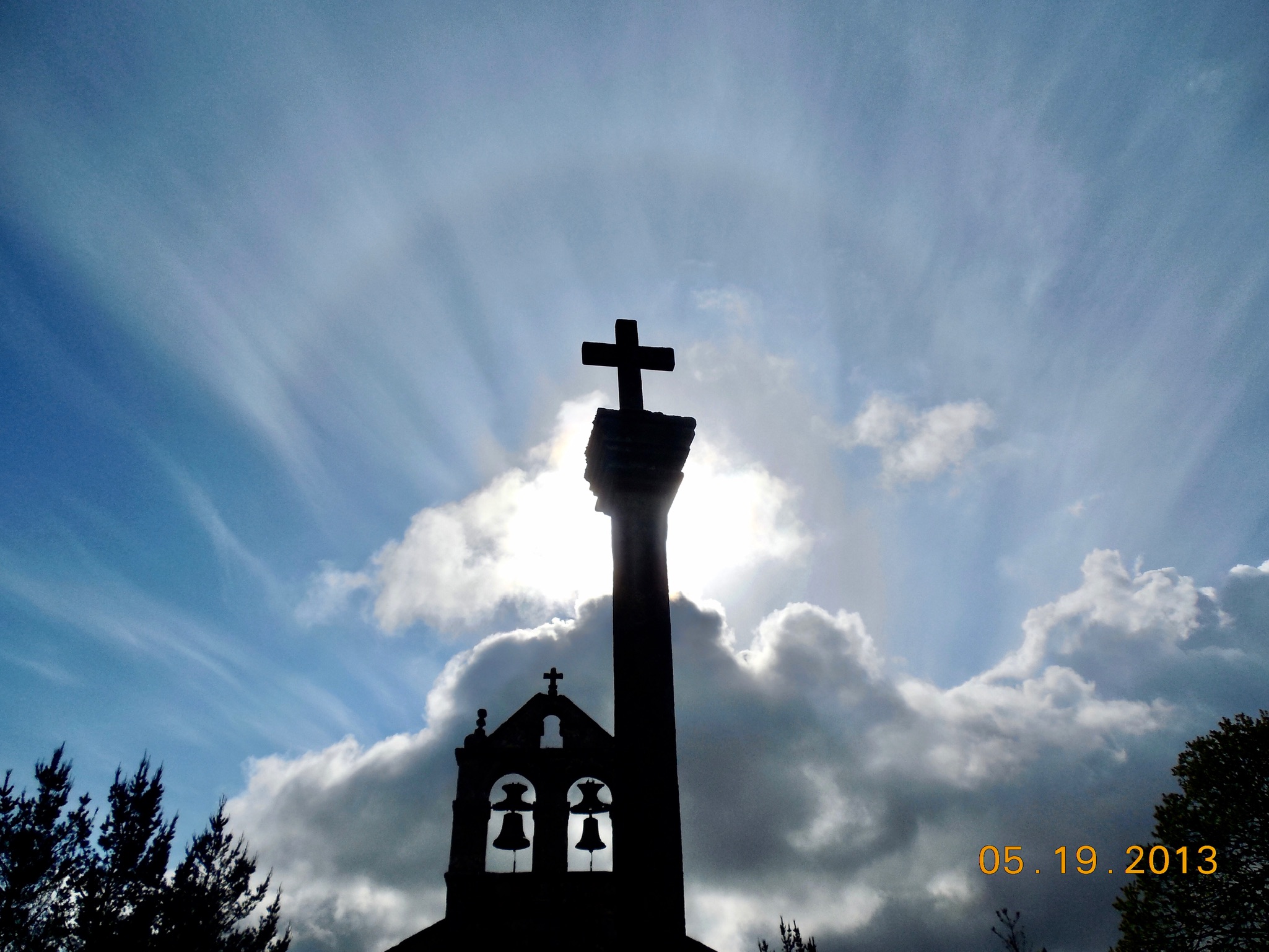 May 19, 2013. Eirexe to O Coto. 16km
A day may be measured in seconds, minutes, and hours. Arbitrary divisions imposed by our ancestors. It may be measured by the spinning of our Earth before the Star which holds us in its grasp. It is a near endless dance imposed upon us by the celestial heavens. Precise measurements in each case, capable of being quantified and clearly expressed.
A day may also be cherished for the joy that it brought. Incapable of measurement and escaping quantification, except for the breadth of a smile, the gleam in one's eye, and the warmth given to the Spirit. Today was such a day, a day of awareness preserved in the moments captured through the lens of this pilgrim's camera.
Rays of the early morning sun broke through the canopy of trees that extended their branches from both sides of a country lane. Two women walked, bonded in friendship, one my wife. We set out from Eirexe for O Coto.
How can one not beam at the unexpected comedy of huge "ants" working in a garden at the side of the road. This was the albergue, A Paso de Formiga ("Pass of the Ants"), located at the tiny village of Portos.
Onward we walked with lingering smiles as we came to the hamlet of Lestedo. The skies opened for us in glory as we looked upon the simple 16th Century church, Santiago de Lestedo. A softer and more contemplative smile seemed appropriate.
Worn farm paths and ancient dry-stack walls declared the claims of generations of farmers to the land. We do not own the land, rather we are but caretakers of this world that will long outlive our kind.
A building moans its sad story with broken windows and moss-covered veneer. It also speaks to keep us on the road to Santiago with a freshly painted arrow.
I am reminded of a poem that my father often recited to me as a child as we drove or walked past some lonely forgotten house. "The House With Nobody In It", by Joyce Kilmer:
"Whenever I walk to Suffern along the Erie track
I go by a poor old farmhouse with its shingles broken and black.
I suppose I've passed it a hundred times, but I always stop for a minute
And look at the house, the tragic house, the house with nobody in it.
I never have seen a haunted house, but I hear there are such things;
That they hold the talk of spirits, their mirth and sorrowings.
I know this house isn't haunted, and I wish it were, I do;
For it wouldn't be so lonely if it had a ghost or two.
This house on the road to Suffern needs a dozen panes of glass,
And somebody ought to weed the walk and take a scythe to the grass.
It needs new paint and shingles, and the vines should be trimmed and tied;
But what it needs the most of all is some people living inside.
If I had a lot of money and all my debts were paid
I'd put a gang of men to work with brush and saw and spade.
I'd buy that place and fix it up the way it used to be
And I'd find some people who wanted a home and give it to them free.
Now, a new house standing empty, with staring window and door,
Looks idle, perhaps, and foolish, like a hat on its block in the store.
But there's nothing mournful about it; it cannot be sad and lone
For the lack of something within it that it has never known.
But a house that has done what a house should do, a house that has sheltered life,
That has put its loving wooden arms around a man and his wife,
A house that has echoed a baby's laugh and held up his stumbling feet,
Is the saddest sight, when it's left alone, that ever your eyes could meet.
So whenever I go to Suffern along the Erie track
I never go by the empty house without stopping and looking back,
Yet it hurts me to look at the crumbling roof and the shutters fallen apart,
For I can't help thinking the poor old house is a house with a broken heart."
Onward. Still we walked in the embrace of nature's magnificent arbor.
It was a grand morning for all, save perhaps for a couple of creation's children.
Eerily, just beyond as if to mourn the fate of those two, a fountain.
66km to Santiago. At the marker were three "lost soles", deserving of a quiet laugh.
Our journey took us from the countryside through the sizable community of Palas do Rei ("Palace of the King", pop. 4,500). The town, proud of its association with the Camino, exclaims the honor in the stones beneath our feet.
We happened upon a busy market and lingered long enough for a small boy to find fascination in Christine's "grandmother hair" and her cowboy hat. This was joy incarnate for the two separated by culture, language, and age, briefly brought together for a moment of life.
Again, the day spoke to us in an image of confirmation.
Through Palas do Rei and across the busy N-547, Santiago now 65km by car, we entered the peace of a wetland forest.
Pilgrims, long forgotten but for their efforts, had placed stones to ease the way for future Peregrinos. Walking with dry feet is a "simple pleasure".
Of course there were horreos. This was Galicia.
At the village of San Xulian ("St. Julian") we passed the tiny 12th Century Romanesque church of the same name.
By afternoon we had been given a collage of sights, sounds, and smells of the earth. It was a grand three dimensional movie that played upon the cinema of the heart.
Finally, we came to O Coto and a large country house, "Die Zwei Deutsch" ("The Two Germans") run, not surprisingly, by two Germans.
It was pleasant, clean, and quiet. Too quiet. Pent-up joy needed an outlet, a time to share and cherish the day.
After securing our rooms and taking a quick wash, we again wandered across the busy N-547 to the delightful bar and gardens of Casa de los Somoza. Christine was greeted like a long lost friend by the owner and his "best friend".
We welcomed another pilgrim to our table and toasted a day well lived.
To quote Benjamin Franklin, "Beer is proof that God loves us and wants us to be happy!" To which I will add:
Peace Everyone, and Buen Camino. Pete