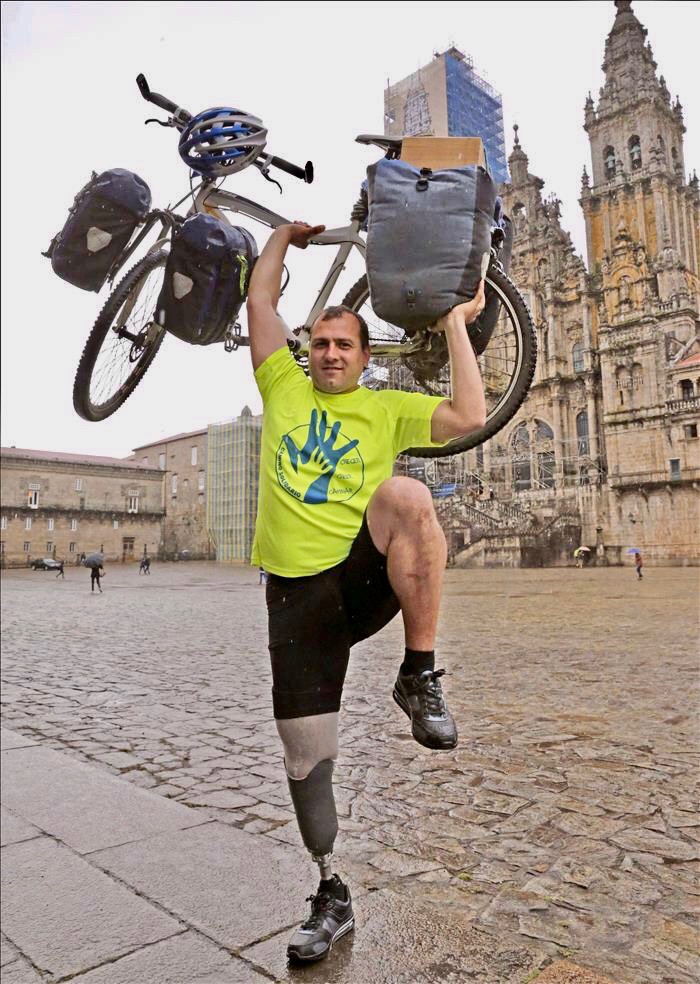 May 20, 2013. O Coto to Arzua
Awake with the dawn we bid our farewell to the "Two Germans" and stepped into the fog. It would be some time before the sun cut through the cold and gave us a better view down "The Way".
We were three days and roughly 60km from Santiago. Our goal from O Coto that day was to reach the town of Arzua. It was a longish 20km haul for Christine, but she and Kris had arranged for the transport of their packs ahead to our destination. Kris kept a light daypack with water, snacks, rainwear, and her dear stuffed bunny companion, "Marshmallow". I continued to carry my pack.
Fast-forward for a moment to the present: I have known Kris Ashton for over 8 years and never have I known her to travel without the security of her little friend. That bunny has more miles under her feet than the little stone garden Gnome featured in the movie "Amelie".
Perish the thought that anyone would ever think it clever to separate Kris from Marshmallow.
Many of us have small icons of comfort that we carry or wear by habit. For some it is a wedding ring, others a photo. We see sports figures wearing theirs. I have mine. There is an unexplainable solace found in these innocent talismans. To each her own. Marshmallow brings a smile to my face whenever I see her (him?).
Back to the Camino: On this day we would wind back and forth across the N-547 traffic artery. This was much less pleasant than the 6 or so rivers that we would cross with the aid of ancient stone bridges and stepping-stones.
Minutes on the trail and we came to the tiny village of Leboreiro, the river Seco, and the first of these bridges, Puente Maria Magdalena.
We also passed by the 13th Century church of Santa Maria. The church was closed, but this did not prevent us from taking in the beautiful relief of the Madona and Child above the entry.
Local lore says that hundreds of years ago a statue of the Virgin was found in a nearby fountain. The townspeople retrieved the figure and placed it within their church. However, the next morning the sculpture was gone, only to again be found in the fountain. This "dance" played out again and again over a number of days until the citizens decided to dedicate their church to Mary and carve her image above the entrance. Thereafter the statue was said to cease its wanderings and has remained within the church ever since.
A few kilometers later we came to another traditional Camino village, Furelos, at the banks of the Furelos River. We crossed on its ancient Bridge of St. John ('Ponte de San Xoan") which dates to at least the 1100's.
By mid-morning we had made our way into Melide (pop. 8,000), a center of government and commerce in the region. Here we happily found a milestone reminder that we were now only 50km from Santiago.
This region has embraced a variety of inhabitants for thousands of years. Archaeological evidence of Celtic people, who pre-date the Romans, exists throughout the region. Remnants of the Celtic heritage also persists in the culture of Galicia.
In Melida is the 12th Century Romanesque Igrexa Santa Maria de Melida (Church of Saint Mary), a national monument.
Just beyond Melida we entered lowland woods where Eucalyptus trees became more prominent. This non-native species which can grow to over 300 feet tall, was intentionally imported from Australia in the belief that their fast growth (50+ feet in just a few years) would be a boon to Spain's paper industry. Sadly, vast forests of native oak, once the foundation of Spain's sea-power and "Armada", were destroyed in order to make room for these monumental "weeds" which now account for nearly a third of Galicia's forestlands.
At the stone crossing of the Rio Raido we encountered a man who had established a small stand where he offered words of encouragement to passing Peregrinos. He also offered to stamp the pilgrims' "credenciales'. Curious, we stopped to visit and look upon the array of literature which graced his modest table. As he first stamped, and then hot-wax sealed, our "pilgrim passports", parts of his story came to the fore.
Ionut Preda was born in Romania to athletically gifted parents. Following in their footsteps he successfully pursued interests in gymnastics, swimming, weightlifting, track and field, and judo. In competitions he has won over 100 national and international medals. As he says on his Spanish language website (Ionut Preda – More Than a Path (masqueuncamino.com)), "My path was not easy, because at the age of 8 I suffered an accident… that caused the amputation of half of my right foot."
In June of 2000 Ionut set off to bicycle around the world. He made it across Europe to Spain where, unhappily, his bicycle was stolen. Worse, the condition of his right foot was deteriorating, and it became necessary for surgeons to amputate the leg just below the knee.
Ionut remained in Spain, working and settling into the routine of ordinary life. "With the payment of rent, expenses, and with a sentimental relationship, there was not time left for the bicycle. I traded it in for a car… I led a quiet life, (but) something inside me was empty and the concern to help others was still within me."
In 2009 Ionut received a call from Romania that his father was at death's door suffering the ravages of cancer. At his father's side, Ionut promised his father that he would someday secure a Paralympic Gold Medal in his honor and memory.
His athletic accomplishments have occurred in spite of his "handicap". Ionut has bicycled through 26 countries, walked the Camino, and he continues to work on a number of solidarity projects, the goal being to help others. "Traveling, God gave me the opportunity to meet a great woman who today is my wife… and rewarded us with Emanuel, our son. They fill me with motivation and the desire to leave a legacy, If I can, you can too!"
Now at 40 years of age (2021), Ionut Preda continues his pursuit of Paralympic Gold. For his father.
Past the Rio Raido we continued for another 12km.
We walked through a series of small Camino towns and then across the Rio Iso on one more medieval bridge (Puente Ribadiso) in the village of that name (pop. 67).
More Eucalyptus woods and the quiet of the afternoon were occasionally broken by the distraction of road traffic from nearby N-547 that crossed our path a few more times over the distance. My thoughts returned now and then to Ionut.
Arzua (pop.7.000) represented the final major population center before Santiago. We checked in to Pension Casa Frade for the night.
Dinner (for me) was classic Gallaecian fare, Polbo a feira (literally meaning "fair-style octopus", pulpo a la gallega in Spanish, meaning Galician-style octopus) boiled octopus tentacles, seasoned and sautéed in olive oil. In the traditional manner, it was served on a large wooden platter and eaten with toothpicks. Marvelous!
At the time that I was enjoying this delicacy I was ignorant of the research that was revealing that these cephalopods, unlike dimwitted bovine, are self-aware and possess the intellectual capacity of at least a 4 year old child. Imagine what they would be capable of if Nature had not shackled them with only a two year lifespan.
If you enjoy eating octopus, as I once did, do not watch the movie, My Octopus Teacher.
Peace Everyone, and Buen Camino. Pete