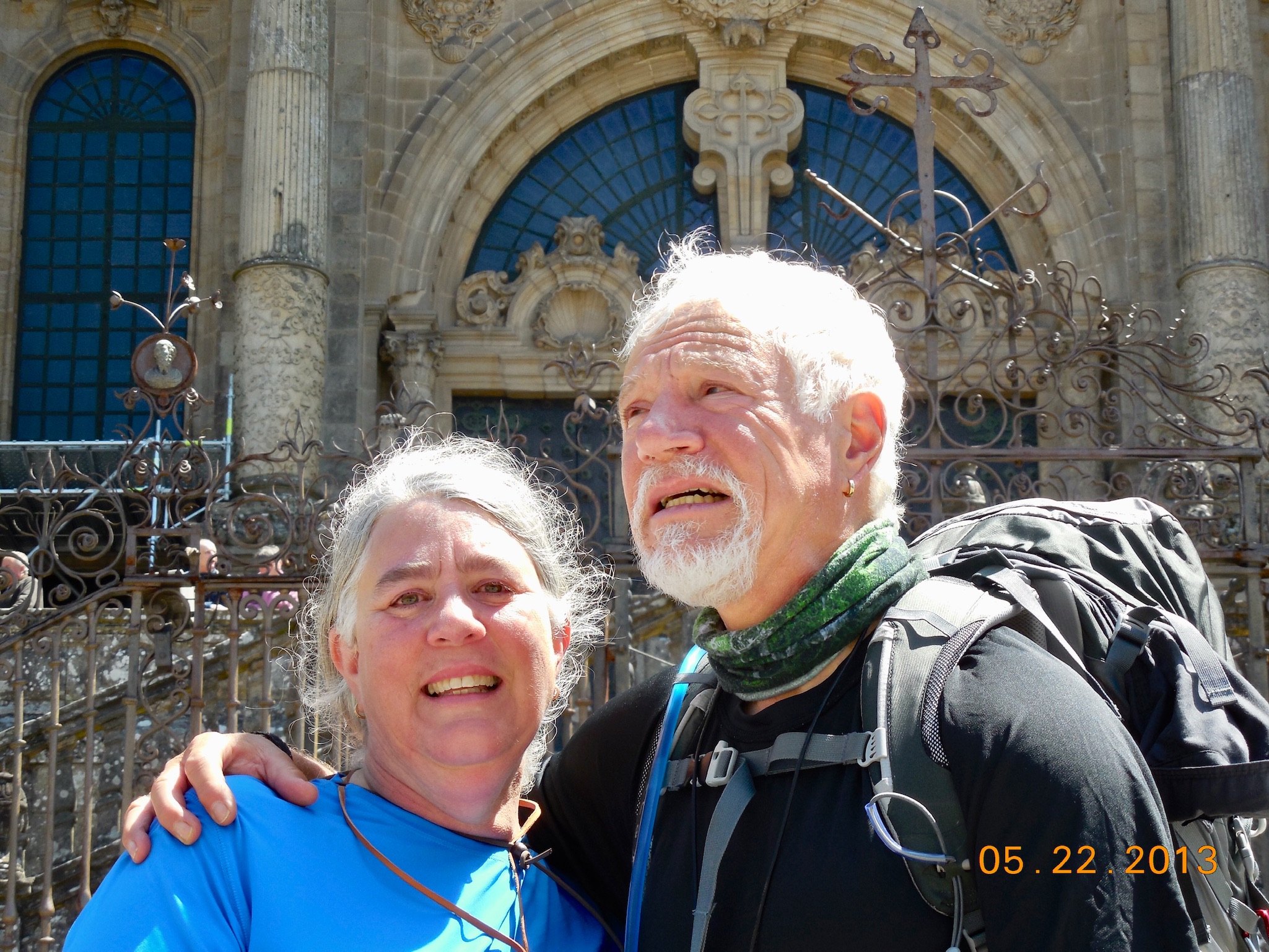 May 22, 2013. Arca O Pino Pedrouzo to Santiago!
We prepare ourselves for the big events of life that we can anticipate; a wedding, births, a new job, retirement, just to name a few. Arrangements are usually thorough with both practical and emotional preparation.
For a pilgrim walking the Camino, there is no event more monumental or anticipated than walking into the grand square and first beholding the majesty of the Santiago Cathedral. How many who have known that experience for the first time have given forethought to the emotional impact. I had not.
At 7 a.m. we were out the door of Pension Maribel and fast on the path to Santiago.
After a few kilometers we encountered an unusual Peregrino. He was tall and sun-darkened in a way that spoke of many days spent in the elements. He also wore clothing that channeled pilgrims of medieval times. He is seen here walking next to Christine.
His staff was decorated with a variety of trinkets, some ornamental and others of a more practical nature, such as a drinking cup. There were prayer flags and even a gourd. We had seen him before and had overheard other pilgrims remark, wondering if he were homeless or perhaps mentally ill.
I walked to his side and quietly asked if he spoke English. In a gruff German laden accent he said "yes". He also expressed a willingness to slow his pace for a brief visit. He was from Austria and had begun his Camino in Jerusalem. It was a distance of over 5,500km! I calculated that at 25km per day with no rest days he had been no less than 220 days afoot. After an exchange of pleasantries, I asked what he intended to do once he completed his Camino, "I will get on a jet, return to Austria, write more software, and walk another Camino." The gentleman then resumed his pace, quickly leaving us behind.
Nature abhors a vacuum, and so it is with our species and gaps to our knowledge. We tend to fill those "voids of understanding" with speculation, conjecture, and "stories". In the case of this gentleman the speculations were perhaps harmless, but it is not always so. Over the course of history some of the "stories" have resulted in great suffering, and even death on a global scale.
We did not see him again. However, in 2018 as we walked the Portuguese route of the Camino I saw his framed and autographed picture hanging on the wall of a small restaurant where we took lunch. I regret that I did not learn more about this most unusual, and possibly famous Peregrino.
A few more kilometers near San Paio we came upon a monument that declared "Santiago" and was embellished with symbols of the Camino.
The trail took us by Santiago's international airport, Lavacolla, located near the site that medieval pilgrims had traditionally stopped to wash and purify themselves before entering the city.
We merely stopped to refresh ourselves before continuing on.
Soon we began to encounter vendors selling various trinkets and Camino related souvenirs.
The path, now paved with asphalt, was well-marked and becoming increasingly crowded with pilgrims.
20km separated Arca and the Cathedral. We had not yet reached the half-way point. There were signs of industry and development now interspersed with pleasant country lanes and eucalyptus woods.
A well-marked path lay ahead for us, but there were still the occasional "lost soles".
At Monte del Gozo ("Mount of Joy", elev. 1210 ft) we came upon a huge monument commemorating the 1989 visit of Pope John Paul II to the World Youth Day festivities.
The Pontif said Mass on this spot. The sculpture was erected in 1992 but, ravaged by time and the elements, it was removed early in 2021. Only the four large bronze plaques remain (image from the Camino Forum).
Two of the plaques refer to the Pope's visit, one is dedicated to the 13th Century visit by Saint Francis of Assisi, and the final plate is an abstract hand with four fingers representing routes on the Camino, joining at the palm and then concluding at Santiago, seen at the end of the thumb. There are no plans to restore the former concrete structure.
It was atop this hill that we first drew sight of Santiago in the distance. For pilgrims this spot was appropriately named "Mount of Joy".
At this plateau was a huge complex of barracks capable of housing over 500 Peregrinos to alleviate pressure from facilities in the city during holy years and other times of heavy pilgrim traffic. In counterpoint was the tiny Capilla de San Marcos (Chapel of Saint Mark) which was erected in 1965 at the site of an earlier chapel dating to the year 1105. There were also more vendors.
Down the hillside and a long flight of stairs we walked.
Soon we were into the city proper, greeted by the huge 2004 sculpture, Porta Itineris Sancti Iacobi ("Gateway of the Camino").
This towering structure located in a pleasant park, features 20 bronze plaques honoring famous persons who over the centuries have been associated with the Camino.
On we continued through the heart of the modern city.
45 minutes later we had our first view of the Cathedral towers over the tops of lesser buildings.
In less than 10 minutes we entered the Praza da Inmaculada (Square of the Immaculate). On our right was the Hospederia San Martin Pinario Seminario Mayor where we had reserved a simple room with bath in the attic area set aside for pilgrims.
Portions of the lower floors are a more upscale hotel shared with the Monastery of Saint Martin. The Monastery dates to the 9th Century and its current building to the late 15th Century.
Straight ahead and down through the tunnel-like Arco del Obispo (Arch of the Bishop) we were treated to music by a lone bagpiper. We deposited a few coins.
Emerging from the archway we entered the expansive Praza do Obradoiro (The Golden Square). This grand plaza was breathtaking. To our right was the magnificent 5-star Parador Hotel, once a 15th Century pilgrim hostel.
There were pilgrims everywhere, among them many familiar faces from our days on the Camino. We walked to the front of the Santago Cathedral and as if struck by lightning our emotions exploded.
We cried, we embraced, and we cried some more.
Eventually we regained a semblance of composure. Opening our eyes to the evolving scene around us I became aware of a gentleman standing a polite distance from us. Behind him was a professional looking video crew. He was watching me with a look of concern. We made eye contact and he approached. In excellent but accented English he explained that his crew was filming pilgrims arriving in Santiago for a local news story. He apologized for the intrusion, "…but you are such a lovely couple, and we were wondering if you would mind if we took some video of you? If you will allow me, I would be pleased to take some pictures of you with your camera."
We did not mind at all.
On July 24, 2013 a Renfe Express train heading into Santiago careened out of control a few kilometers from of the city. The train, capable of speeds in excess of 250kmh had failed to slow for an 80kmh curve. It left the tracks, emergency brakes engaged, at twice that speed. Of the 222 people aboard, including 4 crew, 143 were injured and 79 died. The engineer was tried for negligent homicide and served a 4-year sentence. (picture from BBC News)
Images of the disaster and background information about Santiago received national and international coverage. We soon learned that video of us embracing before the Cathedral was included in the coverage.
We ascended the stairs of the Cathedral and entered. The exterior Baroque facade dates to the 18th Century, covering Maestro Mateo's (1100-1150) famed 12th Century Portico de la Gloria (Door of Glory), and capping the original Romanesque towers. This image of the Portico is from a 19th Century painting.
At the center of the Portico's three ancient arches, which were undergoing restoration in 2013, is a column with the image of Saint James at the top.
Over the centuries, millions of pilgrims have placed their hands at the base of the column in veneration of the Saint. A close examination reveals the resulting hand impression left in the granite sculpture. The pillar is now cordoned off in order to preserve the stone from further deterioration.
I was still wearing my pack as we entered and walked down the main aisle. In the distance was the golden main altar, and above it hung the fabled Botafumeiro.
This massive silver "thurible" (censer) is believed the largest of its kind in the world. Crafted by a goldsmith from brass alloy and plated with silver, it stands over 5 feet tall and weighs 124 pounds when filled with just under 2 pounds of charcoal and incense. (Measurements are from a unique 1983 study of the Botafumeiro that was authorized by the Cathedral.) A mass of incense is then poured atop the lit charcoal. The Botafumeiro is next hoisted upward by at least 8 robed attendants who set the massive smoking censer into a swinging motion. The arc soon travels high overhead, from near the top of one transept to the other, achieving a speed of over 50 miles per hour. This image is from May 23rd.
Above the altar is the visage of Santiago in glory. A passage below gives access to his crypt and reliquary. Another set of steps lead up to a small chamber behind the statue of Santiago. Here the devout may embrace "the Saint" and peer out over his shoulder into the main aisle of the Cathedral. We would visit those features another day.
Some outside of the Catholic Church criticize as idolatry the "worship" of statues by the faithful and members of other religions with rich artistic traditions. It was explained to me that the images and relics are not the subject of worship, but rather symbols of focus to aid the believer in achieving greater attention to prayerful and meditative thought.
We left the Cathedral bound for the Pilgrim Office in order to present our credencials as proof that we had earned the right to each receive our Compostela. It was another occasion that brought tears.
That accomplished, we checked in at the Hospederia San Martin Pinario and took a few moments to relax and unpack in our simple but spotless room atop the monastery.
At 4 p.m. we returned to the Cathedral's main square, drawn to continue the experience of our arrival. At center was the Cathedral.
To the left the Parador, known as the Hostal dos Reis Catolicos and originally built in 1499 as a pilgrim hospital. It is considered to be the oldest hotel in the world. (Wikipedia image)
To the right is the College of St. Jerome, founded in 1501. (Wikipedia image)
Behind us were municipal offices and the Neo-Classical designed Town Hall. We would return there after dark for some traditional outdoor entertainment. This picture is from our 2018 Camino.
There were more familiar faces from our days on the Camino. A wave of the hand here, a nod there, and then… Kris Ashton!
We joined together in a long group hug followed by pictures of Kris, Christine, and Marshmallow in front of the Cathedral.
The three of us proceeded to the Pilgrim Office where Kris obtained her Compostela, and then we retired to a small tapas bar for wine and an opportunity to "process" all that we had each experienced over the past 24 hours.
The reflections went much deeper than that. We spoke of dear people who we had met, knowing we would never see them again. I specifically mentioned Roberto Del Pino Guzman, originally from Spain but a citizen of the UK for most of his life. Over 4 weeks ago Roberto and I, along with his Brit friend John, spent part of a day walking together to Villamayor de Monjardin.
We shared our personal stories, and I felt a connection with Roberto. But for geography I believe that we would have been close friends. I had barely paused my recounting of this to the women when into the bar walked Roberto! We mirrored each other's looks of shock and wonder.
Roberto told us that he had sought a safe place to keep his bag for the afternoon. The bartender agreed to secure the pack which allowed Roberto to do some final sightseeing before meeting a friend and traveling on to Portugal. Returning to the bar he was minutes from that departure. I am again reminded of the words of Eddie, our 2018 hotelier in Puerto Rico, (who had also walked the Camino!) "Peter, in life there are no coincidences."
Saying farewell to Roberto we continued reminiscing. Kris then invited us to join her and other Camino friends, including Mary and Les Virtue, to her room at the Parador.
Kris's husband Dennis had reserved nights for her in that amazing hotel. Palatial only begins to describe the accommodations.
A single night's lodging there easily cost more than all of the nights Kris spent in albergues, casa rurales, and small inns over the course of her entire Camino.
As night fell we returned to the Praza do Obradoiro where the west facing Cathedral was bathed in the golden glow of a setting Sun, a Saint holding the rising Moon in the palm of his hand.
Peace Everyone, and Buen Camino. Pete
PS. At 10 p.m. we were drawn to the sound of guitars and male voices raised in song. Beneath the arches of the municipal building was an assembly of men in rich attire. This was a "Tuna", and the members individually known as "Tuno".
Originating in 13th Century Spain and Portugal, these were groups of university students who gathered to serenade for the coins that provided them with the funds to buy food and continue their educations. Today the men are more a fraternal group, joining for the fun of continuing a centuries old tradition. They play traditional instruments and wear garb similar to that worn by university students in the 16th and 17th Centuries. The patches on their capes are collected from towns and countries that they have each visited.
I enjoyed a very unique experience with a Tuna in 2018 which was memorialized in a video. If you choose to watch pay special attention to what unfolds at 1 minute 45 seconds into the video. Here is the link: "Pete and the Santiago Tuna", or just "click" the picture.