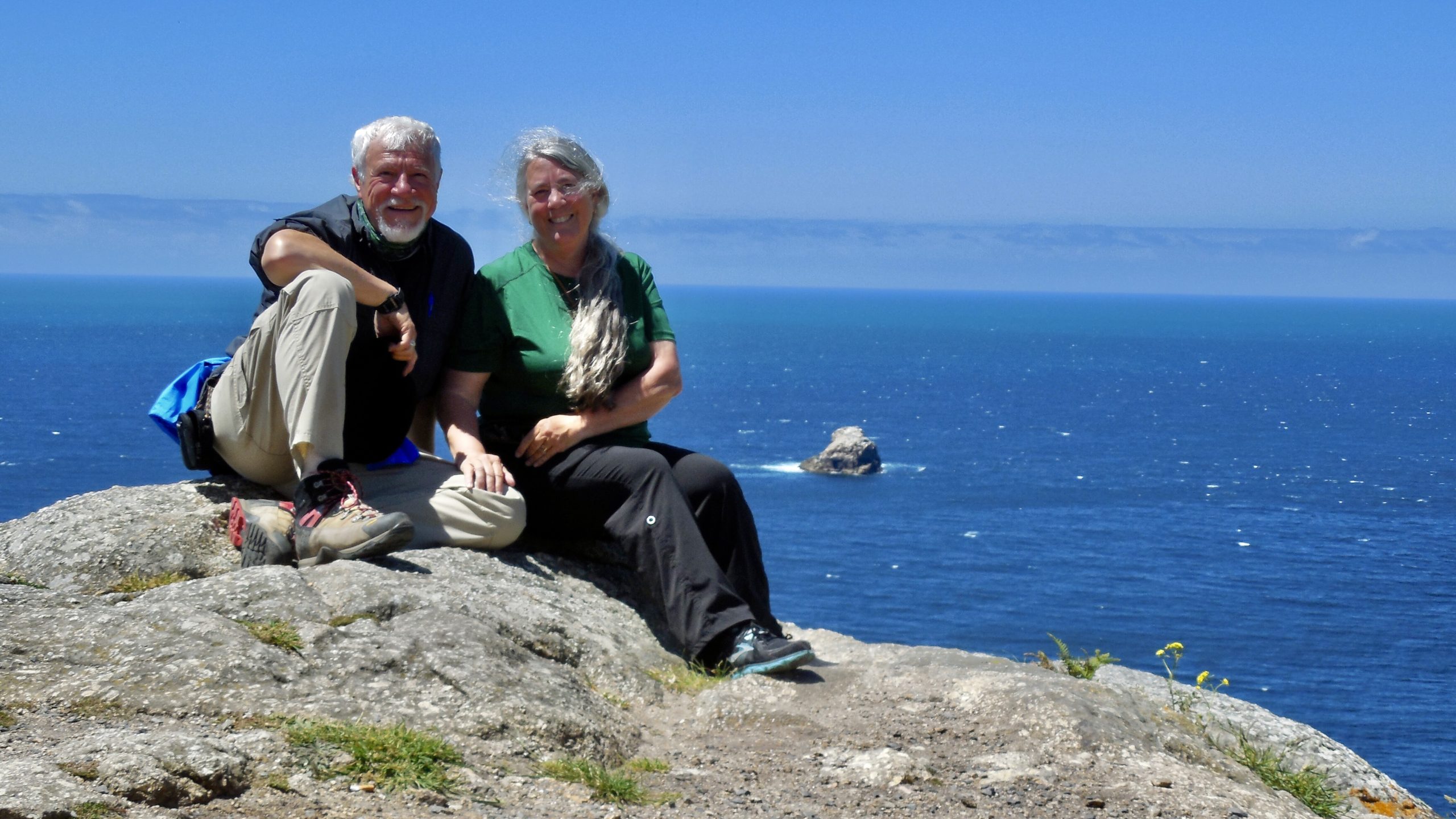 May 24-27, 2013. Muxia, Finisterre, and return to Santago.
I had been told, "There will come a moment when you realize you are no longer a pilgrim on the Camino." That moment came on the morning of May 24th when we boarded a bus bound for Muxia. On May 25th we continued on to Finisterre by Taxi.
"…you are no longer a pilgrim…" That is not entirely correct. Within each of us there had been change. We would return to the United States retaining the experience of Pilgrimage, and with that experience came a different view of ourselves and the world around us. Once begun, that pilgrimage is lifelong.
May 25th, Finisterre.
Finisterre (pop. 4,700) is located 90km west of Santiago on that portion of the Atlantic Coast known infamously as the "Costa da Morte" (Coast of Death) due to the many shipwrecks that have occurred over the centuries on its rocky shores.
Like Muxia, Finisterre is a seaside fishing village. Although its population is slightly less than Muxia's, Finisterre presents more of a commercial and tourist vibe.
Fishing remains prominent in the economy, with boats that are designed for work and not pleasure seen throughout its protected harbor waters.
The history of this peninsula's roots is ancient and runs deep. At the top of Monte Facho (elev. 781), site of the ruins of San Guillermo's 11th Century hermitage, and just above the famous Cape Finisterre Light House, are places of pre-Christian Celtic worship. (The following two images are from the Finisterre tourist website)
Massive stones are believed to have been altars used in various rites, including fertility and sun worship. One such stone was mentioned in 1580 by the Polish adventurer, Erich Lassota of Steblovo. "These stones… that could not be dragged by several yokes of oxen, can be easily moved (rocked from side to side) with one finger, and I did this myself." (These two images are from Google Earth)
It was long believed that Finisterre ("end of the Earth") was the westernmost point of Europe. In actuality, a peninsula in the Municipality of Muxia is farther west, and Cabo da Roca, located in Portugal, is continental Europe's most western point, nearly 11 miles beyond Finisterre.
The 1853 Finisterre Lighthouse stands 56 feet tall, already elevated hundreds of feet on clifftops above the sea. It casts a beam of light that can be seen by vessels over 25 miles offshore.
It is also here, just beyond a granite cross and the Pilgrim's Monument, that many consider the historic Camino de Santiago truly completed.
In town we secured lodging for the night at the 100-year-old, two-star Hostal Mariquito. Our room, one of 16, was clean, comfortable, and a bargain at less than 50€. Late that evening we joined other guests in the bar for drinks, sharing their enthusiasm over a televised soccer match. The hotel underwent extensive renovations in 2020.
Near the town boat docks stands a monument dedicated to those who trace their roots to Galicia, "Our Galician love, scattered around the World".
While strolling along the piers we encountered a familiar face from the Camino. After a brief visit he invited us to join him and friends for a special seafood dinner at a small neighborhood restaurant.
Seated, the wine began to flow.
Fishermen, still dressed in their work slicks, walked in carrying buckets of fish and shellfish. These they handed to women at a counter who commenced to expertly gut and clean the catch, some fish still showing movement! The spectacle took place mere feet from our table.
Before long a beautifully presented feast of the sea's bounty was placed before us at table center.
Manners quickly became irrelevant to this meal. We all dug in and devoured, much as locals have done for centuries. Fantastic!
Most of us were unfamiliar with one species in the pile. A knowledgeable German pilgrim proceeded to provide lessons on the proper way to eat a barnacle. They had an armor-like shell. One had to carefully break them open to avoid a high-pressure squirt of saltwater in the eye. The effort was rewarded with a morsel of tasty, crab-like, meat.
As the sun fell, we were once again grateful for a day graced with friendships and good fortune.
Tomorrow we "tourists" return to Santiago de Compostela.
Peace Everyone, and Buen Camino. Pete