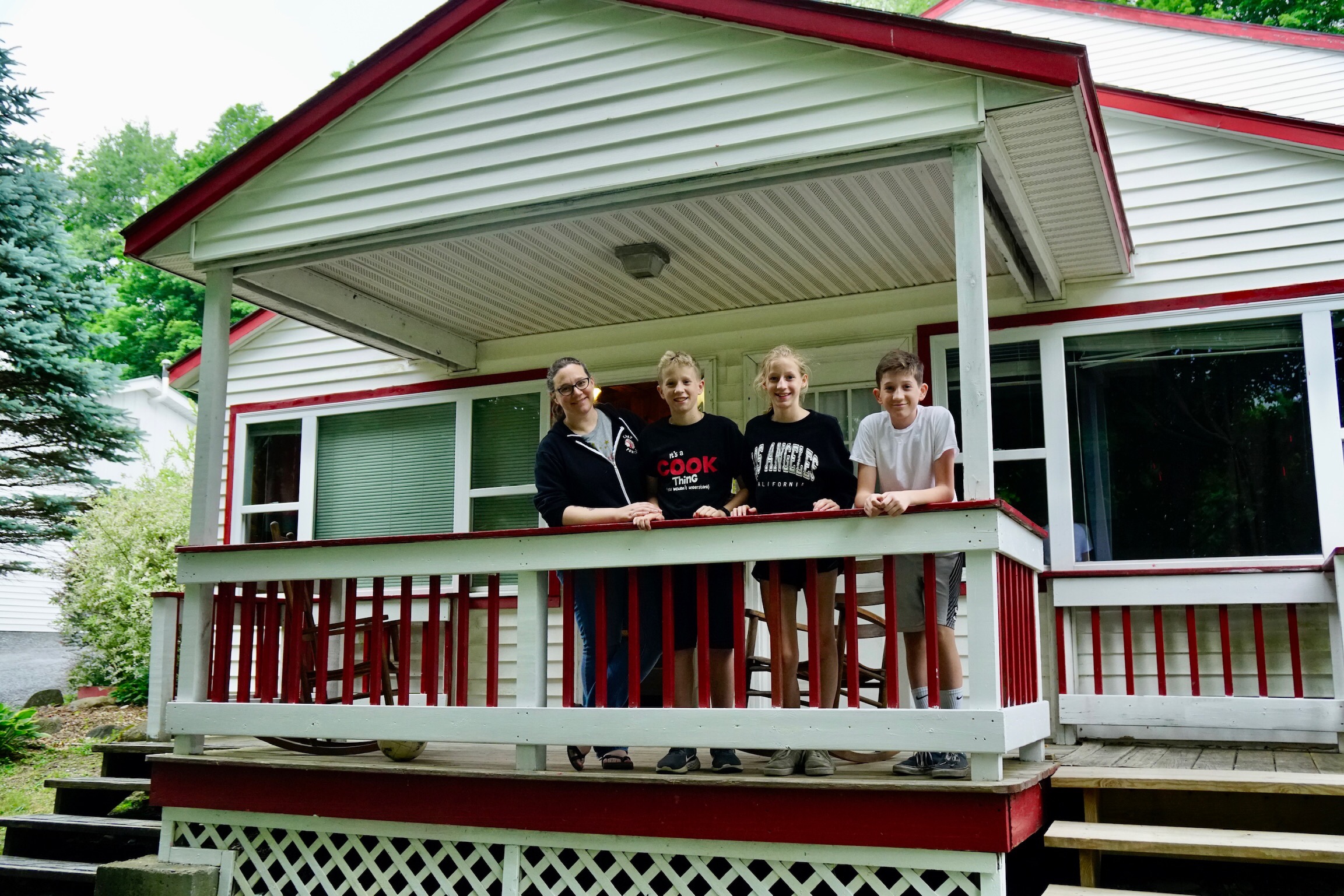 June 21-24, 2022. We are camped for 3 nights at New York's Taconic State Park, located a few miles from the small but charming village of Copake. More important to us is our proximity to Camp Pontiac which for the next 7 weeks will be "home" to our daughter Alexis and her 3 children. We have arrived here with the intention of visiting them as we continue north and east.
The land for Taconic State Park was donated in 1924 to the State by the prominent NY couple, Francis and Ella Masters.
They loved the area and hoped to preserve its beauty from future commercial development.
The Park underwent improvements in the 1930s thanks to the efforts of the Civilian Conservation Corps, active during the Great Depression. Level tent platforms were constructed in the woods and could be rented for 4 dollars a week, tent included.
Those platforms have been maintained through the years and are still in use today. However, you must bring your own tent.
Stone buildings constructed 90 years ago remain, some of which are cabins available for rent.
A historic iron foundry that operated from 1845 to 1903 is here and undergoing restoration.
Local features include Copake Falls, swimming in the former quarry, rails-to-trails hiking, and a wonderfully modern campground.
The Taconic Mountains stretch north into Vermont and are old mountains that once towered over 20,000 feet above sea level. They were "tamed" by glacial forces and today the highest peak is a mere 2,311 feet.
Camp Pontiac is like no summer camp experienced by us in our youth.
Founded in 1922, and celebrating its centennial, its current owners and operators are twin brother doctors and their wives.
They have been the camp's caretakers for nearly 30 years.
This from Pontiac's website: "Camp Pontiac is a 7-week sleepaway camp in NY, located at the foothills of the Berkshire Mountains. Only a 2-hour drive from NYC, our sleepaway camp is situated on 150 picturesque acres with a beautiful 65 acre spring-fed lake. Each summer Pontiac welcomes girls and boys aged 7 to 16 from all over the country to their home away from home in a traditional sleepaway camp setting."
For 2 of the last 4 years (COVID prevented opening in 2020) our daughter has served as the camp's head nurse, managing two infirmaries and a staff of 15 nurses.
They, in turn, provide health care to the camp population that can number over 700, plus camp counselors and over 80 adult staff members. Of course, the physician owners are also fully involved in camp operations and care.
We knew to expect an extraordinary facility, but what we have seen exceeds all expectations.
Camp Pontiac has more in common with an upscale resort or an Olympic Village than it does with summer camp of my youth.
There are multiple soccer fields.
A driving range.
Miniature golf.
A performing arts theater.
Sand volleyball.
Multiple tennis courts.
A huge gymnasium.
Multiple baseball fields.
Roller hockey.
Scores of pristine cabins.
4 swimming pools.
Outdoor basketball courts.
A lake with kayaking and a man made adventure island.
A gymnastics and martial arts facility that also features spin cycling.
A separate fitness facility with free weights, cardio, and weight machines
If that were not enough, there is also an "American Ninja" training facility and aerial acrobatics training!
There is more, but you get the idea.
It is no wonder that Kane, Phoenix, and Paisley count the days each year to the start of camp…
For Alexis this is 7 days a week, 24 hours a day on-call work… that she loves.
Peace Everyone. Pete
PS. From here we plan to spend the next 8 nights camping in Vermont and Maine. On June 2nd we board a ferry in Bar Harbor, destination Yarmouth, Nova Scotia.