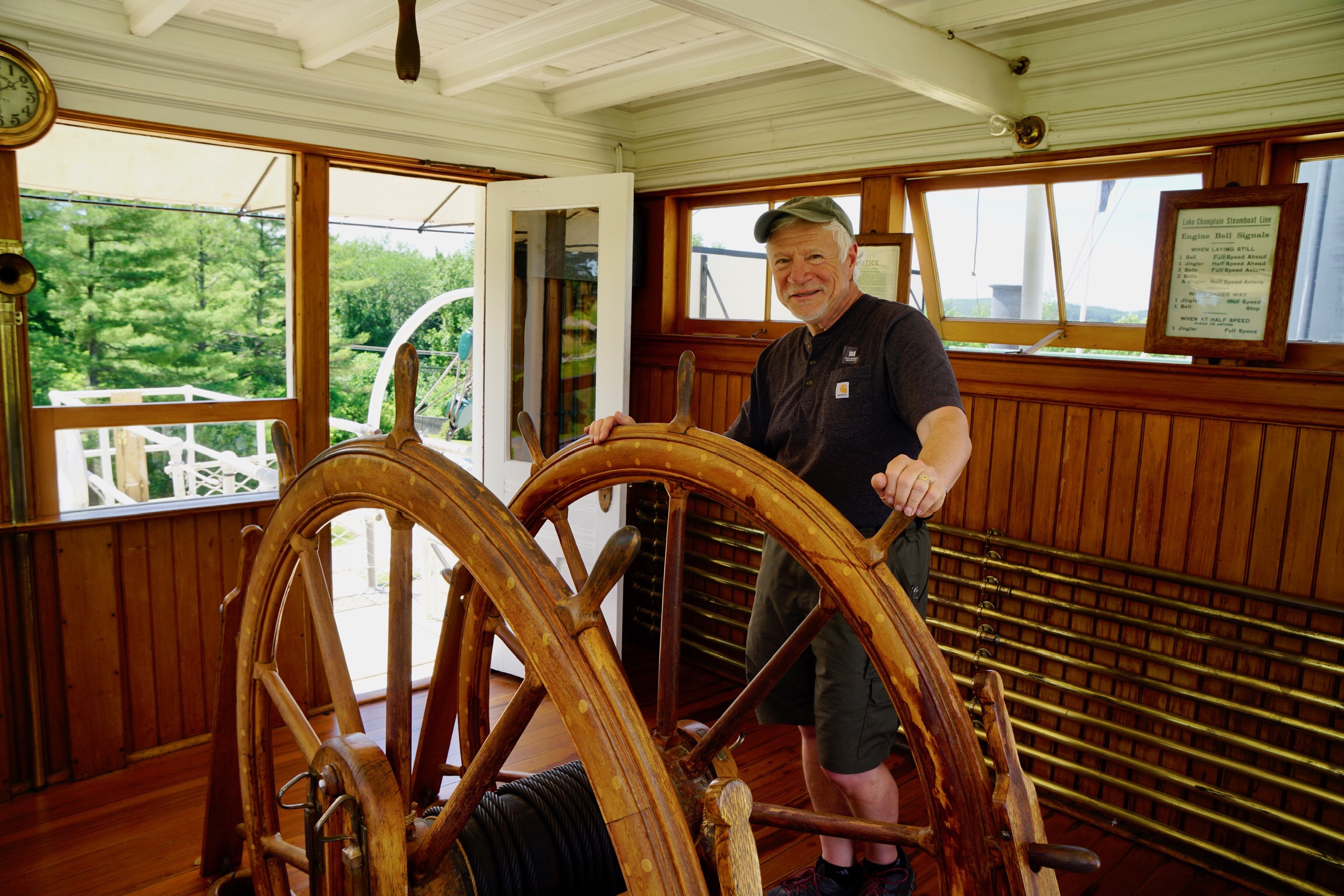 On the morning of June 26th it was time to break our camp at Vermont's DAR State Park and head to the next stop, Vermont's Allis State Park. We were presented with 2 routes, one a winding mountain transit, and the other skirting the mountains and passing near Vermont's main population centers of Burlington and Montpelier, its Capital.
Neither route exceeded 100 miles in distance, but while longer than driving the mountains the more urban journey was shorter in duration. "Urban" is a relative term since the State's population is less than 650,000, with Burlington the largest city at 45,000 and Montpelier at less than 10,000. We elected to take the longer/quicker route.
As we approached the town of Shelburne (pop. 7,700) we observed a large tract of manicured lawn with an interesting and diverse accumulation of buildings. What really caught my eye though was the view of a pilot house and smoke stack of a huge ship located on the grounds, over 2 miles from Lake Champlain.
We pulled over to consult "Mr. Google". We learned that before us was the world-class Shelburne Museum. Spread over 45 acres, it features 22 gardens, over 150,000 displays set within 39 historic buildings, a significant collection of art, and the 220 foot long SS Ticonderoga. Our plans for an early arrival at our next destination were abandoned. We sought out breakfast in town and then proceeded to the Museum.
Tickets, good for two days, were $23 each, a slight "old person" discount from the standard fare of $25. We soon regretted that we only had the afternoon to dedicate to the Museum. To do it justice one should plan on either a very full day or two more relaxed ones.
We barely saw half of what the Shelburne had to offer, focusing on the more prominent exhibits. Even though I sought to be judicious with my camera I ended the tour having taken well over 100 pictures. These I have reduced to less than 100, but it became clear to me that these could not be presented in a single post. Therefore, this post will focus upon the general grounds, lightly touching upon various elements. The post that will follow will examine two remarkable exhibits, the Circus Building, Carousel, and the steam ship Ticonderoga.
First stop was the Pizzagalli Center for Art and Education.
Within were seasonal exhibits drawn from the Museum's extensive archives.
A 10 minute 1980 video by Howardena Pindell titled "Free, White, and 21" was a captivating look at one Black woman's experience with racism. Watching it was a profound experience in which she presents face on only, vignettes of her early years, her education years (Yale post graduate), and her professional life. In counterpoint she wears a blond wig and white nylon stocking over her head to present the "White view" of her experiences.
Here is a link to this remarkable video: https://youtu.be/8MZo5LNDk90
Next we visited the round Shaker Barn.
An amazingly efficient design, the center of the barn was a silo. Livestock were penned inside around the circumference of the mid-level, facing the silo which provided their feed. Dung dropped to the lowest level where it could be easily collected and used as fertilizer. The upper level was for storage of implements and equipment.
Today this structure contains a significant collection of 19th Century horse drawn vehicles. Just a few that we saw were the above stage coach,
Elegant carriage,
Hearse, with wheels and also displaying the undercarriage sled gear for winter use,
And sleighs.
One building housed a collection of early American firearms, more art than weapons.
Another building was arranged to present a hunting trophy lodge.
There was a train station and related buildings which included replicas of the earliest locomotives.
The restored 1915 "Locomotive 220" has served many dignitaries, including US Presidents Coolidge, Hoover, Roosevelt, Eisenhower, and UK Prime Minister Winston Churchill.
There is a General Store,
A Town Square,
A 19th Century slate stone jail,
A horseshoe barn,
A covered bridge,
More Art, featuring Winslow Homer and Grandma Moses to name just two.
An entire house dedicated to duck decoys. Sounds boring but it was not!
The Shelburne Museum was founded in 1947 by Electra Havemeyer Webb (1888-1960), a pioneering collector of American Folk Art.
She was an heiress to the Havemeyer fortune, her father being the founder and President of the American Sugar Refining Company which controlled virtually all sugar commerce in America.
The Shelburne Museum reminds one of the creation of Crystal Bridges by the Walton family, founders of Walmart, only the Shelburne is grander in scope.
My next post will continue the presentation of the Shelburne Museum, but with focus upon the Circus Building, Carousel, and the steamship Ticonderoga.
Peace Everyone. Pete
PS. During our stay at Vermont's DAR State Park we toured the nearby John Strong Mansion.
A couple of insights that we came away with are worth sharing.
In this image there is a dome lid wood box located beneath the antique "Pie Safe".
Boxes like this served 3 purposes: Storage of bread, as an infant's cradle, and also as an infant's burial casket.
Displayed in the kitchen were devices used to make yarn from wool and flax.
This small 4 arm device is called a "Weasel". It was used to wind yarn, 6 feet at a turn. Within it is a counting mechanism.
It takes precisely 40 turns to create a skein of yarn at which point the counting mechanism makes a loud "pop" sound… Thus the origin of "Pop goes the Weasel"!