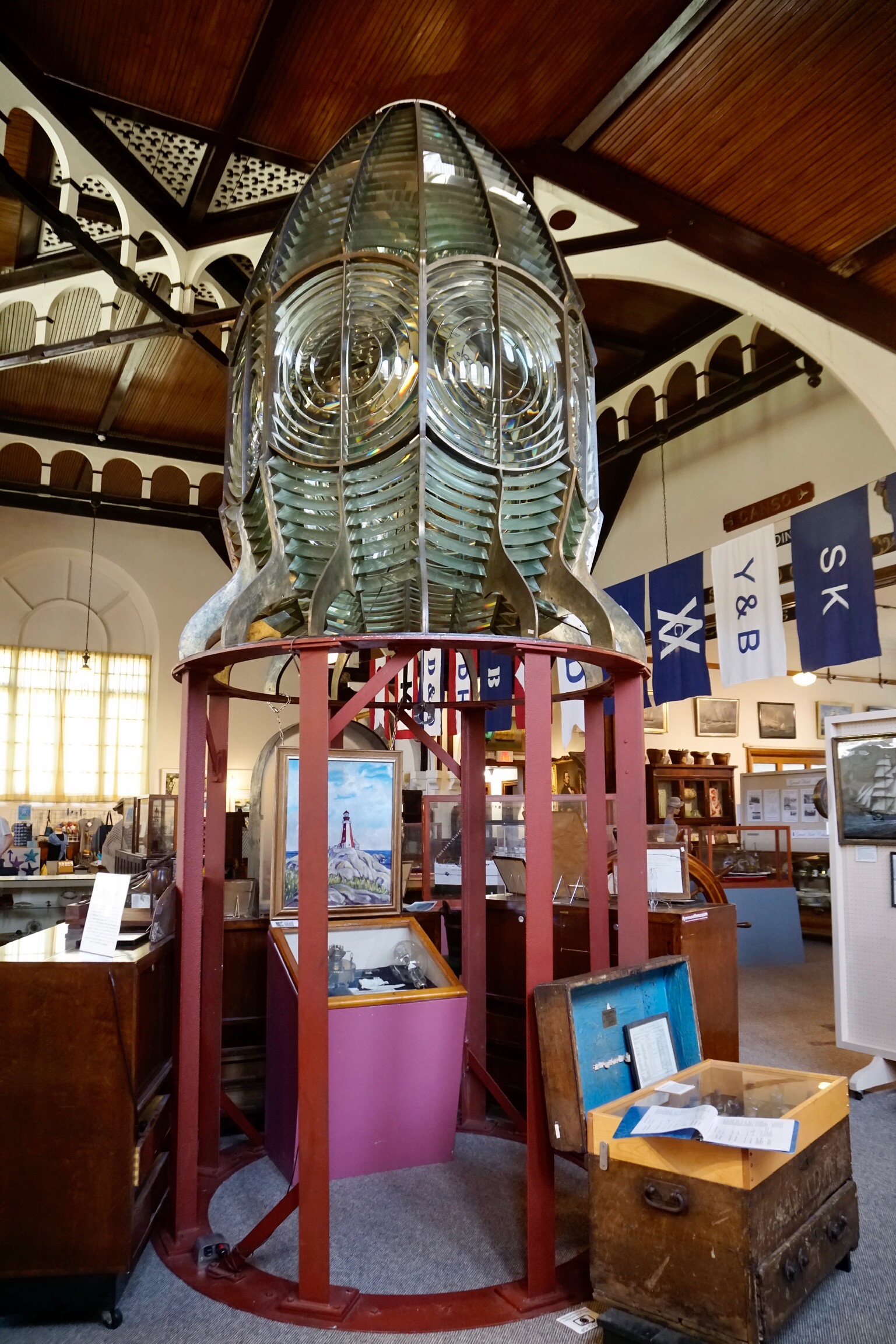 July 5, 2022.
It's a little after 5 a.m. which is my typical waking hour. Here the sky begins to grow light about 4:30 a.m.. This works well for us as it gives me a few hours time to write before Christine wakes. However, it's tough to not disturb her with the random noises I can't avoid within the tiny space of our trailer.
I received a "dangerous heat" warning for Kansas City on my weather app. Here in Nova Scotia we won't see 80 degrees for at least the next 10 days. Overnight it got down to 52. I'll happily take this summer climate, mosquitoes and all.
We arrived yesterday afternoon at Thomas Raddall Provincial Park, located about 100 miles up the Atlantic Coast from Yarmouth.
It is remote, but there is a small seaside community not far away that we may visit later today.
The campsites offer a combination of open sky and shade, a picnic table, and a fire ring.
There is central water, however in the campground it is subject to a contamination "boil order". Fortunately the water tap at the park office is potable. There is a central bathhouse that serves the 82 campsites. A nice network of trails are promising for the day, some leading to the seashore.
We left Yarmouth yesterday, but not before stopping in town to walk near the downtown and see some of its "painted ladies". The streets abound with 19th Century mansions, many beautifully restored. Here are images of just a few.
A second reason for returning to town before continuing on our journey was the Yarmouth County Museum.
Opened in 1935, contemporaneously with the founding of the Yarmouth Historical Society, it houses a well curated collection of nautical art (the 3rd largest in Canada), Victorian period furniture and costumes, and a wide array of interesting artifacts. What originally drew me to visit were signs at Cape Forschu indicating that the mysterious Runic Stone and 19th Century lighthouse Fresnel lens were kept there.
We were greeted by Nadine Gates, the museum's Director and Curator. She explained the 12,000 square foot layout of the museum which has been housed since 1969 in the former Tabernacle Congregational Church, an 1892 granite church listed on the Canadian Register of Historic Places. Nadine encouraged us to also visit the Fuller Mansion located next door and managed by the Historical Society.
We are glad we did, but more on that in a moment. Admission to both was only $5.00 and worth every penny!
The Museum was beautifully presented.
Here are just a few images, but more can be seen on its website:
Victorian costumes and furnishings:
The mysterious Runic Stone:
The huge second order Fresnel Lens, as seen from the side and looking up through it.
This French invention had the ability to concentrate and thus magnify the light of a single kerosene flame into a beam of over 600,000 candlepower visible for over 20 miles. This pristine relic had been used in the 1840 Forchu Point lighthouse until that structure was replaced in the 1960's.
There was a transportation exhibit that included a horse drawn hearse, a locally manufactured stagecoach, and a 1921 Automatic Electric Car, manufactured in Buffalo, New York. Ahead of its time, this small vehicle sat 2, had a range of 60 miles, and a top speed of nearly 20 mph. For more details on this fascinating little vehicle:
It would take nearly a century for "electrics" to finally catch on, yet another example, the Standard Electric manufactured between 1912 and 1915 in Jackson Michigan, sat 4, had a top speed of over 20 mph, a range of 110 miles, and a guarantee that the battery was good for 20,000 miles!
From the Museum we were escorted next door to the Fuller Summer Mansion by delightful and capable Madeline.
This was the summer home of Alfred and Susan Primrose ("Prim") Fuller. Alfred, a native of Nova Scotia, was the founder of the multi-million dollar Fuller Brush Company.
The home, originally built in 1892, was donated to the Historical Society by Prim Fuller in 1997. It has been beautifully restored and houses period furnishings, many originally owned by the Fullers.
It did not take long for my age to show to the youthful Madeline. I noticed a small picture of the Fullers in company with the actor James Cagney. "That's Jimmy Cagney." I remarked, to which Madeline responded, "Wow, you are the first person I know of who recognized him!"
Seeing many of the old appliances, furnishings, and crochet work I often remarked of fond recollections from my youth. I recounted a visit to my childhood home by the "Fuller Brush Man", and the products that my mother bought. At one point I mentioned that my grandfather was born the same year as Alfred Fuller, 1885. With big eyes Madeline then added, "Wow. My GREAT-grandmother wasn't born until 1931."
Madeline was charming, and no doubt found me entertaining.
Then we came to the kitchen. On the counter sat a standard mid-20th Century dial telephone. In jest I asked Madeline if she had ever used one. "No", came her reply. Still somewhat in jest I then asked if she knew HOW to use one. "No" came the nonchalant response. I was flummoxed! I have seen videos of young people befuddled by dial telephones, but until that moment I did not fully comprehend that a child of the 21st Century would no more know how to "dial" a telephone, than I would know how to perform many common tasks from the 19th Century.
Christine gave a quick lesson in "dialing". As Chris lifted the receiver she remarked, "Hey! There's a dial tone! It still works!!"
Our intention had been to spend an hour or so in town. Instead, we were not back on the road until nearly 1 p.m.. The Yarmouth County Museum and Fuller Home are among the finest community museums that we have encountered in our travels across North America. Moreover, we thoroughly enjoyed meeting more friendly Canadians.
It's time to wake Christine. Peace Everyone. Pete
PS. The couple from Quebec in the next campsite just stopped by to say that a bear visited their site this morning.