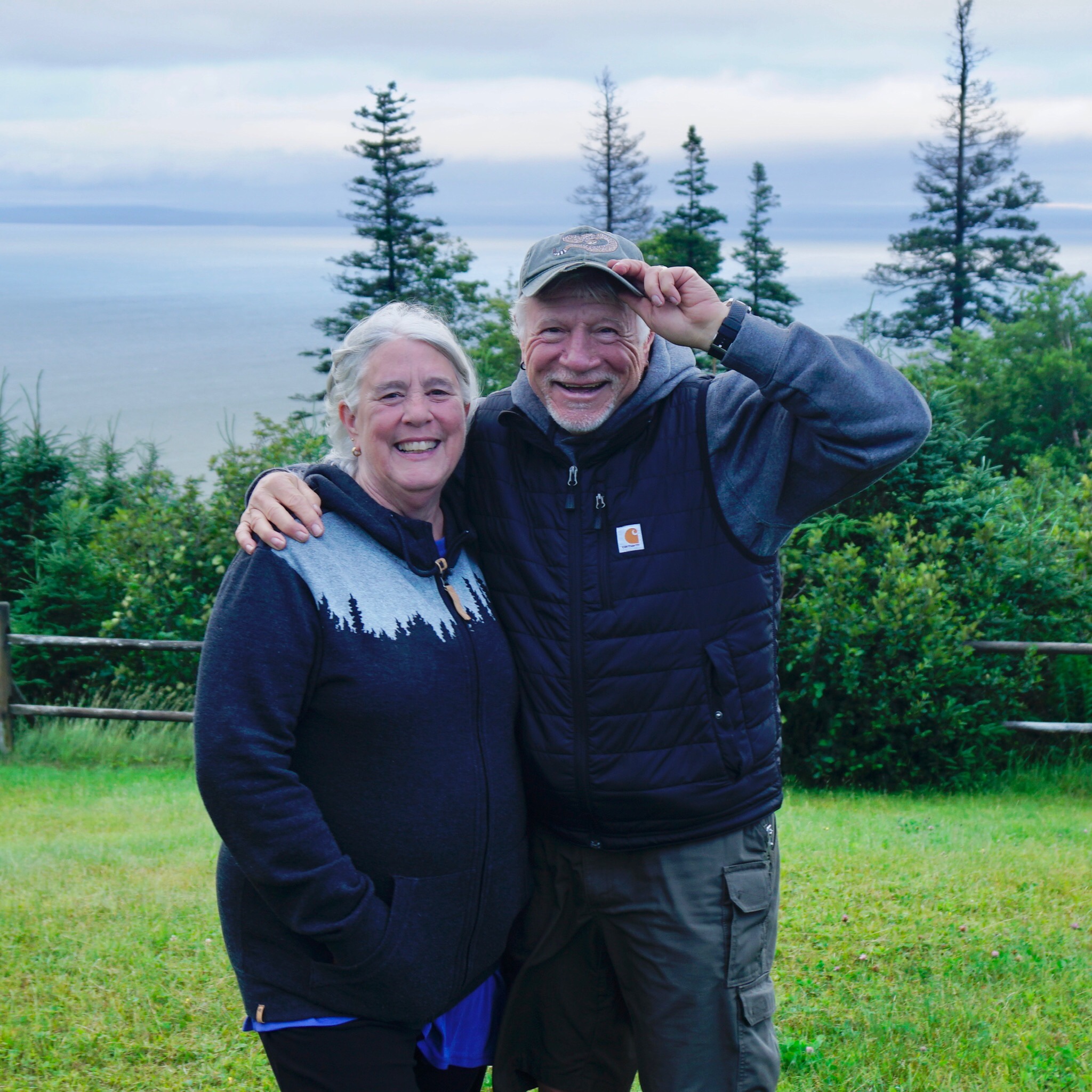 July 6, 2022.
We broke camp in the rain, we drove in the rain, we set up camp in the rain. Driving rain that all but defeated our windshield wipers. Fog at times so disorienting that it made me feel as if I was inside of a ping-pong ball. Over three hours of this on two lane roads and an hour after our arrival at camp my knuckles were still white. A damp relentless cold (thankfully!) made the mosquitos take cover, I care not where because it wasn't around me.
Thinking about those little bastards I wondered how fast their wings must beat to make that infernal hum. The answer: 300 to 600 beats per SECOND! To put that into perspective, hummingbird wings clock at about 80 per second. Supposedly a mosquito can only fly about 1.5 miles per hour. They must set up a relay once they've set their sights on me.
Skies intermittently cleared of rain not long after we made camp at Blomidon Provincial Park located high on cliffs overlooking the Bay of Fundy.
However, temps continued to fall to just over 50 degrees. The winds picked up into the 30's.
Blomidon PP is a pleasant surprise. Very basic campsites, but such a variety of settings. We are near the cliffside, somewhat sheltered by trees and scrub.
A short walk from us the campsites are in a broad open pasture.
There we spoke with Barb and Paul, campers from Vermont. We plan on sharing a campfire tomorrow provided that the winds subside.
On the way to Blomidon we stopped in the charming community of Kentville to do laundry. We plan on a longer visit when we again drive through on Friday as we head to Halifax.
Braving the elements this evening I pulled out the smaller of two Dutch Ovens to bake, or should I say over-bake, cornbread as a compliment to Christine's split pea and ham soup.
We were able to enjoy both outside during a lull in the climatic action. Tomorrow is forecast to be pleasantly sunny with a high in the mid-60's, mid-50's at night.
In a moment of clarity at dinner "my muse" spoke to Christine. "I love what we are doing. It helps me to appreciate but not miss Kansas City. I love our life in Kansas City, yet while we are there I find gratitude for our life on the road. I look forward to our "next thing", but not at the expense of embracing the moment."
Earlier in the day at the laundromat I read an essay shared by a friend. The essay was written by a woman facing terminal brain cancer. In the "prime of her life" she was struggling to understand and accept her lot. During counseling she was presented with the question, "Are you running from death, or are you running toward life?" The question gives me pause, just as it did her.
Death is a destination we all will share. At 70 I see more and more acquaintances, friends, and relatives "exit". Running from death is not only folly but the energy thus spent could be directed toward embracing the experience of life.
What is running toward life? One man's answer:
"Sing like no one is listening, love like you've never been hurt, dance like no one is watching and live like it's heaven on earth." -Mark Twain
To this I will add: Don't put off until tomorrow the things that you may find you are then unable to do.
Peace Everyone. Have Fun, Do Good, and for the sake of those who love you Be Safe. Pete