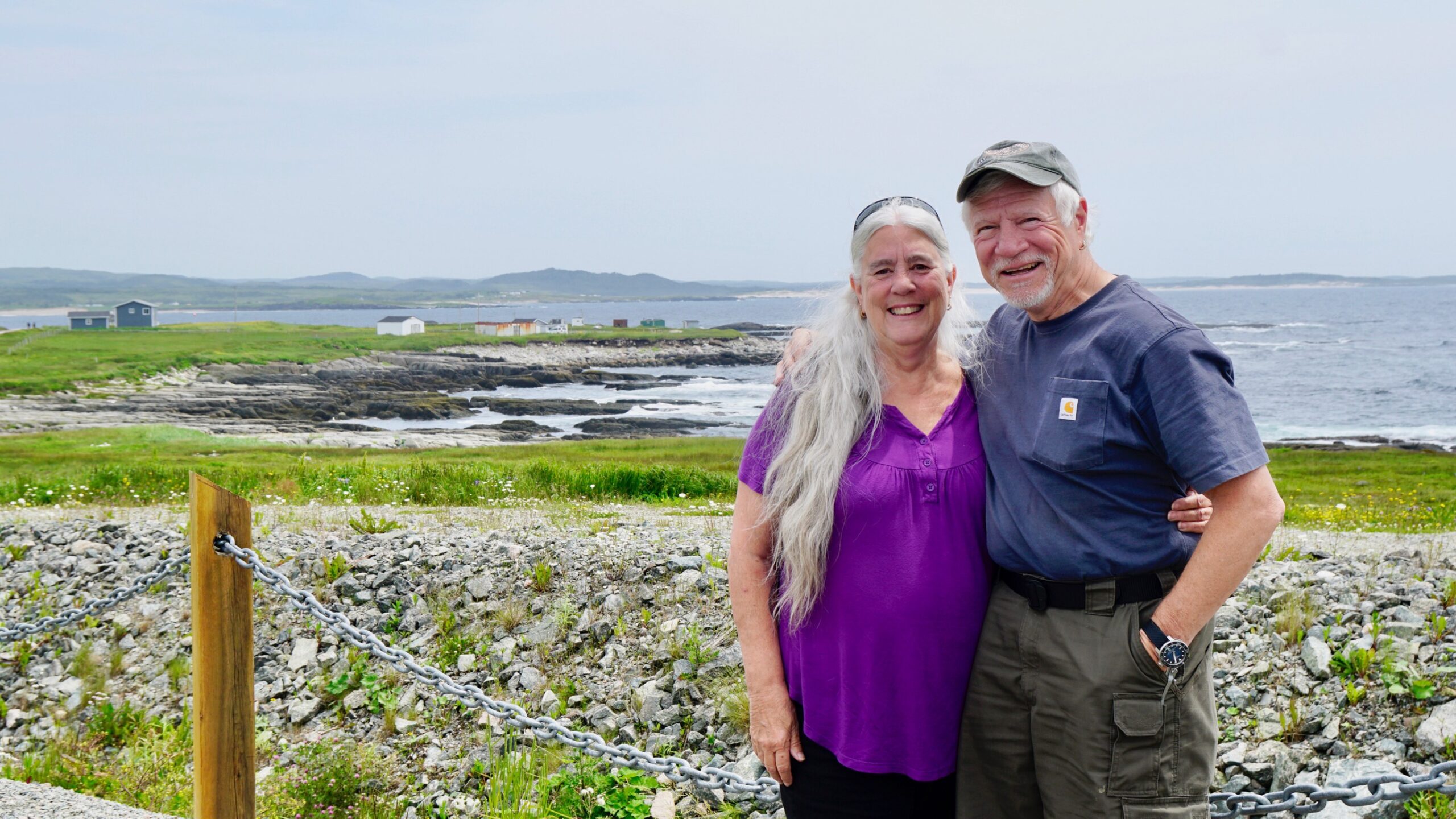 June 12, 2022
After 3 years of COVID delay, we have finally set foot on the soil of the Canadian Province of Newfoundland and Labrador.
It's a big place, slightly larger than California, with Newfoundland ranked the 16th largest island in the world. Except by air, getting here is not easy, There is an overland route from Quebec across Labrador through hundreds of miles of wilderness with part of the highway being gravel. It is so remote that at either end one is encouraged to rent a satellite phone that will be turned back in at the end of the crossing.
The alternative is the super-ferry from North Sydney, Nova Scotia.
There are two possible destination, either 17 hours to Argentia, or 7 hours to Channel Port aux Basques. We opted for Port aux Basques (@ pop. 5,000}, which leaves us a drive of nearly 600 miles to the main population center and Provincial Capital, St. John's.
The ferry is not cheap, especially when one is pulling a trailer.
The cost is based upon length, and we total 35 feet, just under US $600.00. This did not include a state room, all of which were already taken, but did include reserved seats which are similar to upgraded economy seats on an airplane. They were ok for sitting, not so much for sleeping, which is preferred since the crossing starts at 11:15 p.m., with an early morning arrival.
The 100 million dollar ship is immense. 650 feet long (that's over two football fields), 90 feet wide, and able to accommodate 1,000 passengers, 425 cars, nearly 200 commercial trailers, and nearly 100 tractor-trailer combos.
Because of the area it serves it also has some icebreaking capability. There is a bar, restaurant, and some shops aboard. However, this was no cruise ship.
We arrived in Port aux Basques excited, but exhausted. Fortunately, J. T. Cheeseman Provincial Park was only a 10 minute drive from the ferry dock. Officially, check-in is 2 p.m., and we were at the park at 8 a.m.. Since our site was unoccupied we were allowed to set up immediately.
The campground is clean, well organized, and there is wifi outside of the admin building, but no cell service. I am afraid that communications will be a challenge as we proceed.
The surrounding land is reminiscent to us of Iceland, rugged with many rock outcrops. For the most part there is little real forest, the park being an exception.
We are near the seashore and its long sandy beach.
Not far from the park is the Cape Ray Lighthouse.
These waters have been served by a lighthouse at this location since 1871. It is also the location where an underwater telegraph cable was laid in 1856, thus completing the first leg of the Trans-Atlantic cable.
This area has also been identified as hunting grounds for the ancient Dorset people, Who seasonally inhabited these shores from 2000 until 1200 years ago. The area derives its name from the Basque peoples of northern Spain who established camps here, seasonally fishing and hunting whales in these waters in the early 1500's, some believing they did so before Columbus "discovered" America.
The lighthouse is not open to visitors, but we spoke with the lighthouse keeper, Dale, who was mowing the grass. She kindly posed with Christine for a picture, but apologized that she was in her "mowing" clothes and not in her uniform.
She serves opposite another keeper, in alternating 2 week shifts.
Although it is mid-July, it is spring here because of the climate delay occasioned by the ocean currents. Wildflowers are in bloom.
Temperatures are mild, 60's by day and 50's by night., it can be rainy. It is our good fortune to be here in a dry spell which favors campfires and outdoor cooking. Rain is predicted for tomorrow which is when we have a 4 hour drive to our next stoop, Gros Morne National Park.
Peace Everyone. Pete
PS. We went to dinner this evening in a small seaside village about 15 minutes from camp. this was a "locals only" restaurant as it is off the beaten tourist path. I spied on the menu, "cod tongues". I had to try them. Cod don't actually have tongues. This is a small cut of meat taken from the underside of the fishes throat. A delicacy in Newfoundland, not likely found many other places. Not bad!