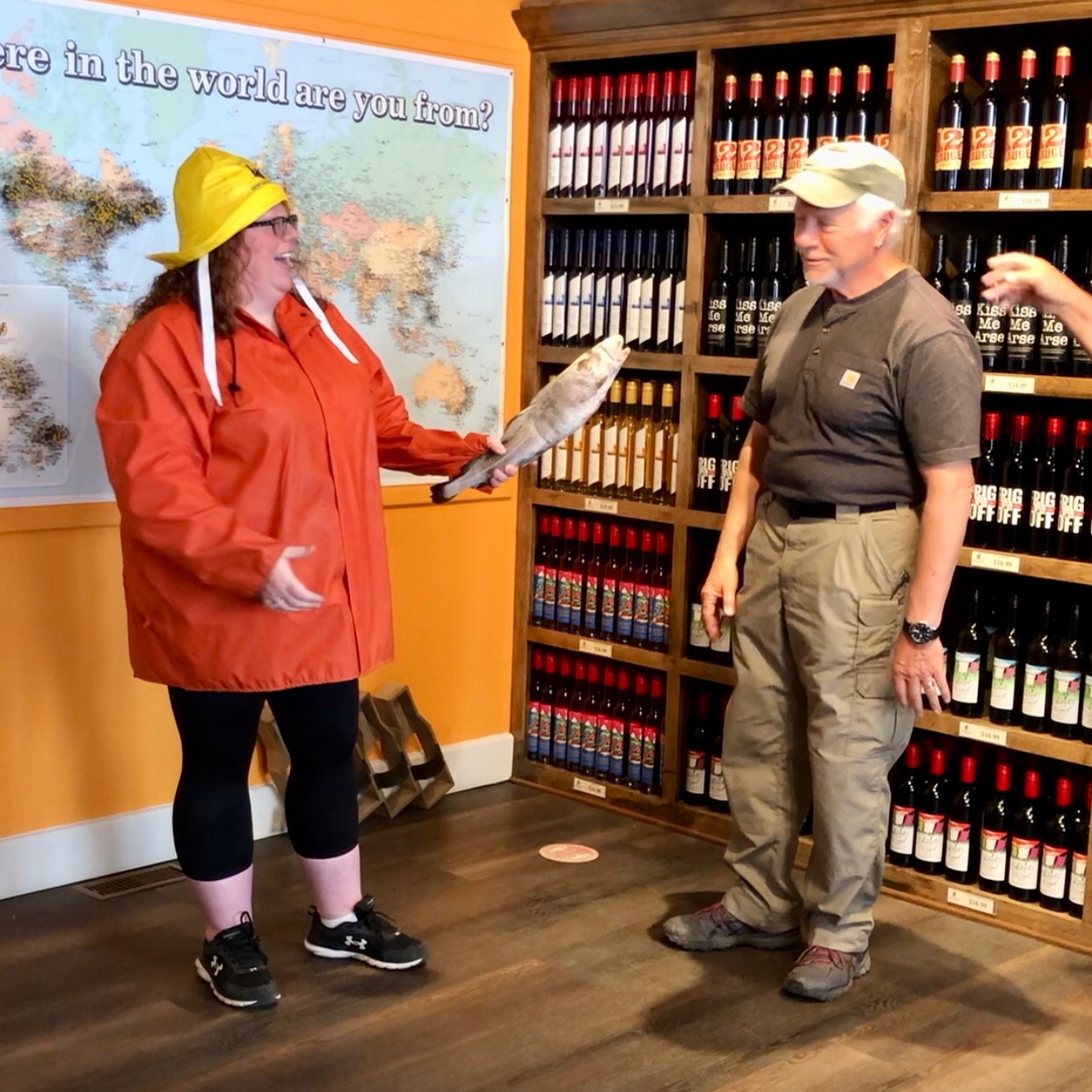 July 28, 2022.
On the morning of July 25th we set out from our camp at Dildo Run Provincial Park for the fishing community of Twillingate. Located about 15 miles from camp and on the Twillingate Islands of Notre Dame Bay, this town of 2,100 people is nicknamed "The Iceberg Capital of the World".
Unfortunately, we arrived too late in the season to see any near-shore icebergs. We did take in a pleasant drive to the highway's end where a brief hike rewarded us with wonderful views of the harbor and rugged coastline.
For over 200 years Twillingate was an important trade and service center for the Labrador and north shore fisheries. Once a thriving fishing port, Twillingate has had to turn its eyes to other commerce because of the collapse of fishing stock due to overfishing and government imposed fishing moratorium of 1992. The moratorium has slowly brought back fish numbers and restored some commercial fishing, but remains unpopular with many local fishermen.
Twillingate has found success in fostering local tourism and is favored as an "artists colony".
For 40 years it has played host to the annual "Fish, Fun, & Folk Festival", drawing thousands of visitors. Sadly we just missed this as the week long event began a few days following our visit.
As we continued to explore Twillingate, Christine noticed a small winery up ahead and suggested a visit.
We pulled into the parking lot of the Auk-Island Winery expecting to spend a few minutes there out from the overcast drizzle that had developed.
Though small, Auk-Island features a wide array of wines and has hosted visitors from around the world. We inquired about tastings.
For CA $20 the two of us were presented with pourings from 20 of the winery's 22 offerings.
With the assistance of of Brandy, and her great sense of humor, we set about tasting and rating… tasting and rating… and tasting…
I think that there is method to this as the wines loosen both inhibitions and one's wallet.
We found many of the wines wonderful to our palate. Some wine "connoisseurs" might not be impressed with the non-grape based varieties, but we especially enjoyed the offerings created from dandelion and rhubarb, not to mention more pedestrian fruits like raspberries and strawberries.
Grapes are not native to Newfoundland or Labrador. When Leif Erickson mentioned "Vinland", he was identifying New Brunswick, or perhaps coastal Maine, not Newfoundland where his camp, now known as L' Anse aux Meadows, is located. It is thus most appropriate that Aux-Island focuses on creating excellent non-grape wines.
Wine tasting concluded, Christine lined up a case worth of bottles at the cash register.
As Donna was running the tab she turned to me and asked if I'd kissed a Cod yet. With some regret I replied that I missed my chance in St. John's. "Well, I can get you 'screeched-in' here if you want. All I've got to do is get Chris!"
I gave my assent and soon Donna returned, wearing a Sou'wester hat and foul weather coat, "Chris" lovingly cradled in her arms.
Other customers became interested in this bit of theater and soon a number of others lined up to be "screeched".
"Chris" is a once alive, now frozen, Codfish. As Donna advised, I could consider "Chris" male or female, depending on my preference. Chris is female.
I thought that all I had to do was to kiss the Cod in order to be "screeched-in". How wrong I was.
In disabusing me of the notion Donna explained that I first had to demonstrate language proficiency with a number of common Newfoundlander phrases. Then I would kiss the Cod, drink a toast of screech in one fell swallow, and finally take the Oath that would earn me the Certificate and status as an Honorary Newfoundlander. Sounded easy enough.
First, as a "come from away" (mainlander or foreigner) I had to ask properly to be screeched in by responding, "Yes b'y!" Then the impossible began.
Donna: "Repeat after me…." followed by a series of incomprehensible phrases that I and the others haplessly tried to imitate. The attempts brought roars of laughter from Donna, Brandy, and all others present as witnesses.
Next came kissing the Cod, to which Donna added that technique and passion would be rated by applause. "Tongue or no tongue?" I asked. This question earned an applause, as did my full-on embrace of the fish.
Finally there was the shot of the "adult beverage", followed by the Oath and required answer to the question, "Is you a Screecher?"
"Deed I is, me ol' cock, and long may your big jib draw!" Was the proper response, but uttered quickly as one long word and sounding like you had just left the dentist's chair with mouth and tongue still numb from novocaine injections.
Our "brief" impulse visit to the Auk-Island Winery expanded to almost 2 hours and has become one of our fondest memories of our time in the Province.
It was not quite 5 p.m. and our stomachs had begun to cry, "Feed me". We didn't find anything in town that excited our tastebuds, but I recalled some crude signs on the way to Twillingate that indicated a seafood restaurant and "Lobster Pool". We were off to pick up that trail.
10 minutes down the road and there was the sign. We turned and a few miles more brought us to "Sansome's Lobster Pool, Dockside Dining, Kitchen, and Restrooms."
We were not alone. Sansome's must thrive on word of mouth, and those mouths must really have been talking. This was a real hidden gem!
Here is the "Lobster Pool" and soon to be victims…
Here the lobsters are being cooked…
And here we are at table with Floridians Suzanne and Brad, along with francophones Simone and Oliver from Quebec.
Not more than an hour earlier we had been strangers. However, the tiny restaurant had developed an imposing waiting list. Christine and I were next in line. Staff eyed the table that had just opened, a table for 6.
Christine reached out to the two couples and asked if they wished to join us. The replies and relief from each of them and the restaurant staff were immediate. Thus began one of the finest and most memorable dining experiences of this trip.
It takes just a moment and a kind word to turn a stranger into a friend.
Peace Everyone. Pete