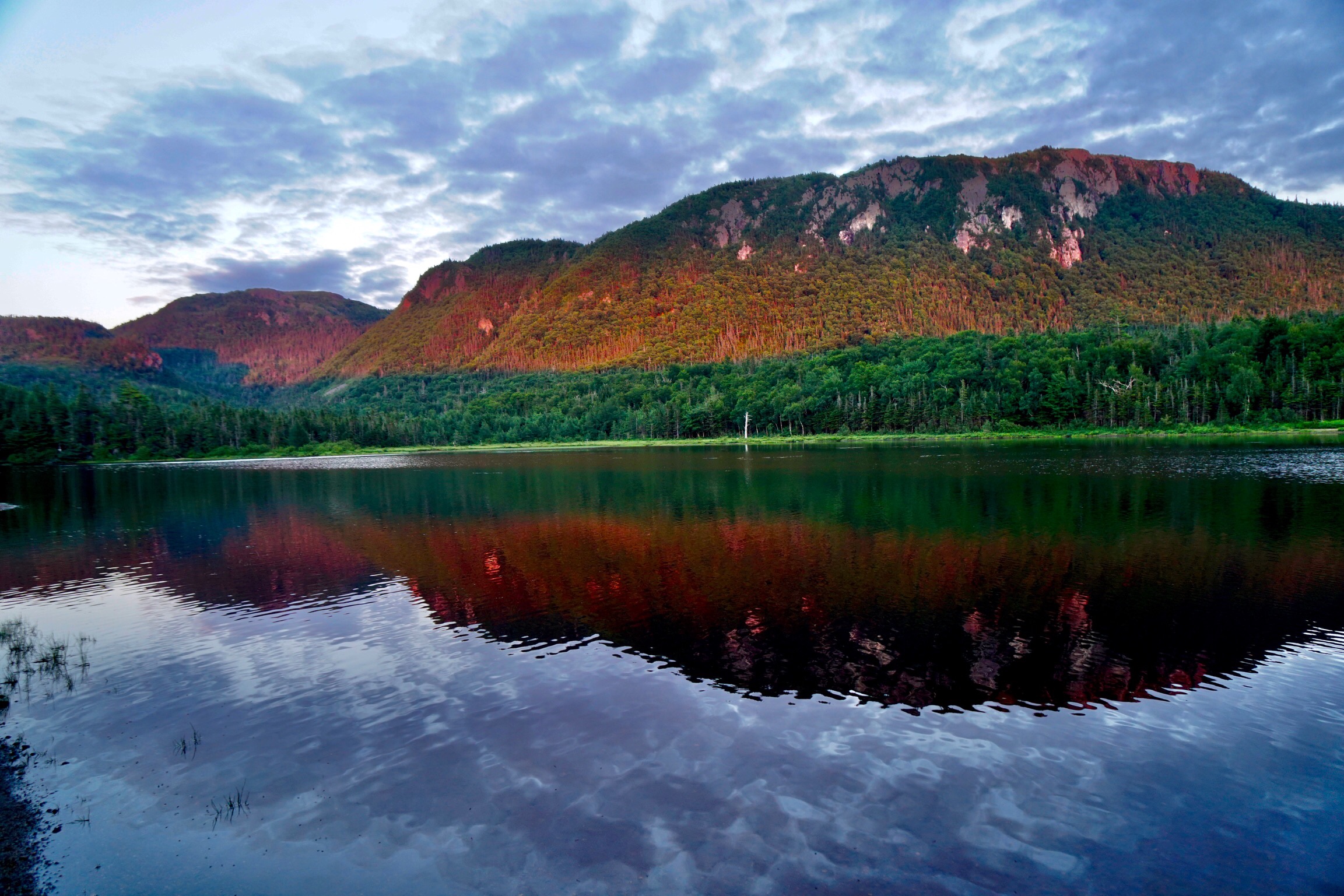 July 30, 2022.
Our original plan had been to spend only the nights of July 23rd and 24th at Dildo Run Provincial Park. We would then drive nearly 300 miles for a 2 night stay on the west coast at Blow Me Down Provincial Park, followed by some back-tracking and another long drive for a one night stay at Barachois Provincial Park. The plan deserved reexamination.
Up to this point, with the exception of Pippy Park in St. John's, every stay had been 2 nights long. Cancelling Blow Me Down would allow us to add a third day to Dildo Run, eliminate one of two long drives that lay ahead, and add a day to Barachois Pond, from where we would have a 100 mile drive to the ferry on July 28th. That made enough sense, and so it is what we did.
As my prior posts detailed, the longer stay at Dildo Run was fortuitous, allowing us the explorations of Fogo Island and Twillingate.
Barachois is not particularly near anything noteworthy, but on-line pictures promised a scenic and relaxing 2 night stay.
We knew the park was large with 150 unserviced sites. Upon arrival we were surprised to see that most sites were occupied by large pull-behind trailers and equally large 5th wheel campers. These were typically over 25 feet long. Furthermore, it was mid-week when we would expect more vacancies. That was not a problem since we had a reservation.
Our assigned spot was beautiful.
We were lakeside with a 50 foot walk to the shore. There was a beach, a well maintained bathhouse with laundry, and limited wifi available in the park. After making camp we took a walk through the park.
It was a ghost town. Virtually no one was home at the campsites! Further examination revealed that many of the sites had stocked in large quantities of wood, had large on-site generators, tented storage sheds, and the site next to us even had a propane tank that was large enough to serve a home. This was a park largely dedicated to season-long campers occupying their sites mostly on weekends.
When evening arrived, so did a few of these "residents". The park became illuminated by multi-colored "party lights", and music played (too) loudly from a number of sites. The residents of the campsite behind us remained absent, but their solar powered party-lights came on automatically at dusk.
So it was with many of the sites with absentee residents. This was not our style of camping. Hopes for a real dark-sky experience were dampened, but since we faced lakeside I was able to take an after-midnight time exposure sky shot that turned out reasonably well.
Sunset also brought stunning illumination to imposing Mount Erin across the lake from our camp.
During our earlier walk I had noticed a trailhead and signboard that detailed a 5+ mile hike up the mountain. I added that to my mental check-list of things to do tomorrow.
Our evening rounded out with a tasty Dutch Oven Pot Pie, a few adult beverages, and a campfire. All was good, in spite of the fairyland of party lights that surrounded us on three sides.
The next morning we decided to do some pre-ferry grocery shopping before my afternoon hike. The large community of Stephenville was about 20 miles away with a couple of large grocery stores, and at least one coffee shop that had wifi superior to the anemic signal in the park. I didn't figure there would be any photo opportunities so to my regret I didn't bring my camera.
Driving through town we were struck by the array of huge warehouses. It struck me that they looked like converted airplane hangers. Furthermore, many of the cross-streets bore US placenames: Minnesota Drive, Carolina Avenue, Oregon Drive, Dakota Drive… It was time to consult with Mr. Google.
This town of only 6,600 residents has huge runways and an international airport! Why? Because from 1941 to 1966 this was the home of Ernest Harmon United States Air Force Base. The US airbase featured two runways, one nearly a mile long and the second nearly 2 miles long! This is how the airfields look today:
Until 1949 this was the independent country known as The Dominion of Newfoundland, established in 1907and consisting of both Newfoundland and Labrador.
It gave up its self-governing status in 1934 because of a crisis in public finances brought about during The Great Depression, allowing the United Kingdom to temporarily administer it through an appointed Commission of Government. This continued until Newfoundland and Labrador officially joined Canada after a hotly contested referendum that included options to remain a dominion of Great Britain, join with Canada, or join with the United States. The final election did not include a US option. Canada Confederation won by a slim 52% majority, Newfoundland and Labrador becoming Canada's 10th Province in 1949.
The US Air Force Base was maintained until 1966, and was one of the United States' largest airbases located outside of the US. It had a deepwater port, and serviced the largest transport aircraft in the US arsenal, fighters, and nuclear armed aircraft. This is how the airfield appeared in the the 1940's and 50's…
And some images of what is left today, courtesy of the internet:
We returned to camp and I "girded my loins" to tackle Mount Erin. A little over 5 miles and a steep climb of 1,150 feet, brought the reward of an amazing panorama that my lens does not do justice to.
The view took in Bay St. George, the Gulf of St. Lawrence, and the Long Range Mountains which are the northernmost extension of the Appalachian Mountains.
I returned to camp two and a half hours later beat and in need of a beer revival. The hike stood as a caution to me. This trip has not provided me with the opportunities to hike and exercise as is my custom. Furthermore, we eat really well when we camp, too well by at least one measure.
On September 29th I leave Christine and fly out of Kansas City bound for Lisbon, Portugal. From there I will proceed to Porto Portugal and hike to Santiago de Compostela, Spain, continuing on to Muxia and Finisterra on the Atlantic coast, finally returning to Santiago. From there by transport as yet undecided I will meet Christine in Barcelona, Spain not later than November 6th. The portion of the journey I will pursue by foot will cover about 300 miles (500km).
In the past training for such and undertaking seemed prudent but not necessary. At 70 years old it has become both prudent AND necessary.
Peace Everyone. Pete
PS. We boarded the ferry late the night of July 28th, landing in Nova Scotia 7 hours later. We left behind wonderful sights, experiences, and fast friendships. We hold all of these as precious memories to be treasured.
We also left behind the Province's odd slang, unique cuisine, the thick Irish/Scottish accents, and weird half-hour time zone. It took some time to adjust to the hourly news feeds from NPR, CBC, and BBC broadcasting on the half-hour. The rest was easy.