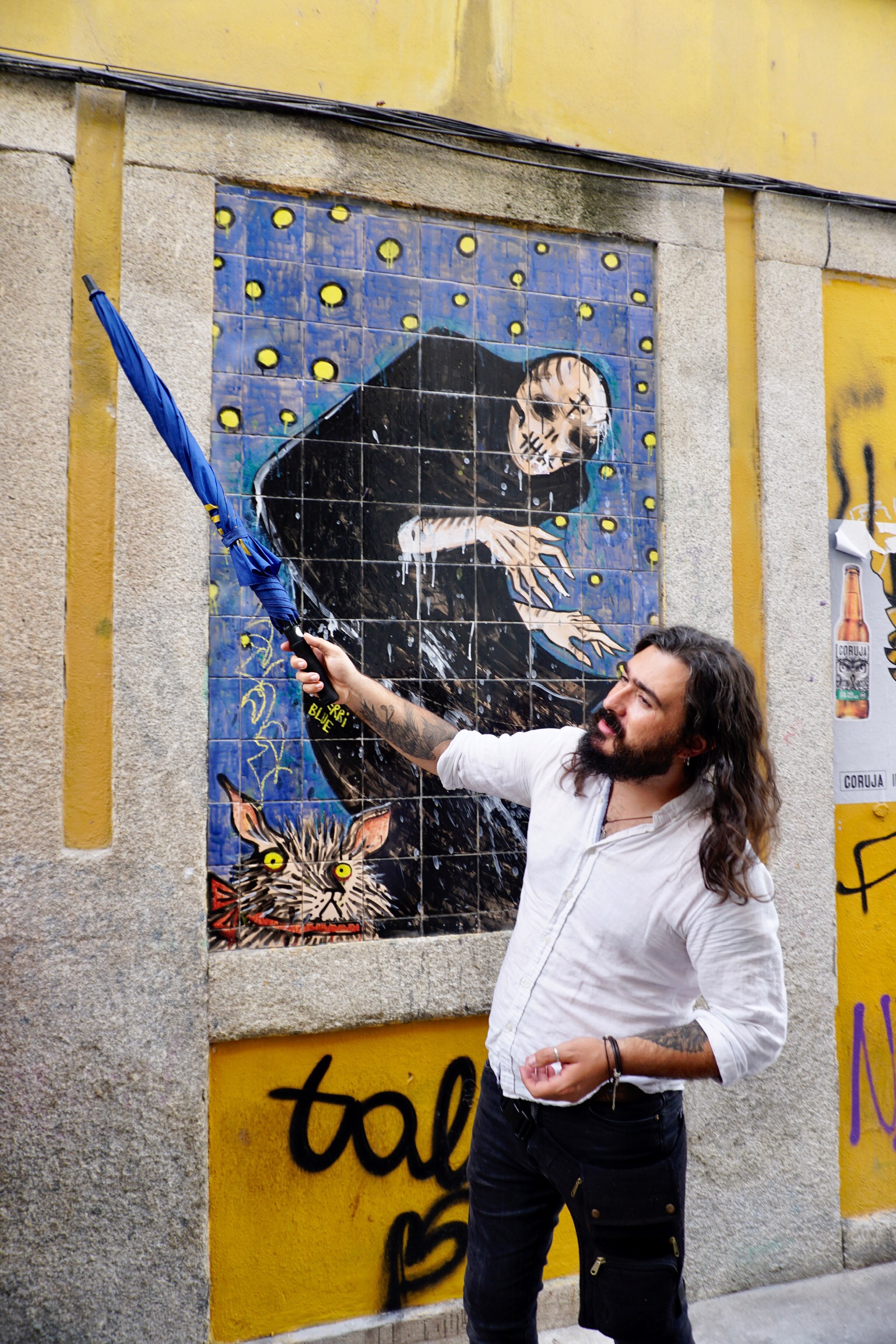 October 3, 2022 at Porto, Portugal.
Dear Christine. It was so good to hear your voice today and to connect in a lengthy phone call. I'm glad that the special overseas call option has finally kicked in on T-Mobile. I'm really excited for you on your upcoming high school reunion. Don't worry, you'll have a great time connecting!
We leave for the Camino tomorrow morning, but more on that in a bit.
I had not intended to do a great deal of walking today but the weather was nice and there were opportunities to take in some city sites which required walking. Over 10 km in all. This letter will give some highlights, not a great deal of depth, but of course pictures.
We wandered the area where you and I stayed in 2018. You may recall it's a university area and there are students strolling about wearing black capes. Sorry, but no pictures of them. There's a bookstore, which is not unusual in a college neighborhood, but what is unusual is that this is the bookstore where are J. K. Rowling spent many hours drinking coffee and constructed her story work for the Harry Potter series.
The bookstore is not particularly large or noteworthy from the outside, yet hundreds of people lineup here every day (adults no less!) and stand in line for the opportunity to visit the store. As we approached the area the throng of people extended in a line one block long, and doubled back another full block.
They each pay €5 admission which is credited against any purchase. People are not admitted until a similar number of people have exited. It's crazy! I didn't go in.
The neighborhood, caped students, and architecture apparently provided her with some inspiration.
Nearby was the tall stone tower that I again missed the opportunity to climb. This certainly guarantees us another visit to Puerto!
Not far from there was another unusual store, this one dedicated to the sale of canned sardines and various other similarly canned seafood items.
They are really not intended for eating but as gifts and for collecting. One whole wall was sardine cans with a year emblazoned on the front, 1916 through the present. They are "birthday sardines!" The sales lady was careful to explain that the cans say something about the depicted year, but the sardines are fresh packed. How many people do you know that collect sardines? Yea, me neither.
We visited a pair of unusual churches. They are both Catholic and of similar design. They were built 100 years apart, in the 17th and 18th centuries respectively.
There was some problem with having the church is actually touch so a "hidden house" was constructed to separate them. The house is approximately 10 feet wide and five stories tall. It is represented as the narrowest house in Porto, somewhat reminiscent of the canal houses that you and I have seen in Amsterdam.
Why two similar churches were located so close to each other? I don't know.
We toured the churches and saw the opulent robes, gilded altars, religious articles, and curiously enough birthing chairs!
They look like something out of the middle ages (probably because that's where the design originates). I thought they were toilets for the bishops, but was disabused of the notion upon reading the storyboard.
There were catacombs beneath the church where approximately 400 religious had been buried over the course of a many years. No pictures were allowed. There were bones, and the visible remains of one saintly woman who died in the 1700s. Apparently, resting in peace is not actually an option for this one who lived a good life.
By the way, religious men who were buried in the crypt (Priests and Brothers) were interred a matter of right. Religious women (Nuns), had to pay with money for the privilege during life.
There were a variety of relics on display, including a minuscule splinter represented as a piece of the "true cross". It even had a "certificate of authenticity" signed by an Italian bishop in the 1600s. I've heard it is said that one could built a house with all of the pieces of the "true cross" if they were only gathered together. I wonder how much the church paid for that splinter?
Outside of the churches there were the occasional beggar, and I saw a few troubled people sleeping in doorways over the course of the day.
I found it troubling to see such wealth and power on display by heads of a church founded on Christ's teachings.
OK, I'm going to step down off of my soapbox.
Later in the afternoon we took in a 3 hour street art walking tour presented by an archeologist born and raised in Porto. It was fascinating and "free" with donations requested. It is impossible for me to set out in this letter out all of the information we were provided.
Highlights: The tile work that is found throughout Porto is considered street art. It is against the law to paint heritage surfaces, but there is a website that tells artists where owners throughout the city have designated parts of their property as open for art. "Paper art" is legal anywhere, because it's easily removed. "Tagging", which we call graffiti, is vandalism, not art. Here are some images:
This tall building in the background is an interesting assembly of art tiles.
The artist distributed blank tiles throughout the art community, inviting the other artists to apply their own images. The original artist then assembled these into a monumental collage The words that you can see in the center mean, "Who are you Porto?" I hope that the picture resolution is sufficient that you can focus in and see some of the individual pieces.
It's not a particularly pleasant neighborhood, being located across the street from the train station. There were two small "hole in the wall" restaurants. Our tour guide mentioned them as highly recommended, frequented by locals, cheap, and featuring authentic Portuguese cuisine. We returned there after struggling to work out our baggage transfer arrangements and enjoyed a terrific dinner and full bottle of wine. I had a huge roasted cod dinner and Kris enjoyed a similar sardine entree. The entire bill was €31, which works out to less than $30!
About the baggage transfer: We found a company that will transport the bags and is "high-tech". Instead of leaving a little envelopes with instructions and money attached to the bag, one registers and provides all of the info and payment online. The company then sends an email with a QR code that is to be printed and attached to the bags. It's a great concept, provided you have a printer. The hostel has a printer, the printer didn't have ink. After some significant stressing out, a phone call with the transfer company it got worked out. I have to take a photograph of the bags in the morning and emailed it to company.
Enough for now. This turned out a lot longer than I expected which is probably a good thing. I do not know what the Internet situation will be tomorrow.
I love you. Sleep well. Me
PS. No PS.