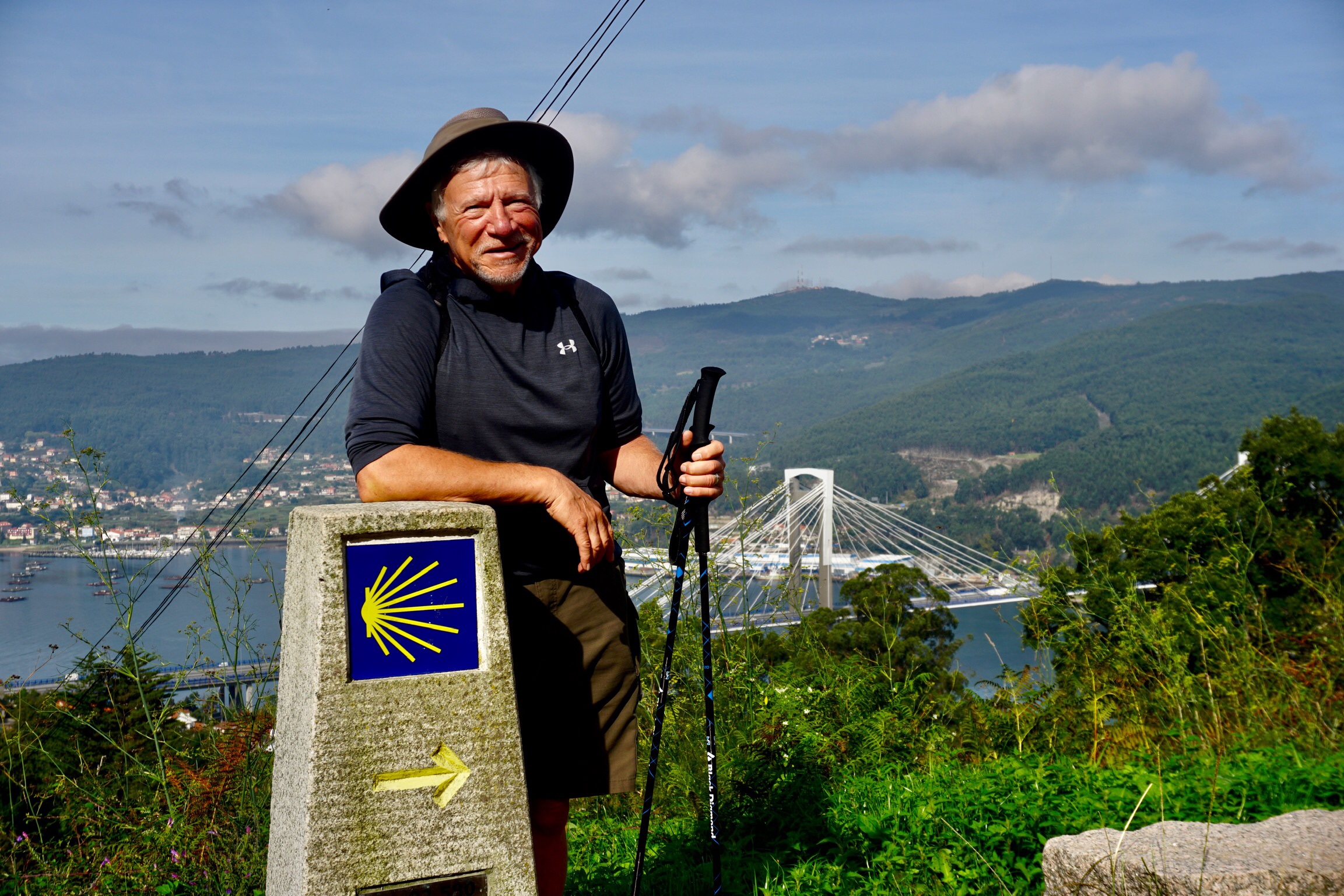 October 14, 2022. At Pontevedra, Spain.
Dear Christine. It's 1130 at night here and 3:30 in the afternoon where you are. It's one thing to be separated by distance, and yet stranger to be separated by time. I'm looking forward to your arrival in France in a couple of weeks. Even though we will remain physically separated at least we will be in the same temporal world!
Today I again happened to encounter Ken and Bambi walking the Camino. They are wonderful people and I look forward to us connecting with them in Georgia, Kansas City, Colorado, or all of the above.
One thing different about today was the explosion of Americans that we encountered. There were people from Oregon, Minnesota, California… and this delightful lady, Lynn, who has been gifting every American she meets with a small silver Santiago scallop shell.
I attached mine to one of my earrings and promised Lynn that it would not come off for the duration of this Camino. I confess that I am not very good with "selfies".
We visited for quite a while along a stream in the woods. She explained that she was selling everything back in the States and moving to Portugal. She is such a kind and deeply spiritual lady in a way that reminds me of our dear friend Maggie.
I also understand that there is a couple here from Missouri, but nobody has been able to tell me from what part.
We arrived in Pontevedra this afternoon after a somewhat difficult 21 km hike that included two significant uphill sections.
We rejoined for dinner. The prices are amazing. An excellent BOTTLE of wine cost only €13. The whole dinner which included appetizer, main dishes, coffee, after dinner drinks, and dessert, was just south of €100 for the three of us!
In addition to Americans, today featured Sarah and Jessica, sisters from Venezuela.
There were also Peregrinos from Germany, Holland, South Africa, Spain, Italy, and France, just to name a few.
Pontevedra is where the coastal route of the Portuguese Camino merges with the central route. No doubt, that explains the increase in "traffic". Today is also the day that I think I found the soul of this journey. Not in the places, but in the people. It was that way in 2013, 2018, and I'm finding it to be the same in 2022.
I have decided to take an extra day here in Pontevedra and dedicate time to creating an itinerary that will take me into Santiago and then on to Finisterra and Muxia.
As of this evening I am only 67 km from Santiago. Santiago lay 251 km ahead when I took my first steps toward that destination on October 4th. These last 10 days have been a blur!
Ken and Bambi will continue on in the morning but we are going to do our best to rejoin for dinner in Santiago this coming Wednesday. They will be staying in the Parador Hotel ($$$$), while I am working to secure an accommodation in one of the pilgrim rooms at Hospitallilo San Martin Pinario ($).
I've tried to balance staying at albergues with staying in simple and inexpensive hotels. The hotels offer privacy with the luxury of one's own bath, but the hostels and albergues give a sense of adventure and communal association. Last night a small group of South African pilgrims were up late and needed help finishing their wine. I was happy to oblige!
Here are some images from my room last night in Redondela.
My tiny space had two beds with an open passage to a second similar room separated only by a pulldown blind. Thankfully, no-one was in the second bed in my room. Unfortunately, the adjoining space featured a world class snorer. Still it was one of the best nights sleep that I've had so far on this journey.
I am including some images from today and yesterday with captions where appropriate.
Please give the grandkids hugs from me and wishes for success in their sports this weekend!
I'm counting down the days until we are in the same time zone… and then the same place.
Love, Me.