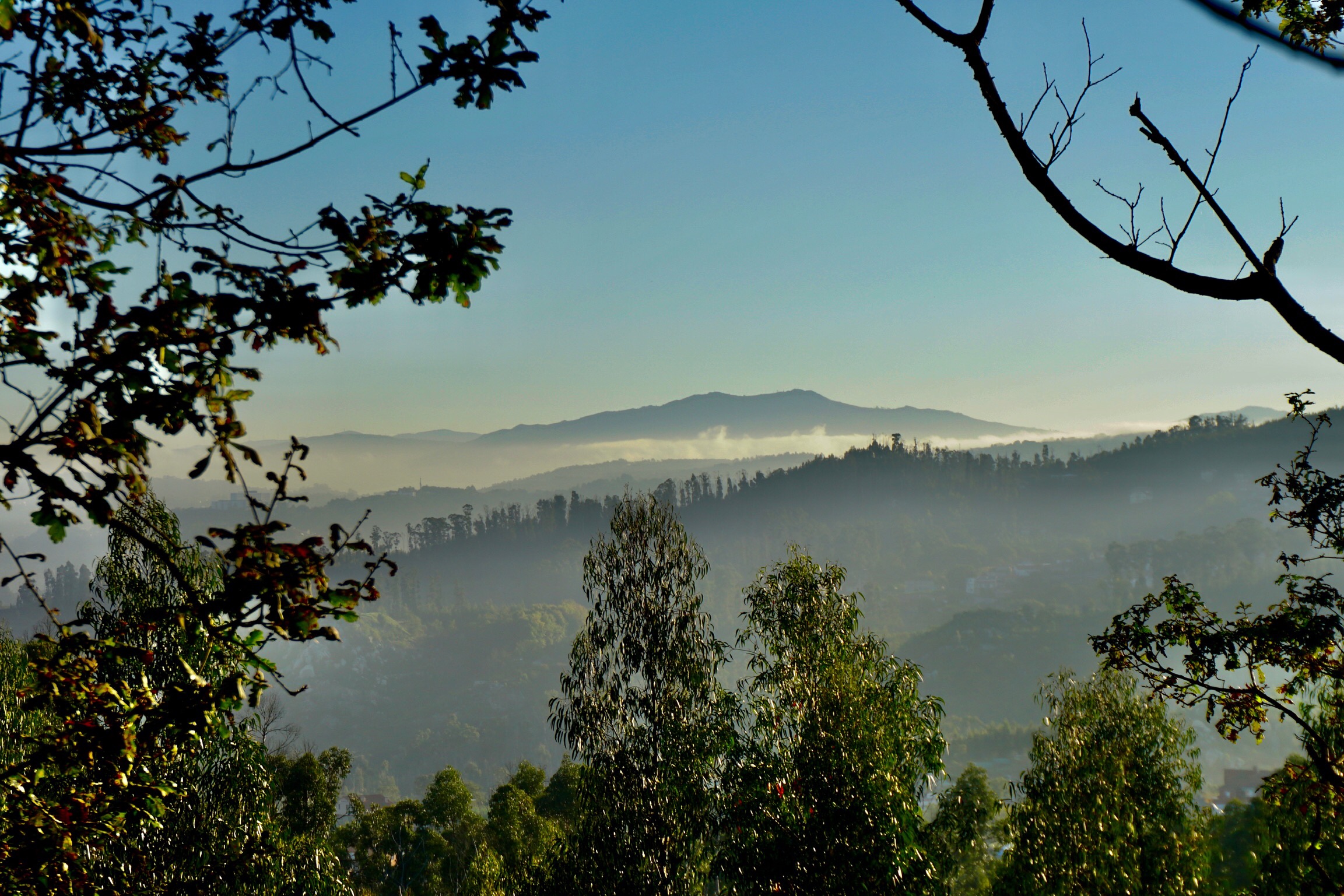 October 12, 2022. At Vigo, Spain.
Dear Christine. I had a wonderful time at dinner last night with Tom and Bambi, from Georgia. It's remarkable how alike many of our professional and life circumstances are.
In 2018 we were fortunate to have met our Canadian "doppelgängers" Tom and Nanci. History repeats, but alas you are not here. I am confident we will get together back in the States. The motivation is strong and they have heard so much about you for me it is as if they already know you.
My walk back to the Pension last night was spectacular. I did not have my camera, but then I did have my iPhone.
Early yesterday as I was reviewing today's route it appeared that I was up against a very long day of well over 25 km. On top of that there were a number of significant climbs and route complications. I decided to catch an early morning bus and eliminate the first 7 km. This would also leapfrog me out of the urban area and into some very pleasant forest trails.
First light does not occur here until 8:30 AM. The bus departure was 8 AM and because there is some kind of a holiday there was a reduced timetable. The next bus would not be until 10 AM, too late for me.
I arrived at the bus stop 15 minutes early. The bus was already there, engine running, but the bus driver did not open the door until 10 minutes before departure. As I began to step onto the bus he halted me and pointed to his masked face. No mask, no ride, no exception! Nobody told me! I was in a panic. The driver spoke no English but was touched by my predicament. He searched through his own belongings to see if he had an extra mask. No mask.
The clock was ticking and I ran across the street to a café that had just opened. I pantomimed my need to the proprietor and the only two customers who were enjoying their coffee. No masks.
I returned to the bus stop and laying my day pack down in the dark I began frantically searched through its contents by feel. No mask.
Crestfallen, I began to turn toward the bus to indicate my defeat. However, my eye caught a dark shape just a few feet from me, nearly camouflaged and invisible against the dark bench. IT WAS A MASK!!
With less than a minute to spare I was on the bus and we were wheels-rolling out of town.
Camino magic? Camino moment? Miracle?… Or just somebody forgot their mask. In any case, in my moment of need my eye set up on it. It really doesn't matter what I call it. The outcome was the same. The incident set into motion a cascade of thoughts that lasted the duration of my 21 km hike. I wish you had been at my side so that I could have processed my musings with you in real time. Writing them to you in this letter is the next best thing.
As I have said many times: Every miracle comes in two parts, that it occurred, and more important that it was noticed. It also occurs to me that our common understanding of what constitutes a "miracle" blinds us to the "little miracles" of daily life. The magnitude of those events portrayed from church pulpits is beyond most human experience. What if the conspiracy of time and retelling has taken otherwise noteworthy events and embellished them into the fantastic? Like the size of an angler's catch grows with each retelling.
Take for example the biblical miracle of the loaves and fishes. In Christ's time hospitality required the host to provide food and drink for his guests. A multitude had assembled to hear Jesus speak. In essence, he was the host and they were the guests. Imagine the panic of the disciples… How could they possibly honor their duty to such a crowd?
I was taught in parochial school that Jesus found a boy carrying a basket with loaves and fish. Jesus blessed the food, broke the bread and then in distributing them the amount of food miraculously expanded to fill everyone's need with 12 baskets of leftovers remaining. A miracle! But what if there is an alternate explanation:
Jesus was often referred to as "Teacher". In fact, that is exactly what he was doing that day on the Mount, teaching. What if in securing those loaves and fish he intentionally and publicly shared the food with those around him, teaching by example.
In that era people rarely left home without taking some food and drink with them. By his example Christ inspired the crowd to share and care for one another. Isn't that a miracle? What's more, it is something that Jesus could teach that is within our human capacity to repeat. Amen.
The hike today was long but very pleasant. Most of it was through a huge forest, climbing up and through the mountains overlooking the sea. It was certainly much more pleasant than slogging through the urban areas below.
I did take one wrong turn which ended up adding a few kilometers to my hike. Thank goodness for the early morning bus ride!
I arrived in Vigo in the early afternoon. It is urban, and that says it all.
I am meeting Ken and Bambi again for dinner this evening and looking forward to sharing our tales from this day.
Thank you for being my wife… and at times my muse. Love, Peter
PS. During my hike I passed by an attractive rural home and yard. An older woman was creating a mosaic on the wall next to her garden. It was quite extraordinary. I wish I could've stopped to talk with her but I was afraid I would merely scare her and distract her from her art.