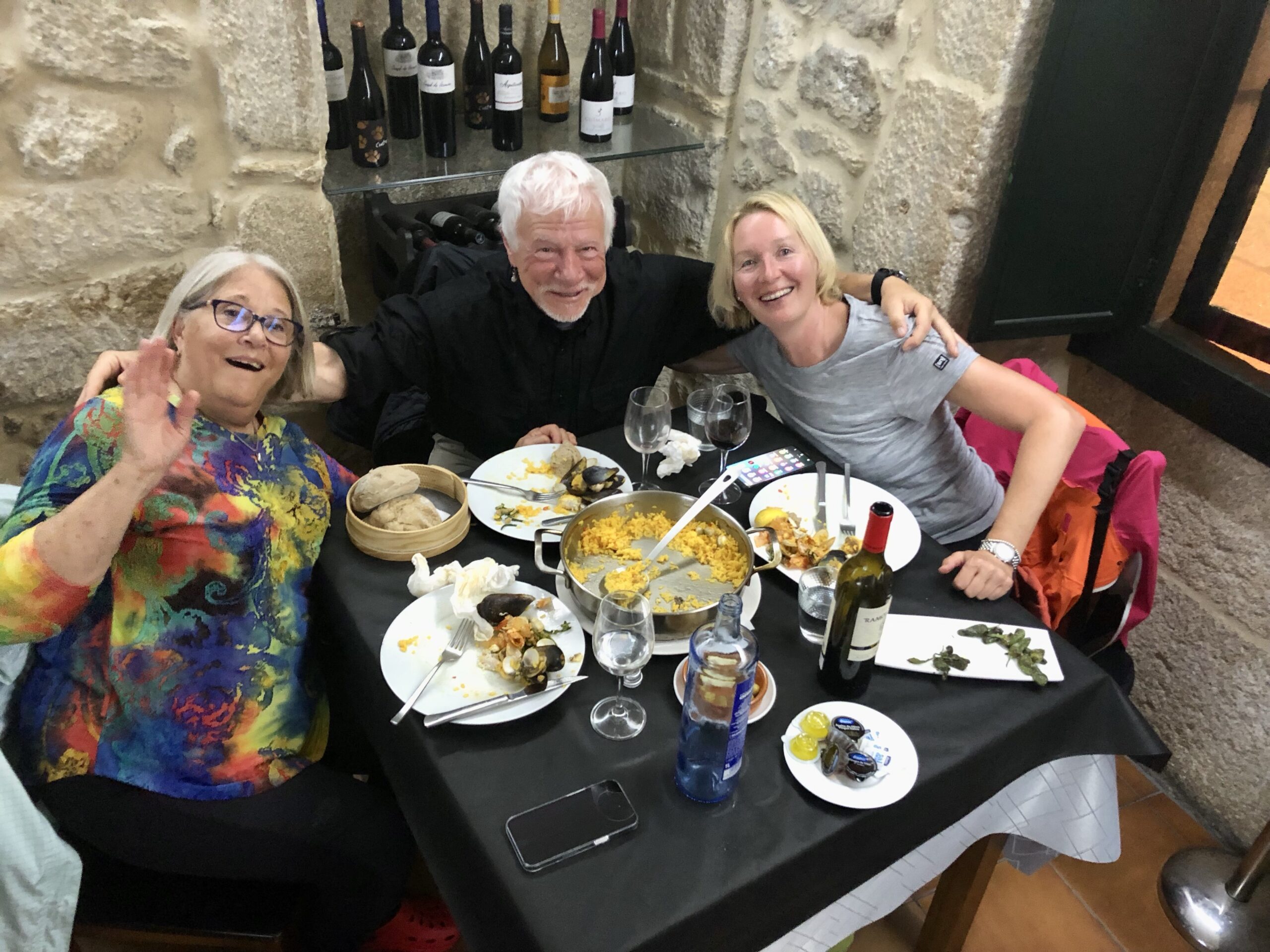 October 16, 2022. At Pontevedra, Spain.
Dear Christine. Whatever today lacked in pictures it more than made up for in emotional connections. Before I explore the depths of those matters, here's the business of the day:
I decided to spend an extra day in Pontevedra to arrange lodgings between here and Santiago, baggage transfers to that point, bag storage to lighten my pack for my hike to the Atlantic coast, and final accommodations before I fly to meet you in Barcelona.
With just a few "hiccups" all of that was successfully arranged. I then set off in search of breakfast and took a stroll through this wonderful old town.
I visited the main cathedral where it was obvious that preparation's were being made for a wedding.
For lunch I found a pizza-by-the-slice shop which did honor to that centuries-old tradition, and later one of your favorites, Peppers Padron.
While I sat watching life evolve around me it occurred to me that the Camino is like a tidal river: In the morning the pilgrims leave for their day's journey, much is tidal waters recede. In the afternoon a flow of new pilgrims arrive, again like the surge of an incoming tide.
When I am walking the Camino, I am part of, and belong to that flow. However, by staying behind an extra day I left the stream. I left Ken and Bambi, acquiring in their place a sense of loss. We hold hope to rejoin for dinner this coming Wednesday evening in Santiago.
Pizza and peppers consumed, I began walking the narrow streets of the old city. I was alone with my thoughts which bounced around like ping pong balls in a lottery tumbler. I thought of Kris, Ken, Bambi, and of course you. At some point I thought of a German woman who joined Ken, Bambi, and me at a pizza restaurant two nights ago in Redondela. She was walking solo and experiencing some difficulty with blisters. Within a minute of those thoughts she emerged from a side street to walk in front of me! I recognized the hair, her orange colored top, and reflexively called, "Tina!" With a look of shock she turned, and after a brief hesitation replied, "Peter?"
We spoke. She was on her way to her hostel after a challenging day. We arranged to meet at 7 pm for drinks and dinner.
Nearing the appointed hour I waited near her hostel, admiring a hundreds of years old stone cross that marked the route of the Camino.
I was soon joined by a woman who first focused on that cross, but then turned her attention to me, "I know you!" It was Lynn who gifted me the silver Camino shell that I attached to my earring. As you have said, it appears I am transforming myself into a pirate! When I last saw her, she and Bambi were preparing to dip their tired feet in a creek's cooling waters.
A few minutes later I was introducing Tina and Lynn to each other, and the three of us set off to begin a memorable, perhaps even magical evening.
The three of us hope to meet again tomorrow for dinner. The next destination is 23 km from here, Caldas de Reis, site of ancient Roman thermal baths that continue to pour forth their 100+ degree waters.
I can sum up the evening in five words: I wish you were here. Love, Me
PS. It appears that whatever has been preventing email notices of these posts from being sent out has at least partially been corrected. It seems that Gmail accounts are once again receiving the links. My fingers are crossed that the resolution is broader than that.