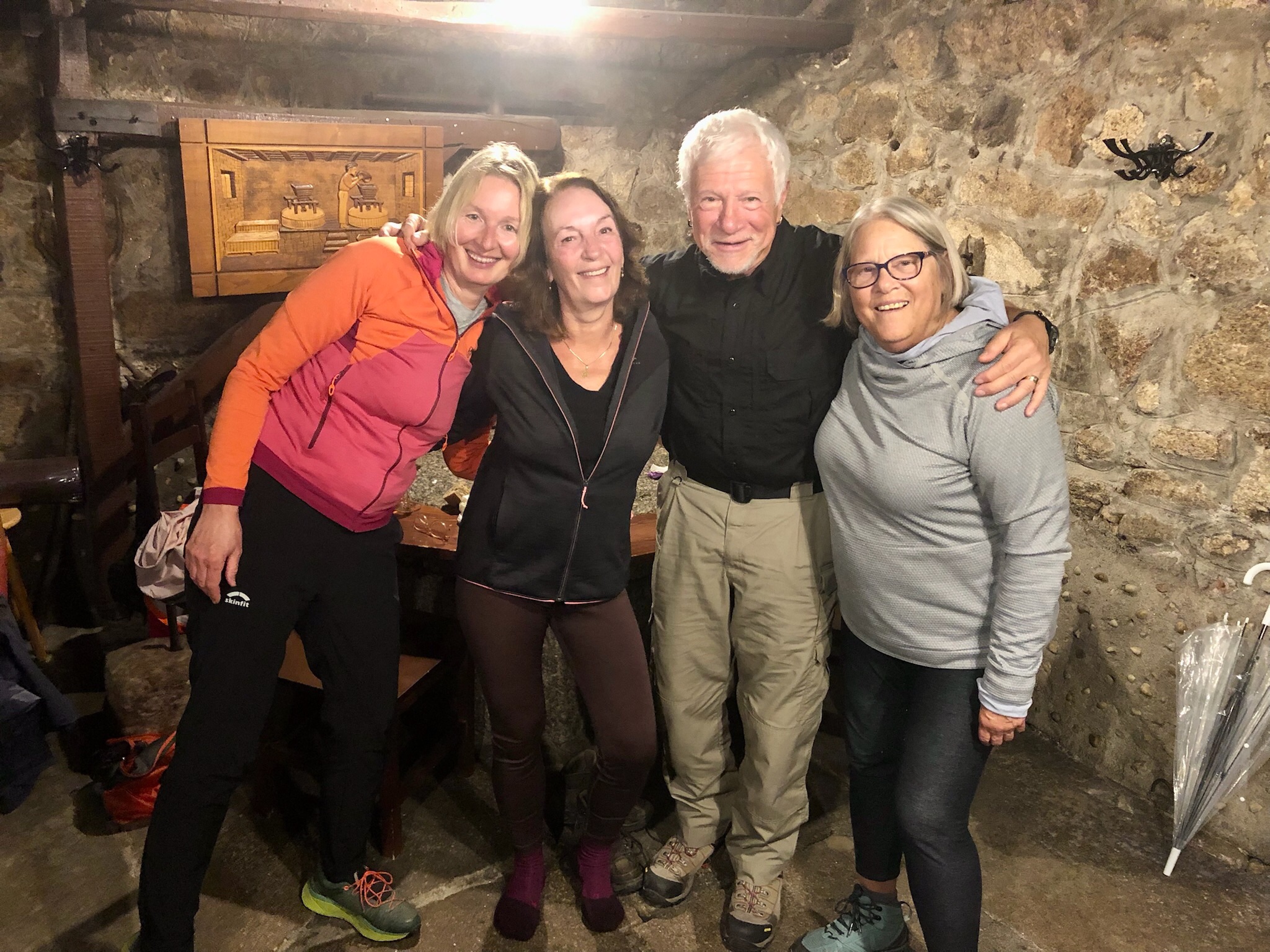 October 16, 2022. At Caldas de Reis, Spain.
Dear Christine. I'm back from dinner. (BTW. The restaurants do not open for dinner until 8 PM and things do not really get rolling until at least 9 PM. Therefore, "back from dinner" means 11 PM) It had been my intention to get some much needed sleep, but then before my eyes closed I decided I wanted to share with you, while the day was fresh in my thoughts.
I had to get up very early this morning and have my bag ready for transport by 7 AM. This was because of a marathon that was to start in the vicinity of my hotel. The roads would be blocked which would prevent the baggage company from reaching the hotel. Kind of like Kansas City, right?
My backpack went out the door promptly at 7. Instead of returning to my room I decided to just head out on the Camino. This presented a really unusual experience since it does not become light until 8:30 AM. For the first hour and a half I walked out of town and into the countryside in darkness.
In Kansas City this would've been unthinkable, however here it was surreal. I had to be hyper vigilant in looking for the Camino waymarks. It would not have been good to get lost.
Complicating matters was the constant drizzle that sometime morphed into full-blown rain. I had a significant head start on most other pilgrims except for those who began their day further down the road from different locations. For the first hour and a half I walked alone.
Around 10 AM I happen to see a pilgrim trying to shelter under an awning. I reflexively call to her in English, "How is that working for you?" To which she replied, "It's not!" She emerged from under the awning and we began walking together.
There were the usual introductions: "Where are you from… Where did you begin your Camino…"
Her name was Marianna and she was from the Netherlands. This struck me as curious. Last night Lynn and Tina spoke fondly of a Dutch pilgrim that they had separately met named Marianna. Was it possible that this was her? Yes! What's more, she knew a bit about me having discussed with Tina our encounter.
After a bit, Marianna stopped for coffee but I continued on the way. We promised to try and get together for dinner.
For me it was a wet 21 km slog through forest paths and byways.
I chose to wear shorts thinking that skin dries faster than cloth. This is true, however it also means the chill goes deeper into the bone. By the time I reached town I was shivering. By the time I was in my room I was ready for a hot shower. A brief rest turned into an hour and a half of deep sleep.
I had text contact information for Lynn, Tina, and Mariana. I also had a recommendation for a wonderful local restaurant. A few text messages and arrangements were made with the four of us to meet for dinner at 8 PM.
At first we were denied a table, no reservation. Tina speaks excellent Spanish and convinced the proprietor to find us a table. Our table was made out of a millstone, which was appropriate since the restaurant was at one time a grain mill powered by the rushing waters from the river below.
The sound of the river was ever present (and pleasant) throughout the course of our meal.
Men do not share and communicate as women typically do. I count myself honored to have been included at table with these three good women. This evening was another gift from the Camino.
Please send me a text message with the final score of the Chiefs game.
Sweet dreams! Love, Me.