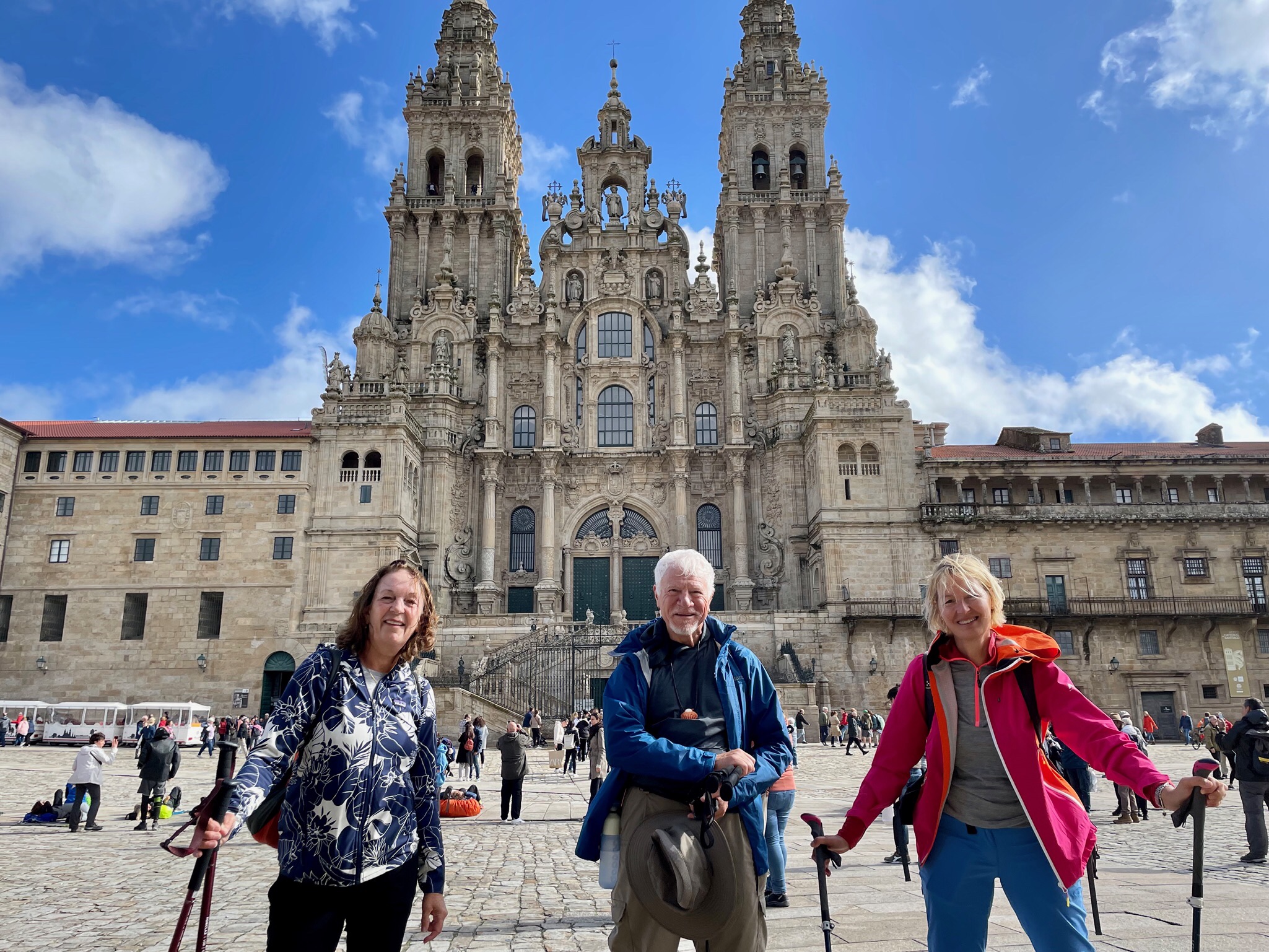 October 20, 2022. At Santiago de Compostela, Spain.
Dear Christine. I have arrived! This my third entry into the cathedral square lacked the emotion of our first, the shared experience of our second, but provided its own high drama that will linger long in my memory.
In the early morning hours the skies exploded with a thunderstorm that would have done proud to a tornado warning in Kansas City. There were roof shaking winds, torrential rain, lightning, thunder, and even hail. When I got up to prepare for the day conditions had moderated, but I did not look forward to the 16 km hike ahead with my minimal rain protection. I briefly considered calling a taxi but ditched that idea in favor of just getting wet and enduring.
About an hour down the road the skies really let go. I was walking with a young Irish gentleman and as we were pounded by the rain he declared, "In Ireland this is what we call a bastard rain!" There are no pictures because had I pulled out my cell phone it would've been dead for sure. I had the forethought to send my camera ahead with my backpack rather than risk it.
I did hazard one picture. This stone cross is believed to be the oldest such monument in Spain. It dates to the 1300's.
Another hour or so down the road I saw Tina's bright orange/pink jacket. She and a couple of others were sheltering under an awning. I stopped, we talked, and as the clouds began to break up we proceeded on through the suburbs of Santiago.
By the time we reach the old city we were greeted with blue skies and sunshine.
Thankfully, my clothes had begun to dry.
We were joined in the cathedral square by Marianne from the Netherlands. I was sorry that Lynn could not have completed the gathering but she is still a days walk behind, nursing sore feet and a cold.
Marianne returns to the Netherlands today. Today is also Tina's last day. She had planned at least another week for a continuation of her Camino to the coast. However, the weather report is so dismal but she has decided it would be a better call to fly home.
Air travel in Europe is almost as easy as catching a bus. Two days notice and she secured a flight from Santiago to Germany for less than €100.
Tina's take on this is: "Don't be a prisoner to your plans." That is some wise advice that I will be chewing on long and hard today. I had two nights reserved here in Santiago and I have secured an additional two nights to allow me time to take in the city as a tourist, rather than a pilgrim. Beyond that it is a question mark.
I took the afternoon to get my laundry done and wander a bit. I attended 7:30 PM Mass which was packed with worshippers, presented by 12 priests, and again featured the swinging of the Botafumeiro.
I didn't have my "real camera", so limited pictures of the experience. Every mass that I have attended here has included that huge censer. I wonder if my luck will hold when I go to the noon mass today. This time I will have my "real camera".
My evening concluded with a nice black rice paella and a beer.
You will be in my thoughts today, as you always are. Please hold me dear in yours.
Love, Peter.