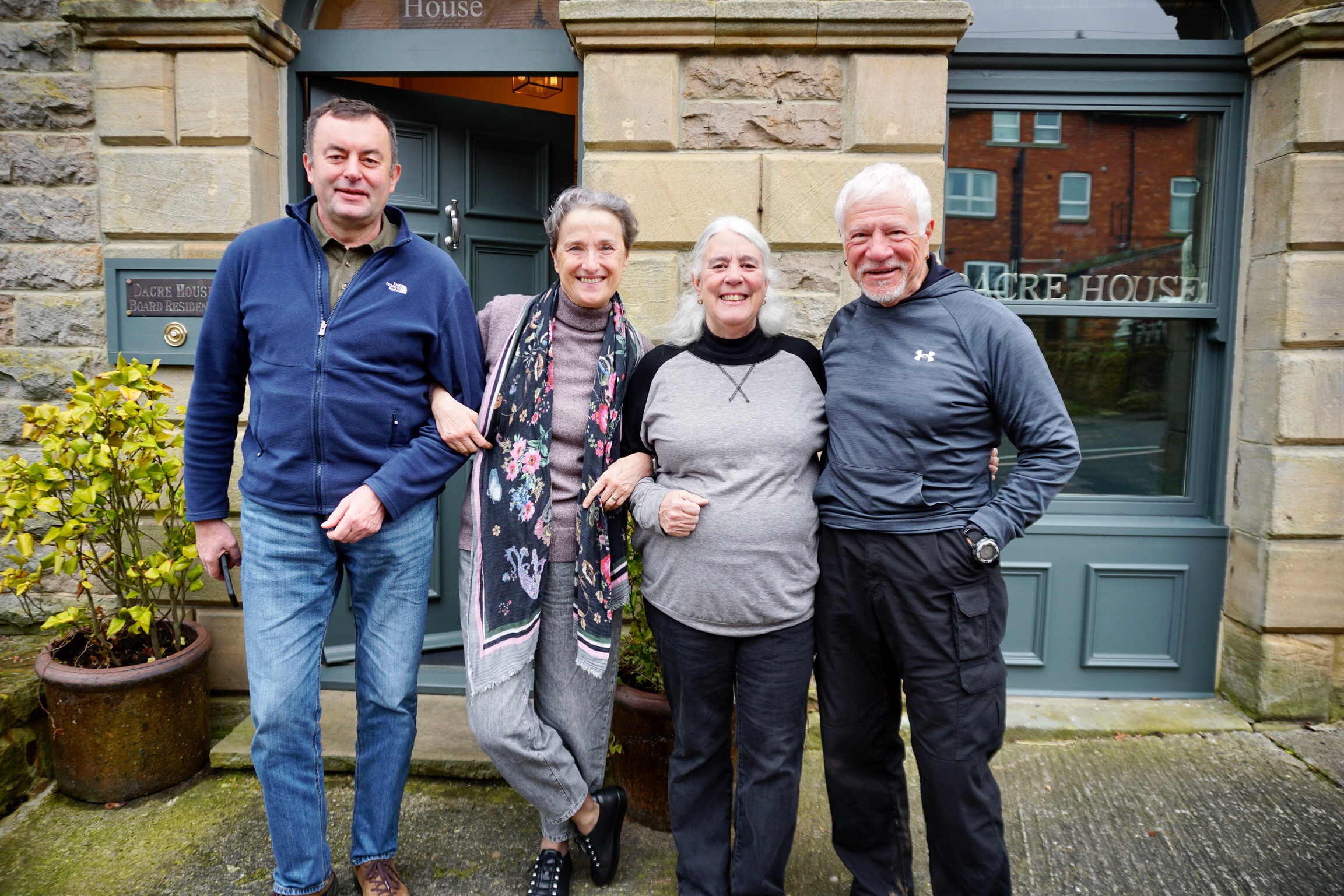 Written March 31, 2023, at the Twice Brewed Inn, England.
Today was not challenging, it was not difficult,… It was HARD. This was one of the hardest hikes (relative to my age) I have undertaken in my 71 years. But more of that in a bit.
We continued to be enthralled with the owners and accommodations at Dacre House. Breakfast was lovely, made all the more pleasant in conversation with Tadeusz and Malgorzata, a delightful couple from Poland who are also sampling the wonders of Hadrian's Wall.
We met them at dinner last night. Among the topics we discussed was the war in Ukraine. They explained that at the outbreak of the hostilities over 2 million refugees crossed into Poland and were given shelter and more. There was no government edict, no international organization, just 2 million people at the border and hundreds of thousands of Polish families lined up to voluntarily take them in. When international news crews arrived to obtain video footage and interviews of the "refugee camps" they were amazed and disappointed to find there were none. Just families helping families.
At 9:30 AM I bid farewell to Clare and Stephan.
Christine remained with them till 11am when her text arrived for the next transport.
Initially the weather looked promising and I was able to immediately resume my trek along the wall.
Conditions quickly deteriorated. Temperatures fell, rain began, wind stiffened to over 30mph, and was interspersed with moments of driving sleet. It was a cold and miserable combination.
My rainproof windbreaker and rain pants were up to the task, even if I was less so. Thankfully, I had included gloves in my pack. Unfortunately, the pea soup mist meant that photo opportunities became nonexistent. My camera was relegated to the safety of its case for the last half of the day.
I was on the trail for nearly 6 hours. The guidebook reported a distance of slightly more than 8 miles but that must've been "as the crow flies". My iPhone and steps counter each indicated it was over 10 miles, and 27,500 steps. Even those numbers do not tell the whole story. The topography was a constant up and down on rain slippery rocks and grass. The huge ascents challenged the lungs and the steep descents challenged the knees. There was no respite.
The trail climbed along the edge of cliffs that were hundreds of feet high.
Today I reached the halfway point which was also the highest point on Hadrian's Wall. This picture is courtesy of Joe.
It is a wonder how the Romans constructed the miles of ditches, berms, and of course the wall with implements amounting to nothing much more than picks, shovels, and human sweat.
Tonight we are lodged at the Twice Brewed Inn.
It is a small working brewery with an excellent pub, dining room, and rooms.
We shared dinner, and gratitude for safely making it through the day's hike with our Oregon friends, Joe and Julie, who also "weathered the storm".
Tomorrow is my 71st birthday. I hope that nature will gift me clear skies and pleasant temperatures for my 5th day on the trail.
Peace Everyone. Pete