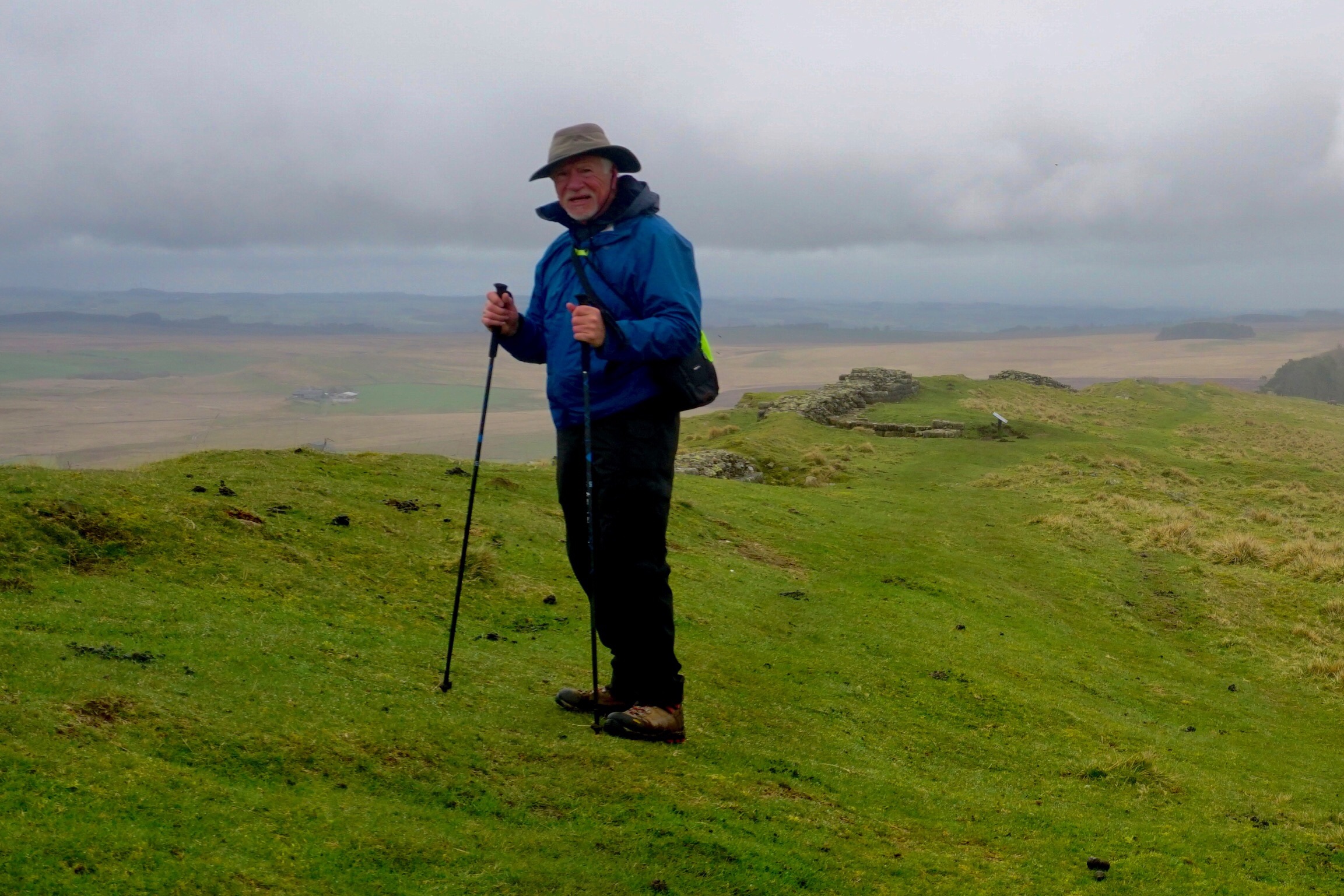 Written April 1, 2023, at Langley Castle, England.
Yesterday was yesterday, and today is today. Signs on the side of Twice Brewed brought a smile.
Christine captured a shot of me as I made my way back to the Wall, and for five minutes there was sunshine.
It's a wonder what a good night's rest, fresh legs, and an energized spirit can do. It doesn't hurt that it's my birthday.
There were many people on the trail today, but virtually all were taking a Saturday stroll. There may have been one or two that were through-hiking, but east to west. My track is west to east.
There were periods of rain but never of sufficient intensity to warrant putting on my rain trousers. However, mist on the camera lens may have impacted the quality of the photographs.
Once more the guidebook grossly underestimated the distance and provided less than accurate directions on two occasions. 8+ miles and 22,000 steps with more precipitous up and down terrain was again the order of the day.
Nevertheless, it was a much better day than yesterday.
I ended my day at a preplanned stopping point near Hadrian's Wall. We arranged for a taxi to pick me up and transport me 7 miles off the route to Langley Castle where we will be lodged for the next two nights. On Monday morning a taxi will return me to that point so that I can continue the full route of Hadrian's Wall.
Langley Castle is an honest to goodness 14th century fortress and we are booked into its premiere suite.
Ours are royal chambers. The bathroom is larger than most hotel rooms and includes a huge tub (it fits two… to which we can attest), and a sauna/steam room.
The walls are solid stone, 7 feet thick, and there is a sitting nook with leaded stained glass that looks out upon the courtyard.
Evening drinks at a fire in the hearth room followed by a suitably elegant dinner capped off the day.
We will tour the castle tomorrow and I will take my camera along. I hope to give you a virtual tour.
Peace Everyone. 71 year old Pete
P.S. As I have walked along these remnants of the once mighty Roman Empire it occurred to me that there have been many great empires; Egyptian, Persian, Greek, Mayan, just to name a few. ALL great empires and civilizations have two things in common: Their leaders and citizens believed the reign would be endless… and it wasn't.