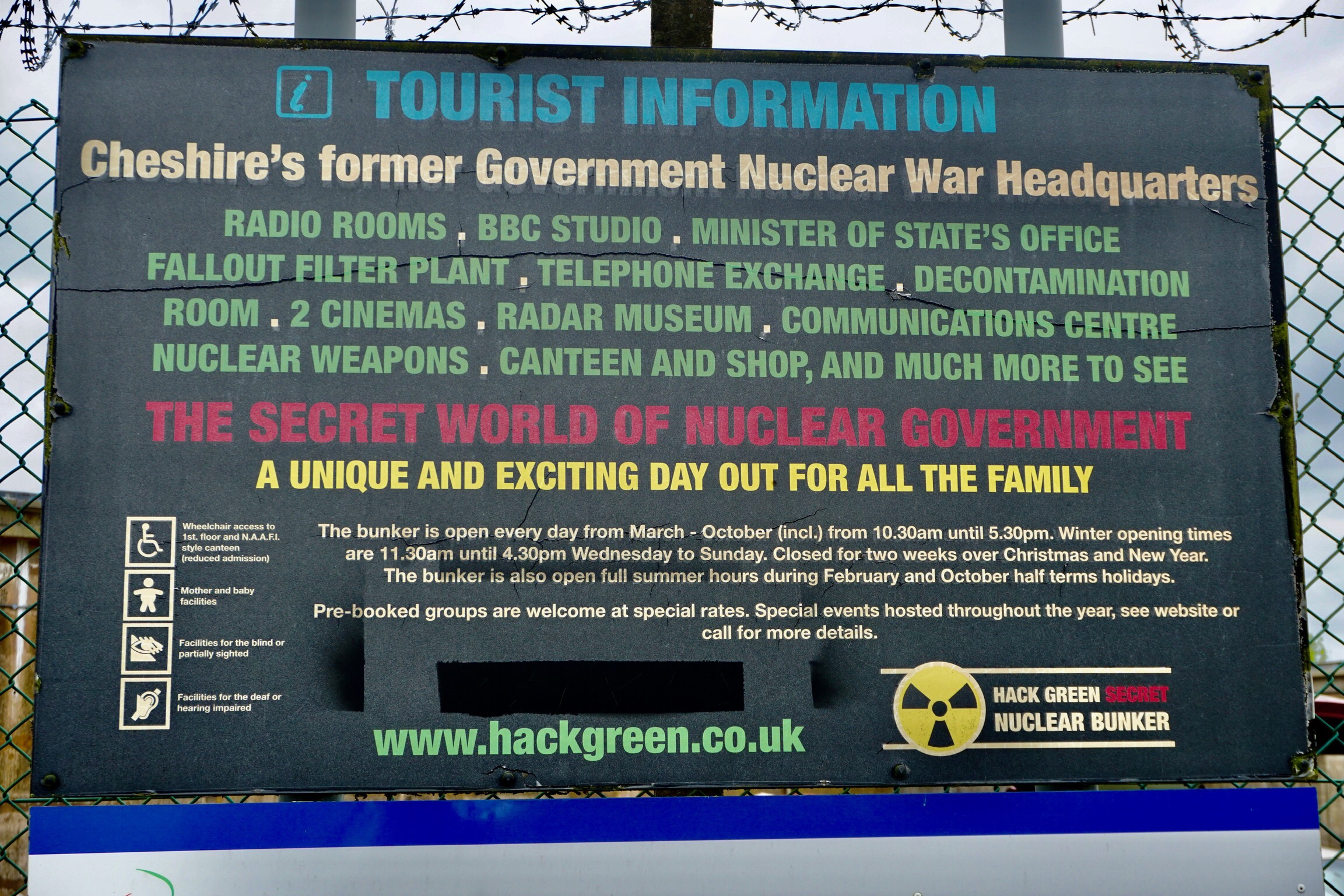 Written May 1, 2023, at Nantwich on the Shropshire Union Canal.
Our 6 mile and 6 lock passage to Nantwich today took more than six hours instead of the anticipated three or four.
The delay was not occasioned by difficulties with the locks, difficulties with navigation, or foul weather. Instead, it was a self-imposed delay brought about by the opportunity to tour an unusual remnant from the Cold War.
A sign under a canal bridges in the rural countryside announced that 200 yards from the canal was the once top secret Hack Green Nuclear Bunker, now open to the public. We immediately tied up to shore and set off on foot to explore.
Declassified in 1993 this 35,000 square-foot underground complex was one of 17 such hardened nuclear bunkers in the UK which would serve the needs of continuing government and military operations in the event of nuclear war.
This facility was provisioned with food, water, fuel, and life-support necessities to supply the needs of 160 essential personnel for over three months.
Now a museum, the bunker offers the public a glimpse into Great Britain's preparations for nuclear Armageddon.
Within the underground complex are actual radar and communications equipment from that era. There are even decommissioned nuclear weapons.
Most chilling was the 45 minute long 1966 BBC docudrama, "The War Game". Post-production it was deemed too graphic to be broadcast to the general public.
It received a limited screening at the National Film Theater in London, and went on to receive the 1967 Academy Award for Best Documentary Feature.
I sat through the entire movie which drew from the experiences of Hiroshima, Nagasaki, and Dresden in depicting the physical and psychological consequences of nuclear attack. The black and white movie was brutally stark and unsanitized.
One take from the movie: Great Britain has the largest concentration of nuclear targets in the world. Between 1/3 and 1/2 of its population would be dead within the first few days of attack.
(Pray for) Peace Everyone. Pete
PS. On the heels of yesterday's report on Christine's "lock marathon" I thought I would share a couple of images to illustrate what she chooses to struggle with instead of piloting the canal boat.