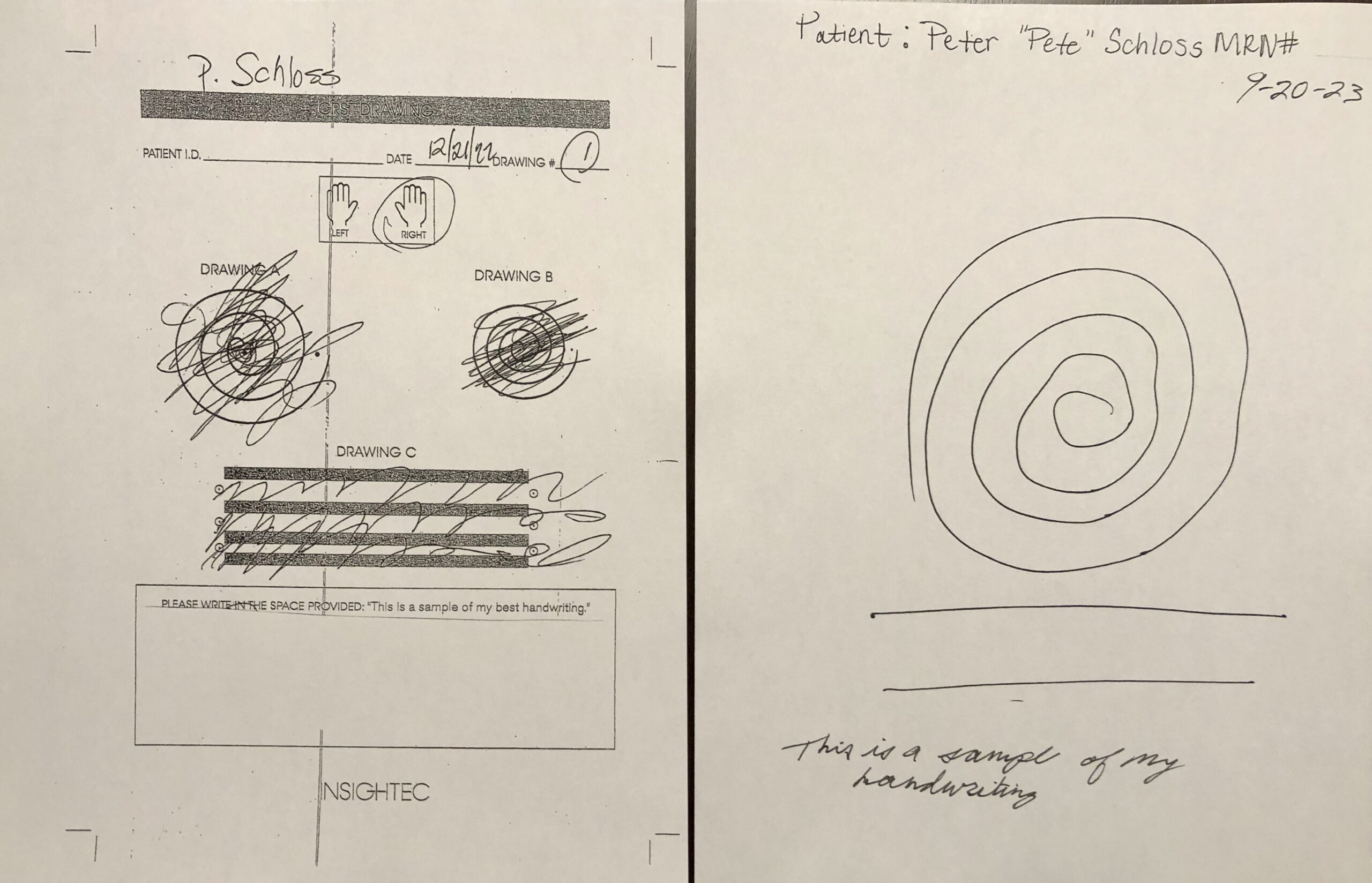 Written September 24, 2023, At Kansas City, Missouri.
For those "tuning in" for the first-time, links to my previous posts that recap what brought me to this point are set forth below in a postscript.
It has been over 2 months since my last update, and nearly 4 months since my DBS surgery. The short answer to the question that has been privately asked of me many times is that I am well. Actually, I am better than well.
In my July update I reported: "…I was already experiencing a major improvement of my tremors, post-surgery and post brain bleed (without controller activation). The doctor posited that a "honeymoon period" of post-surgical tremor reduction is common. It is a temporary result of the minimal ablation to the thalamus that results from the insertion of the non-activated electrical stimulator in the brain. However, those benefits would have usually disappeared by now.
She further theorized that the additional impact of the brain bleed in the thalamus had extended and enhanced this effect, much as ablation through Focused Ultrasound might. She believes that the significant tremor reduction I am experiencing is still temporary."
4 months later and the "temporary" tremor reduction persists. Moreover, the slight numbness in my tongue and occasional stumbling over the pronunciation of certain words has almost disappeared. I have returned to my former activities and exercise routine, including travel to Colorado with hiking at altitude (10,000+ feet), enjoying amazing sunrises, an early snowfall, and the joys of a pint in celebration of Oktoberfest. PROST!
Earlier this week I had a follow-up appointment with my neurosurgeon, Dr. Chang. I drew an Archimedes spiral, two straight lines and gave a sample of my handwriting. This was compared with similar efforts at my first meeting with her in late December of 2022 where I was asked to trace within pre-printed spirals and straight lines. A writing sample at that time was out of the question. Here are the contrasting "before and after" efforts of December 2022 and earlier this week:
A good friend and retired medical doctor once told me that one should hope never to be an "interesting case" to a physician. I became an "interesting case" when I developed a brain bleed nearly a week after the first surgery. That rare complication typically occurs at or immediately after the surgery. In Dr. Chang's considerable experience, it had never occurred days after surgery. "Interesting".
The "honeymoon effect" of tremor reduction typically lasts a few days, rarely as long as a month, never four months. "Also Interesting".
The quality of my tremor reduction is consistent with the level of tremor control experienced by patients whose DBS controller has been activated. Dr. Chang candidly admits that at this point there would be little further to gain in activating my device. "VERY Interesting".
I think that I would have still preferred being an "ordinary" patient.
Will this unanticipated benefit last? It could end next month, next year, or never. If it does end then I will return to activate the DBS controller. Dr. Chang and I are scheduled to meet again next May to review my progress. Only time will tell.
The "Next Thing":
On October 22nd Christine and I depart by plane for Fort Lauderdale, Florida. We will board the 900 passenger Viking Star for an 18-day cruise through the Panama Canal.
The itinerary includes ports-of-call in Cozumel, Columbia, Costa Rica, Cabo San Lucas, Los Angeles, and of course Panama. As in travels past, I hope to post pictures and a near daily narrative, so stay tuned!
Peace Everyone. Pete
PS. I did not come to the decision to undergo DBS surgery easily. I announced it to my wife in an open letter published as I was hiking in Spain last year. Here is a link to that letter:
I wrote in greater detail the specifics about the DBS surgical procedure. Here is a link to that post:
The day before my scheduled surgery I wrote a post that was both a conclusion to our travels in England and my pre-surgery update. Little did I know how prophetic the title to that piece was to be:
"Shake, Rattle, and Roll (the dice) Surgery"
My second surgery occurred on June 16th, but on June 7th I suffered a brain bleed with symptoms that mimicked a stroke.
"My DBS Surgery, A Stroke of Bad Luck."
July 17th was my appointment to activate the controller that had been implanted in my chest on June 16th. Although the activated controller promised excellent tremor control it was decided to leave the unit turned off for a later date.
"My DBS Surgery, Dark Cloud or Silver Lining?"