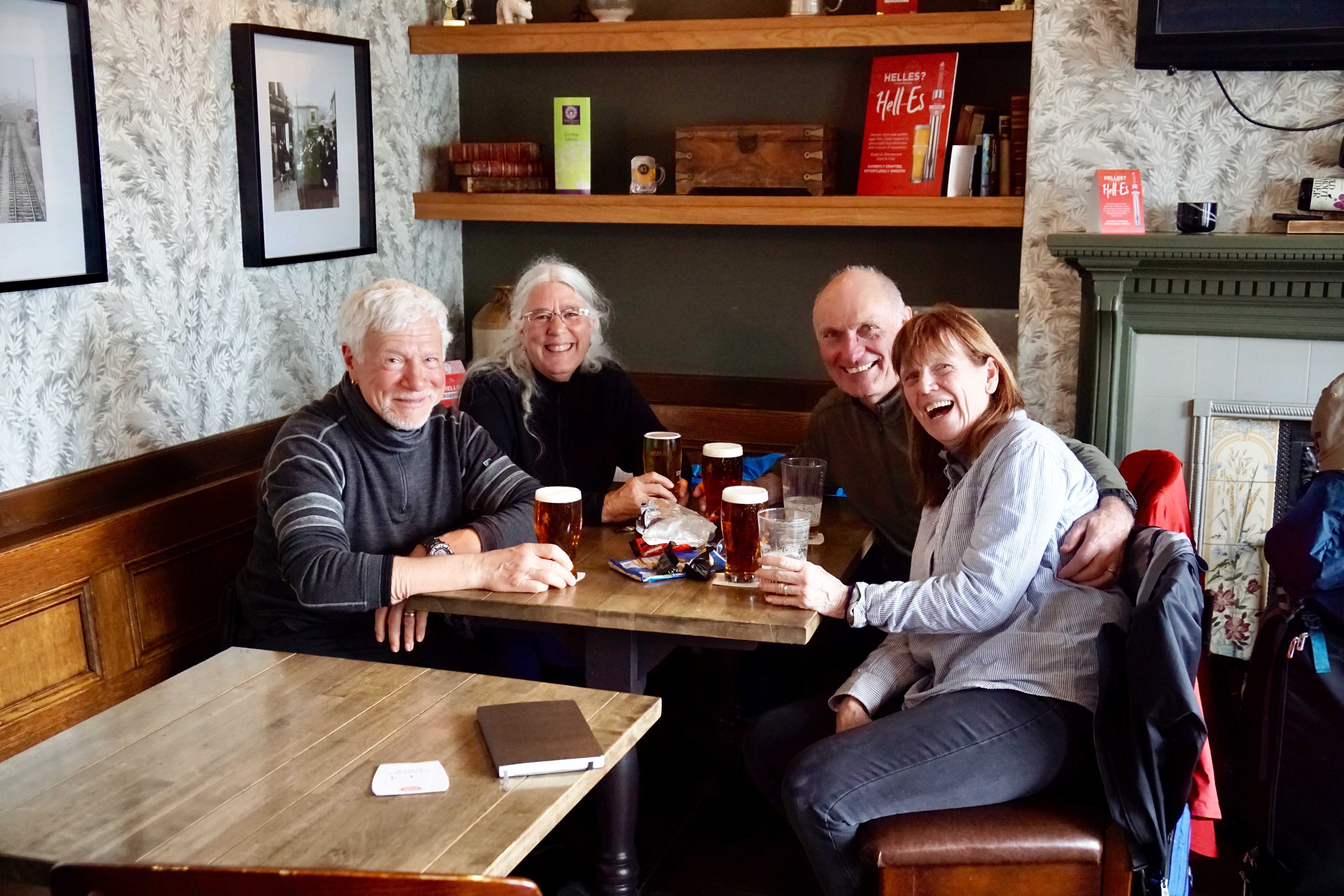 My self declared "Intermission" has apparently ended before it began. As I said in the last post, topics seem to fall from the sky. Yesterday afternoon and night stand as proof. Read on…
We returned to The Boar's Head Inn, which had been our billet for our first two nights in England. There we met Tom and Nanci who had arrived minutes before by train and taxi from Birmingham. Liz, the proprietor of the establishment, stood duty behind the bar and served our first round of pints with the warmest of smiles. I gave passing notice without much thought that the pub seemed very busy for 5 p.m., and that the patrons were all well dressed by usual pub standards. My attention became seriously sharpened when one of the nattily attired customers approached our table and made reference to our own appearance. He accusingly declaring that we must be narrowboaters. I was somewhat relieved that he was smiling, but became alarmed as he continued. "You look like Canadians arrived from Birmingham… and you (me) must be Peter who came in from Manchester and plans next week to travel to Chester with your lot!" The four of us were dumbstruck, it was as if the air had suddenly left the room. We each silently struggled to fathom the depth of the man's clairvoyance. He then laughed at our drop-jaw shock and revealed the nature of his insights. It was Andy, owner of AK Private Hire. Back in the States I had arranged with Andy via email for one of his vans to transport us from Manchester Airport to Middlewich, and earlier in the day I had confirmed arrangements with him for transport of the four of us and our luggage to Chester next week. Andy made great use of his "inside knowledge" at our expense. With relief the four of us now joined his laughter and he joined us, pint in hand. Andy was at the pub to attend the wake of a friend which was being conducted in the next room. Thus was explained the assembly of well dressed people.
Tom, Nanci, Liz, and Andy (and perhaps the recently dearly departed) stand at one end of the human spectrum, which for the purpose of this post I will deem the "Saints of the day". They did not stand alone.
During the 90 minutes preceding Tom and Nanci's arrival I sought to visit the nearby St. Michael & All Angels Church of Middlewich. The ancient church and grounds had drawn me when we first arrived two weeks ago, but I was denied a visit as all the doors were locked.
Today Christine remained at Salten-Fjord reading, so this was a solo venture on my part. I was once again thwarted by locked doors so I was left to walk the grounds and examine the hundreds of tombstones that had been laid in the horizontal creating a walkway and patio area. I was later to learn that they were once conventionally arrayed in the vertical but years ago the church green space had been seriously reduced by the incursion of two intersecting highways.
I was approached by a gentleman who asked of my interest in the church. Upon my reply he then asked if I wished to see the interior… he was Mike Reed, a member of the parish governing body, and he had the keys! Mike ushered me in, turned on the lights, and most kindly gave me a brief tour that included instructions for accessing the church website.
One of their very tech-savvy parishioners had assembled a remarkable virtual tour of the interior highlights that includes a "Heritage Trail" and separate 360 degree viewing feature. Here are links that will give you access to the history of the church, the interior "Heritage Trail", and the 360 degree viewing image:
Church History ("Click" Past, Present, Future, down the page) http://www.middlewichparishchurch.org.uk/mhome.html
Heritage Trail http://heritage.middlewichparishchurch.org.uk
360 Degee Tour https://my.matterport.com/models/XFBCnSc8tQc?section=media&mediasection=showcase
I have included some images to entice your visit to the above websites, but I will defer to those sites to provide you with details and insights. I offer my gratitude to Mike, another "Saint" of the day, for his generous grant of time and knowledge that made this sharing possible.
Now for the "Sinners" of the day: At 2 a.m. this morning we were awoke from our slumbers aboard Salten-Fjord by rowdy voices. Soon, there was the sound of pounding fists agains the steel hull of the vessel with accompanying laughter. I peered outside and saw that the canal towpath was moving… we were adrift!!
The four of us clambered from our beds and assembled on deck to find that a group of drunken rowdies had untied our moorings and those of the vessel berthed astern of us. I engaged the engine, and navigated back to the canal-side where Tom held us in place against the current while Christine and I searched for our mooring lines. In short order we secured our vessel and the neighboring narrowboat. A call was made to the police and to the nearby Andersen Boats yard to give warning of the mischief afoot. Nanci made coffee and tea (decaf, of course) and after some deep breathing we all returned to bed.
The world is populated by both sinners and saints. This was a rare day that brought me into close contact with the extremes of that spectrum. I prefer hanging out with the Saints.
Peace Everyone. Pete
PS. During his impromptu tour of St. Michael's Mike explained that the church was undergoing a much needed restoration. Over £300,000.00 has already been spend on just one portion of the roof. There is need for another £1,000,000.00 to continue the work. If there are any who wish to lend a hand by way of a contribution, please do!!