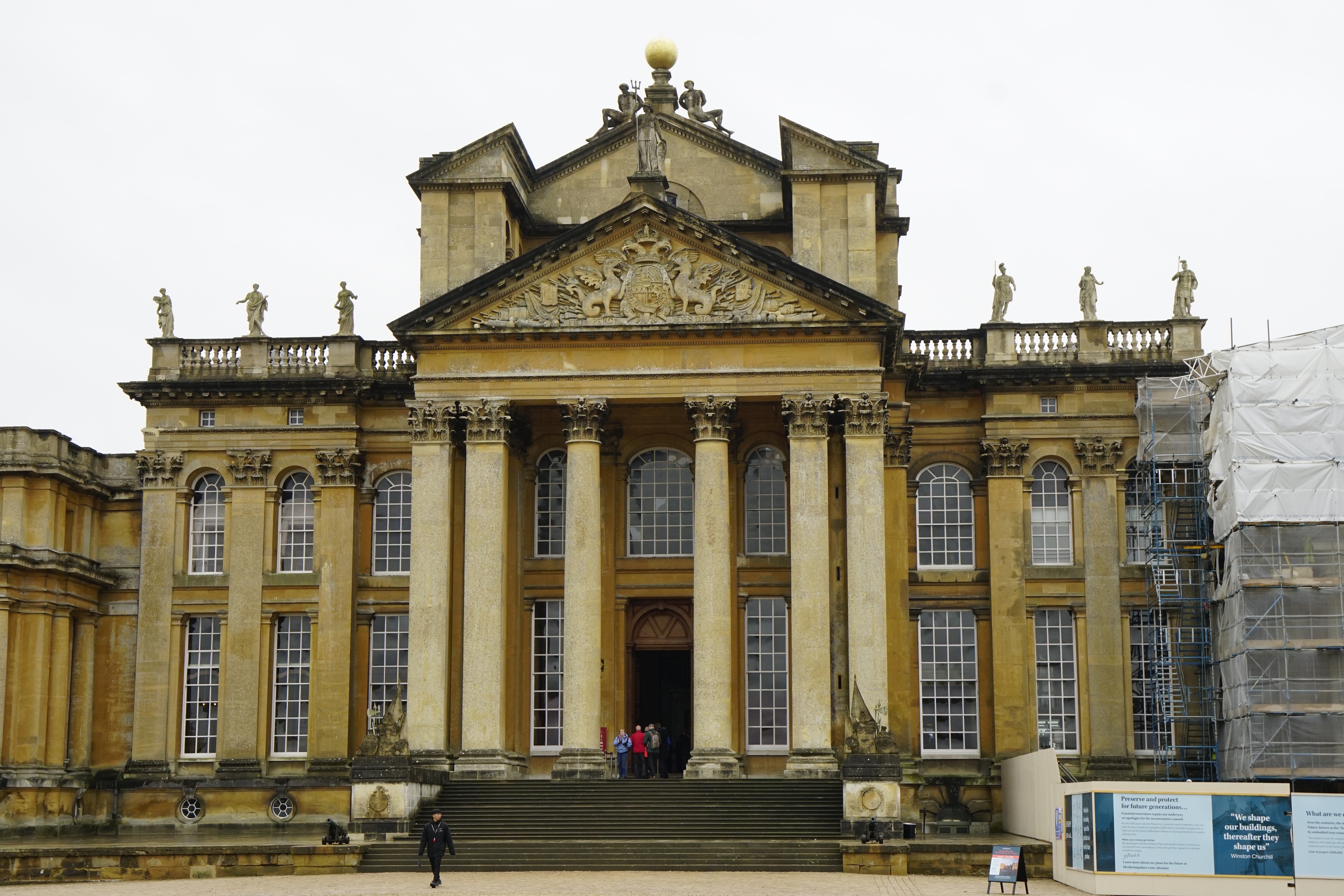 John Churchill was named 1st Duke of Marlborough by England's King William III in 1702.
This was in recognition of his military service to the Crown. His career went on to amass a remarkable string of 26 military victories without defeat. Churchill's most noted victory occurred at The Battle of Blenheim where over 100,000 troops were engaged in combat.
Churchill dealt a stunning defeat to the French army which suffered over 30,000 casualties. Churchill dispatched word of his success in a note that he personally wrote on a tavern bill.
Shortly after this victory the King granted him an indeterminate lease of the estate that came to be known as Blenheim in honor of that victory. In 1704 Parliament authorized nearly a quarter million Pounds for the construction of a palace upon the grounds.
The Duke contributed another 60 thousand Pounds. The result was the construction of the monumental Blenheim Palace, the only non-royal "country home" in England to bear the designation of "Palace". It is now a UNESCO World Heritage Site.
England's monarchy remains owner of the property so long as the Dukes of Marlborough continue to pay the "rent", which consists of delivering a French battle flag to England's monarch at Parliament each year on the anniversary of the Battle of Blenheim.
The First Duke died without a surviving male heir. Parliament acted to protect the family's rights by passing legislation that allowed the Churchill family to pass and hold title through its females, the first and only time that such an Act has ever been granted. Twice this has preserved the family's hold on Blenheim.
The Estate has remained in the hands of the Churchill's and Spencer-Churchill's for over 300 years and is currently the possession of the 12th Duke of Marlborough, James Spencer-Churchill. The Spencer line of the family included the ill fated Princess Diana. The Churchill line included the famous Sir Winston Churchill who was born on the property in 1874.
He is buried in a modest family plot in nearby St. Martin's Church, at Blandon.
The Palace is incredible in its size, design, and contents. Upon visiting the estate one of England's kings was heard to say, "We have nothing to equal this!"
The various reception rooms display remarkable art, priceless tapestries, and artisan created furnishings of incredible rarity.
There are 22 clocks in the palace, the oldest dating to 1690. They all are in operation and are maintained by a staff clockmaker.
The library is the second longest room in the entire United Kingdom.
Apart from the Palace's historic interest, this was the birthplace and home of Sir Winston Churchill. A portion of the tour was dedicated to his memory and considerable accomplishments. Aside from his role as Great Britain's Prime Minister during the 2nd World War, his oratory stirred the soul of the United Kingdom during it's "darkest hours". He was a polymath, accomplished as an artist who's works (submitted anonymously) were accepted for exhibition at London's Royal Academy.
He was also a Noble Laureate in Literature for his "…mastery of historical and biographical description, and brilliant oratory in defense of human values". His life works include writing 42 books in 60 volumes, plus 5,000 speeches and articles… in all over 30 million words!
Sir Winston died January 24, 1965. He is only the 4th former Prime Minister in Great Britain's history to have been afforded a full State funeral. 110 world leaders were in attendance and the ceremony was watched by over 350 million television viewers around the world.
Our evening and this chapter of our journey concluded with dinner at a Portuguese restaurant in Portsmouth England with our Welch friends Huw and Nina. My thoughts turned to a 15 minute encounter in Porto Portugal with Mafalda and Rita, 2 young ladies who extended us a favor. We consider them friends for life even if our paths never again cross. Our life has become punctuate by many of these friendships. Far flung places take on the faces of these people and become personal to us.
Just today these posts have been read by scores of people in at least 15 countries. In 1869 Mark Twain said, "Travel is fatal to prejudice, bigotry, and narrow-mindedness…" 2000 years ago Christ compressed his entire philosophy into a single admonition that directed us to love our neighbors as we love ourself. (Matthew 22:35-40)
"Neighbor" is not defined by race, creed, gender, or geography. A neighbor is any person who celebrates the birth of a child, or mourns a child's death. A neighbor is one who's empty belly craves a meal, or who rejoices at the breaking of bread with those who are held dear. A neighbor knows the sweetness of first love or the bitterness of first love lost. A neighbor is anyone who sings with the wind, smells the flowers, or smiles at seeing what is whimsical in the clouds.
Travel and seek your neighbor. Travel in your heart, travel with your mind, and travel to any place where a common language may be spoken with just a smile.
Peace Everyone. Pete