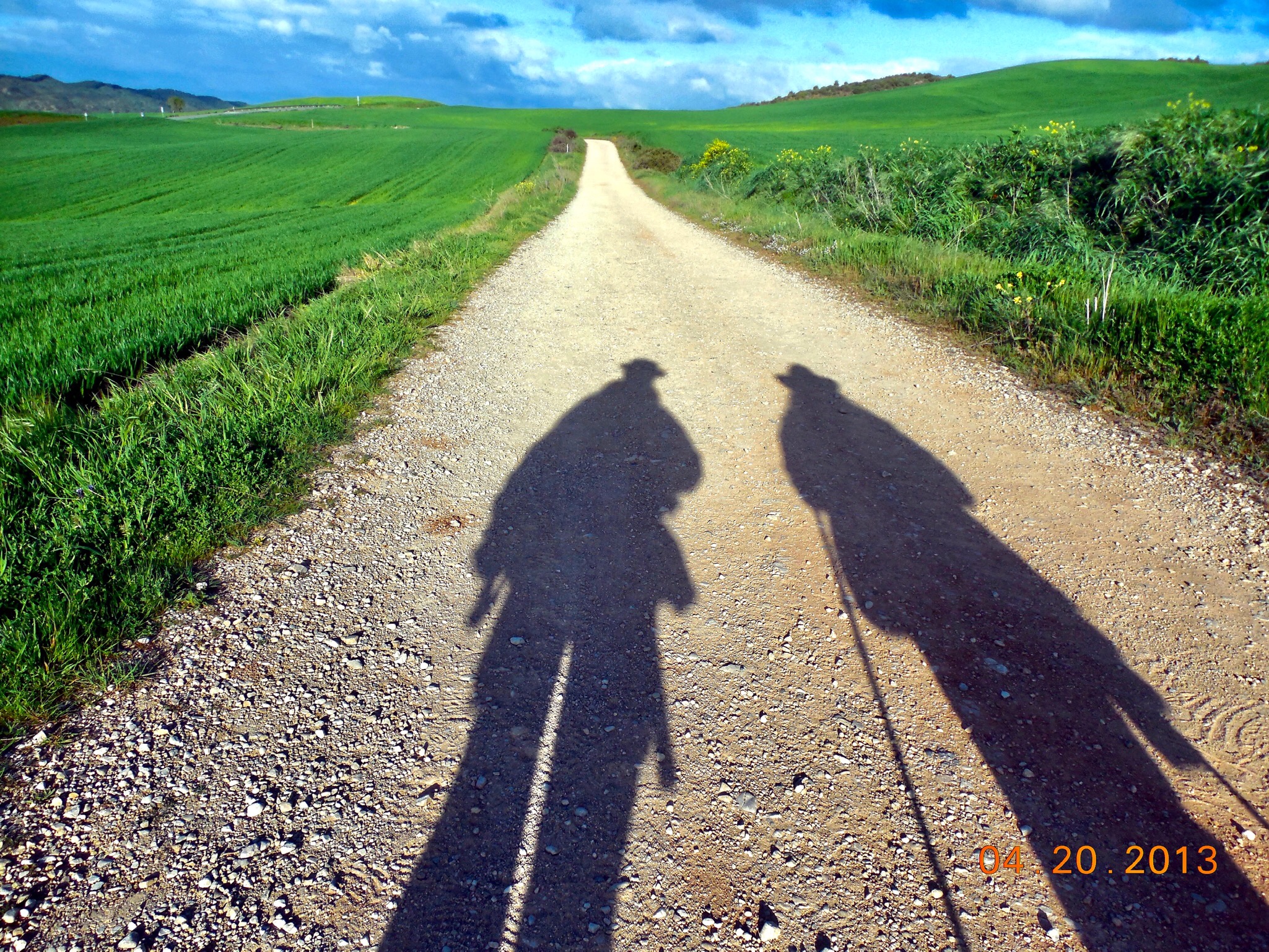 April 20-21, 2013. Villamayor de Monjardin to Torres del Rio, and Viana
We had abandoned the Brierley Guide's recommended "stages" for two reasons; virtually every English speaking pilgrim used the guide and Christine's tolerance was better suited to a 12-18km day, rather than the 20-30km often favored in the guide. This meant that we typically stayed in villages and albergues a few kilometers either side of the Guide's suggested stops. We walked the same path, but the albergues where we lodged were usually less congested.
The 20th saw us walking 21km to Torres del Rio. Christine arranged for the transport of her pack to our destination and seemed up for the longer walk on a beautiful spring day through the open countryside.
We passed before the ruins of Cugullo, site of an ancient pilgrim's hospital. There were trailside cairns left over the years by passing pilgrims and even a rough stone shelter of unknown age.
Bicyclists passed us on the path, politely signaling their approach.
In order to receive one's Compostela in Santiago (certificate of completion of the Camino) a pilgrim must walk the final 100km as a continuous journey. It is also permitted to do so by bicycle (or even horse), but it that case it must be the final 200km.
It was an idyllic day.
We walked through the peaceful town of Los Arcos (pop. 1,300), originally founded by the Romans.
Los Arcos, though small, was a recommended overnight stop and featured no less than 4 albergues. Instead we continued on to Torres del Rio.
What a pleasant surprise awaited us there! The tiny village of fewer than 150 showcased an extraordinary church erected in the 1100's by the Knights Templar.
Santo Sepulchro was modeled after the Church of the Holy Sepulcher in Jerusalem. The church was octagonal in form with the domed ceiling supported by a remarkable web of arches.
The interior was simple, even sparse,, but anything more ornate would have depreciated the visual impact of the small altar and unsettling 13th century crucifix.
Our albergue was a delight.
An enclosed terrace with bar and restaurant was just the place to settle back with fellow pilgrims. There was even a shallow pool in which to dangle ones hot and tired feet, glass of wine in hand.
As with most albergues the rooms were simple, clean, and not very private. I found the communal dining and sleeping arrangements a refreshing reminder of happy childhood days in summer camp where friendships sprouted like mushrooms.
The following morning we set off on a short 12km stage to Viana (pop. 3,600). In light of the shorter distance Christine carried her pack. Her bronchial issues had seemed mostly resolved.
Early on that day we encountered a pilgrim, Kris Ashton of Denver Colorado. A few pleasant words and we were walking in lockstep for the next hour.
Little did we know at the time how interwoven our lives would become. We frequently encountered Kris in the days that followed and nearing Santiago began sharing private accommodations. Back in the States we continued our friendship, often as guests of her and her husband Dennis in Colorado and reciprocating with them in our home in Kansas City.
In 2018 we were in Amsterdam, having just departed Scotland where Kris and Dennis happened to be hiking. Dennis tragically fell to his death from a mountain path on the Isle of Skye. Our friendship with Kris became more tightly joined and in 2019 she accompanied us aboard our canalboat in England. Inspired by our Casita travels she purchased a Casita in early 2021 and that Spring spent 9 days caravanning with us in New Mexico and southwestern Colorado.
Adding to the mystery of friendship, yesterday (June 5, 2021) we spent an afternoon in Kansas City with friends Ron and Lena Meck of Salt Lake City, Utah. They were passing through Kansas City while following the route of Lewis and Clark. We first met them in 2017 on Sitka Island in Alaska, then accidentally encountered them in 2018 in Madrid, Spain. Later this year they plan to be traveling south on the Pacific Coast Highway about the same time that we will be traveling north on the same road, perhaps another chance encounter is ahead of us. By the way, they have walked the Camino and are friends with Kris Ashton. Coincidence? A gentleman in Puerto Rico once counseled me, "Peter, in life there are no coincidences."
In 1995-96 our son Peter lived the school year as an AFS high school foreign exchange student with a family in Bilbao, Spain. Rafael Mendia Gallardo, his wife Begonia, and their son Arkaitz made Peter a real member of their family that year and thus bonded themselves to us as a part of our extended family. Rafael was following our Camino journey through Facebook and reached out to suggest a meeting in Viana for dinner. It was a 2 hour drive for them and their good friends Rev. and Ms. Javier Aguirregabiria Aguirre. Rafael and Begonia spoke only a little English and we very little Spanish. Javier acted as our interpreter and added much to our afternoon with his grace and good humor.
Our Spanish friends arranged for an excellent private dining experience at an exceptional restaurant in Viana.
They also hosted our walking tour of the town center and the nearby 13th Century church of Santa Maria where in 1507 Cesare Borgia was buried. Borgia died from treachery at the hands of his enemies shortly after his successful siege and conquest of Viana. More about this fascinating historical figure in the postscript.
As the poet said, parting from these dear friends was "such sweet sorrow." However return to the Camino we did, which included the night in Viana's 54 bed municipal albergue with beds stacked 3 high.
Pilgrimage is often cast in terms of what one experiences through the senses and what touches one spiritually. I was finding that the Camino was becoming ever richer with personal connections, a path to people. How easy it is for us to make friends as children and how sad that for many adults that gift is lost.
Peace Everyone, and Buen Camino!
PS. Cesare Borgia (1475-1507) was the acknowledged illegitimate son of Pope Alexander VI (then Cardinal Rodrigo Borgia). The Pope ordained him as a Cardinal at his election to the papacy in 1492. Cesare was only 18 years old at the time. 6 years later Cesare resigned his cardinalate, the first person in history to do so. Instead he became Commander of the Papal Army and served capably in that role until he was deposed shortly after his father's death in 1503.
Cesare engaged Leonardo da Vinci as his chief military architect and Borgia is believed to be the inspiration in Niccolo Machiavelli's "The Prince". Cesare Borgia is also believed to be the model for da Vinci's famous portrait of Jesus Christ, "Salvator Mundi" (Savior of the World).